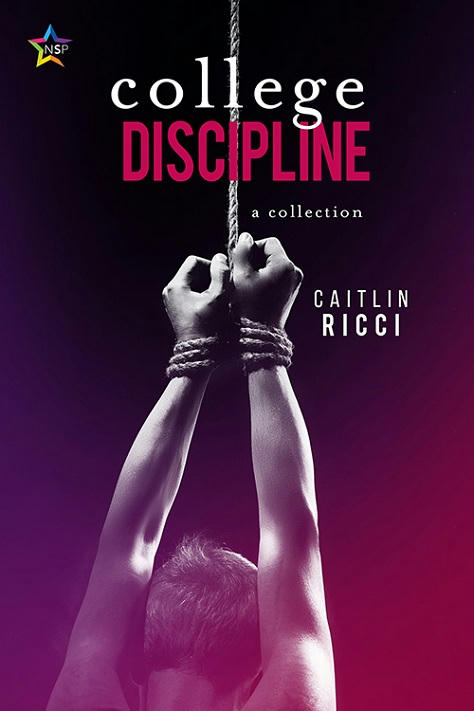 Title: College Discipline
Author: Caitlin Ricci
Genre: Contemporary, BDSM
Length: Short (55 Pages)
Publisher: NineStar Press (20th February 2017)
Heat Level: Low
Heart Rating: ♥♥♥ 2.5 Hearts
Blurb: Four stories of sex, romance, and college boys learning to kneel.
Hitachi is a police officer reduced to being a glorified babysitter for a rich man's son. He resents his assignment, but Gabriel isn't the brat Hitachi believes he is. He's a man who likes pain, and who wants Hitachi to let loose with him too.
Leo fantasizes about having sex with a complete stranger, but when he gets his chance it isn't nearly as wonderful as he imagined it to be. His dad's boss tries to teach him a lesson about making stupid choices, but his education in submission doesn't end there.
Jensen is horrible at math, and now he's in a calculus class that he's barely getting through. His parents get him a tutor, but this tutor is interested in teaching Jensen about far more than just math.
Timothy comes back home, to a tiny town he can't stand, when his mother's illness gets worse. He's made a string of bad decisions, and his mother's friend is determined to turn his life around before Timothy gets lost entirely.
ISBN: 9781945952616
Product Link: https://ninestarpress.com/product/college-discipline/
Reviewer: Veronica
Review: I love this author's work, but I really struggled with these four in one stories. The blurb is what got me to choose this story. Yes, there is intense sex scenes, but the stories are just so unbelievable. Jensen goes to be tutored in Mathematics, because he's very bad at the subject, and within less than half hour, he has a safe word and he's in a Play room, being spanked and then have sex with his tutor.
Hitachi has been sent on assignment to pick up someone from the airport, who he's never met before, and to drive him home. He's invited inside, and Gabriel quickly starts playing with him, and they role play, and have sex.
Leo has always fantasized about hooking up and having sex with a stranger. He organizes a hook up and goes to this guy's house, without knowing who the guy is. He is given instructions on what will happen between them. He gets treated roughly with vigorous sex, and then after, the guy reveals himself and it's his Dad's boss. He treats Leo like crap, and tells him that he's teaching him a lesion.
With Timothy, he left his hometown as fast as he could when he was eighteen, but now he has returned home after his mom's illness have gotten worse. He goes to a bar to relax and they he's approached by someone, who invites him to a rodeo. He goes to the location, and he's brutally beaten, he's rescued by the owner of the building, and then they have sex. The only difference in all of these stories is that Timothy is the only one in his right mind to ask about protection before sex. 
I love this author's stories, but I won't be recommending this one to anyone.