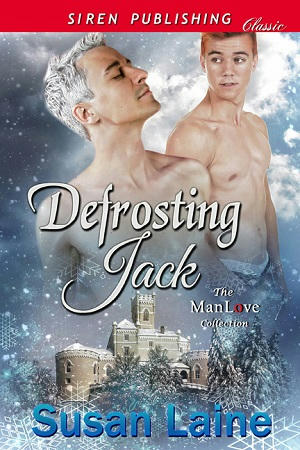 Title: Defrosting Jack
Author: Susan Laine
Genre: Paranormal, Fantasy
Length: Novella (126 Pages)
Publisher: Siren Publishing (December 7, 2016)
Heat Level: Moderate  
Heart Rating: ♥♥♥♥ 3.5 Hearts
Blurb: Jack Frost has a problem. He's the mythical power behind the elements of ice, snow, and frost, but his fame is being usurped by a fictional Frozen queen. So Jack's the grumpiest man in Yuleland and is in need of a naughty distraction.
Rudolph Hreinn has a problem, as well. Rudy's in high demand on Christmas, but the rest of the year he's scorned by everyone for being different. So Rudy's the saddest man in Yuleland and desperate for a nice diversion.
When the winter sprite and the reindeer shifter meet, after a rocky start, a friendship of like minds is born. Attraction soon follows. But then strange things start to happen. Odd omens warn them of dire consequences for Yuleland and for the winter holidays should they fall for each other.
Can love unite two lonely men and save Christmas? It's the most wonderful time of the year—for some frosty reindeer games.
ISBN:  978-1-68295-644-1
Product Link: http://www.bookstrand.com/book/defrosting-jack
Reviewer: Lisa
Review:  Susan Laine has a wonderful imagination and can create some unique worlds for her stories.  Although I must admit this is definitely unique.  I wasn't to sure about it, although I did expected Jack's attitude, I couldn't figure out Rudy.  It is a sure fire way to catch ones attention and is a delightful Christmas story, if not a bit weird.
Jack Frost is nipping at your toes and has an attitude to boot.  He is alone because he chooses it.  Then you have Rudy, who is a reindeer shifter, he is treated like the plague until Christmas time so he spends most of his life alone but not by choice.  However Rudy is a half-breed for the other part is fire giant.  So you can guess what you get when Jack Frost and Rudy unite.  Steam is just a part of what you will get and it will definitely keep you warm.
It was a fun little story but was missing so much.  Rudy was the one that made most of the sacrifices although you can feel and see Jack's displeasure on it.  You can also see Rudy's giant heart and he is my favorite of all characters.  The story though fell flat to me and I really don't know exactly why.  It just felt off to me.  Other than that it was enjoyable and I can see myself reading it more than once around the holidays.