Hiya Peeps! We have Layla Reyne stopping by today with her upcoming release Dine With Me, we have a fantastic teaser so check out the post and enjoy! ❤️ ~Pixie~
Dine With Me
by
Layla Reyne
Life never tasted so good.
Miller Sykes's meteoric rise to award-winning chef is the stuff of culinary dreams, but it's all crashing down around him. He's been given a diagnosis that could cost him something even more precious than his life: his sense of taste. Rather than risk the very thing that defines him, Miller embarks on a last tour of his favorite meals while he still can.
But there's a catch: he needs a financial backer to make it happen, and he doesn't want anyone to know he's sick.
Dr. Clancy Rhodes has two weeks to come to terms with putting aside oncology to work at his father's thriving plastic surgery practice. When the opportunity to travel with a Michelin-starred chef presents itself, the foodie in him can't believe it. It doesn't hurt that Miller's rugged good looks are exactly Clancy's cuppa joe.
As Clancy and Miller travel from coast to coast and indulge in everything from dive bars to the most decadent of culinary experiences, they're suddenly sharing a lot more than delicious meals. Sparks fly as they bond over their love of flavors and the pressures of great expectations. But when Miller's health takes a turn for the worse, Clancy must convince him he's more—so much more—than just his taste buds. And that together, they can win a battle that once seemed hopeless.
One-click with confidence. This title is part of the Carina Press Romance Promise: all the romance you're looking for with an HEA/HFN. It's a promise!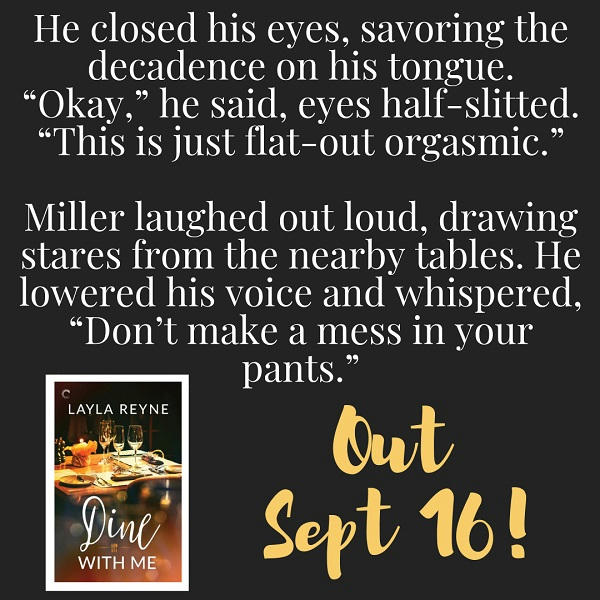 Teaser!
Eyes on the amusing plate that looked like a nun's habit, Clancy didn't notice Lucy approaching until the overwhelming scent of earth hit his nose. "White truffles from Alba," she said, displaying the delicacy in the open box. "Pairs perfectly with the wine and pasta."
By the time she was done shaving God-only-knew how many ounces of truffle over his plate, Clancy couldn't even see the pasta.
A knee knocked his under the table. "Stay with me," Miller whispered.
Clancy wasn't sure what was more intoxicating—the earthy aroma that filled the room, Miller's gravelly voice full of humor, or the heat radiating from the leg next to his.
Lucy tapped the last shaving off onto Miller's plate and Ben set the decanter and bottle on the table. "Enjoy," he said, squeezing Miller's shoulder once more. Clancy could sense the friendly affection there.
Clancy picked up his fork and wound strands of the brown butter drizzled tagliatelle around the tines. Spearing extra truffle shavings onto the end, he raised the fork to his mouth and took the single best bite of food of his life. He closed his eyes, savoring the decadence on his tongue. "Okay," he said, eyes half-slitted. "This is just flat-out orgasmic."
Miller laughed out loud, drawing stares from the nearby tables. He lowered his voice and whispered, "Don't make a mess in your pants."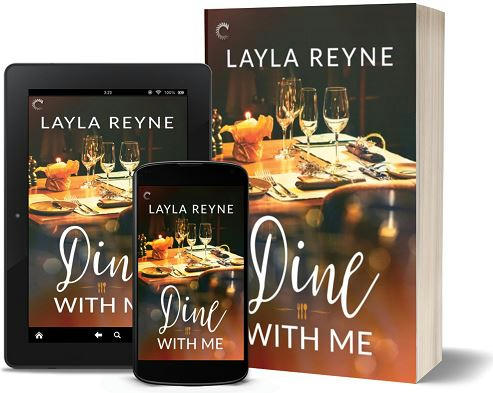 From Bookish's 2019 Must Read Romance Novels According to Romance Authors: "I'm so looking forward to Layla Reyne's Dine With Me. I've loved her m/m romantic suspense trilogies so much, and I can't wait for this standalone foodie m/m romance from Carina Press. Coming in September, it stars a dying chef on a coast-to-coast tour of favorite meals, and the companion who aims to make sure these aren't the chef's last suppers. I got to read an early version and absolutely adored the romantic chemistry and heart-tugging emotions with one of the best happy endings. Highly recommend!"
—Annabeth Albert, author of the Out of Uniform and Frozen Hearts series
Layla Reyne's DINE WITH ME is a contemporary m/m romance following a dying chef on a last tour of his favorite meals, and the travel companion who must convince him he's more than his taste buds and that the cost of love is worth living for.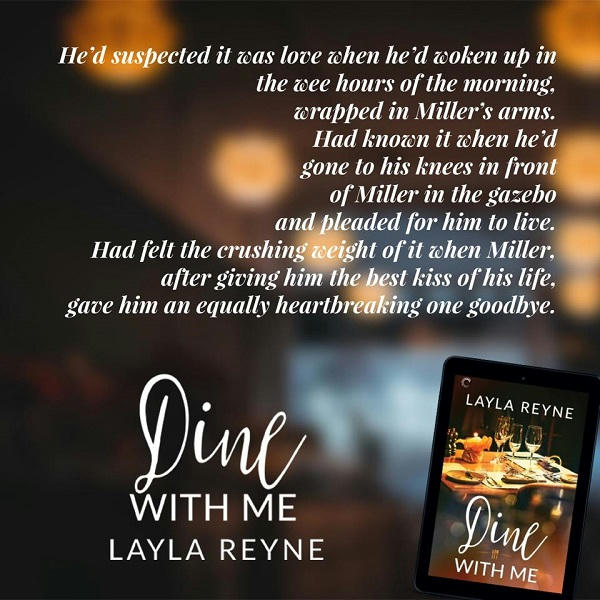 About Layla!
RITA Finalist Layla Reyne is the author of the Agents Irish and Whiskey, Fog City, and Changing Lanes series. A Carolina Tar Heel who now calls the San Francisco Bay Area home, Layla enjoys weaving her bi-coastal experiences into her stories, along with adrenaline-fueled suspense and heart-pounding romance. She is a member of Romance Writers of America and its Kiss of Death and Rainbow Romance Writers chapters. Layla is a 2019 RWA® RITA® Finalist in Contemporary Romance (Mid-Length) and 2016 RWA® Golden Heart® Finalist in Romantic Suspense.
Connect with Layla: Website | Blog | Facebook | FB Group | Twitter | Pinterest | Newsletter