Hiya guys! We have Shira Anthony popping in today with the tour for her upcoming release The First Step, we have a brilliant guest post from Shira and a fantastic exclusive excerpt, so check out the post and enjoy! ❤️ ~Pixie~
The First Step
by
Shira Anthony
The first step is the hardest. After a scandal, New York political reporter Reed Barfield is lying low at the North Carolina coast, writing a story about the seafood industry. But it's the harbor pilots on the Cape Fear River who capture his interest—men who jump across ten feet of open ocean to grab a rope ladder and guide huge container ships into port. Men like sexy but prickly Justin Vance. 
After surviving an abusive childhood and a tour in the Navy, Justin isn't fazed by his dangerous job—it's certainly easier to face than Reed's annoying questions. Justin isn't out at work, and he doesn't need Reed digging into his personal life or his past. 
But Reed's no stranger to using his considerable charm to get what he wants, and as he wears Justin down, they realize they have a lot in common—and that they like spending time together. Moving beyond that, though, will mean Justin confessing his sexuality and learning to trust Reed with his secrets—if Reed even decides to stay. Both men want a future together, but can they find the courage to take the first step?

Shira Anthony!
Thank you Pixie and MM Good Book Reviews for hosting the first stop on The First Step blog tour! I'm super excited for the release of this book on September 17th, not only because it takes place in one of my favorite places in North Carolina, Wilmington, but also because it's my first contemporary release in over a year. Please be sure to read to the bottom for an exclusive excerpt from the book!
The First Step is the first in my Coastal Carolina series from Dreamspinner Press. All of the books in the series are set in and around the North and South Carolina coasts and feature men you might find working at the coast. The First Step features an ocean pilot—one of the men and women who navigate the huge cargo ships that transports goods in and out of ports all over the world. This particular pilot is based out of Southport, North Carolina.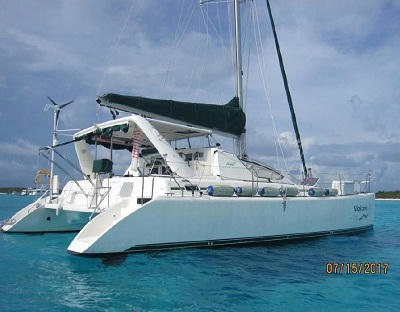 I had intended to write about the various aspects of boating, since my husband and I have a 38 foot catamaran sailboat, Prelude, we will be spending the next two years living on and cruising the Atlantic Ocean up and down the east coast of the US and down to the Bahamas. And there are ton of interesting things about sailing and boating in general I intended to share. But as I'm sitting here writing this, Hurricane Dorian is bearing down on North Carolina and the City of Wilmington, so rather than ignore the 2-ton elephant in the room, I decided to write about hurricanes.
The photos of damage in the Bahamas are heartbreaking. We'll be sailing that way come December, and I'm sure even though the cleanup will be underway, it'll be years before they can fully recover from the damage Hurricane Dorian inflicted.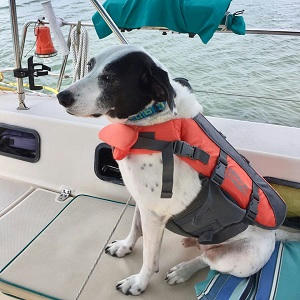 Living in North Carolina, we've been through our fair share of storms, although nothing like the devastation in the Bahamas or in parts of Florida last year from Hurricane Matthew. We were very lucky last year that our boat suffered little damage even though it was slipped in Wilmington, North Carolina, during both Hurricanes Florence and Matthew. Folks living in Wilmington weren't so lucky. The flooding there was so bad after Florence that the entire city was cut off from the outside. No roads in or out. Entire communities flooded, people were stranded in their homes, and for months afterward, many people couldn't return to their homes because of storm damage.
While I personally was safe and only slightly soggy at our inland apartment, I drew upon the experiences of the boaters we know who stayed on their boats during the storm, as well as upon the exciting stories of heroic rescues as the floodwaters rose afterward. The First Step was inspired by the aftermath of Florence and the men and women who risked their lives to help those in need. The story takes place before, during, and after the storm, and that storm is as much a main character as the two men who are the focus of the story. Together, Reed Barfield, a reporter from New York, and Justin Vance, our ocean pilot, weather the hurricane and face its aftermath.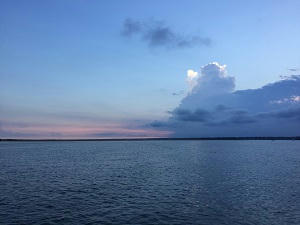 The First Step is as much a romance as it is an exciting and harrowing story of survival. I'm always humbled to remember that, as much as the Carolina coast is an incredibly beautiful place, there's a price we all pay for enjoying that piece of paradise. By the time the book releases, people in Wilmington and elsewhere along the East Coast will be cleaning up after Hurricane Dorian. I pray the damage won't be terrible this time around and my thoughts are with them as they begin to pick up the pieces and moved forward.
I'll leave you with an exclusive excerpt from the book that takes place during Hurricane Florence. Happy reading! –Shira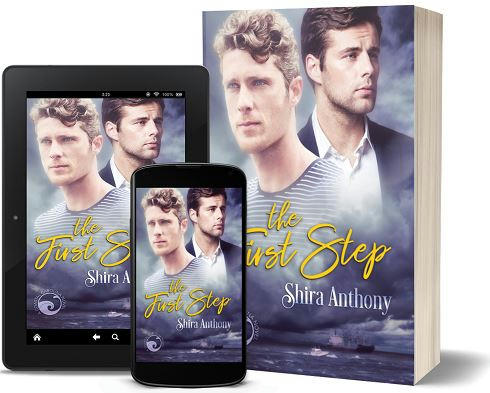 Exclusive Excerpt!
Reed lifted his camera again and took a photo of the gulls, then aimed his lens out to sea and focused on the breaking waves and the way the water flew upward as they roiled and churned.
After a while his arms began to ache, and he let the camera hang around his neck. He pulled out his phone and glanced at the time: 5:30 p.m. Just then, a huge gust of wind nearly knocked him off his feet and splashed the phone. He wiped the water off the screen, thankful once again for the waterproof case.
Five thirty? Shit. The last time he'd checked, it had been a few minutes before three. He walked under the pier, where the rain and spray weren't as heavy, then tapped the screen. No reception. He sighed.
Time to head back. Justin would be irritated, but it was only ten blocks or so. He slipped his soggy shoes back on and followed the trail over the dune. He reached the street, but it was flooded.
He rolled his damp pants up to his knees, realizing how futile the gesture was since they were soaked through, then pulled off his shoes and waded in. By the time he reached the middle of the street, the water was knee-high. Not pleasant but doable. He smiled when he imagined the hot shower he'd take at Justin's, his smile broadening when he added Justin to the shower fantasy.
He nearly reached the other side when he slid on something and fell headfirst into the muddy water. He got to his knees and tried to stand, but the asphalt must have been covered in mud because he slipped again, this time scraping his knee in the process.
"Shit." His knee stung as he finally got back to his feet. He looked up to see someone on the curb dressed head to toe in rain gear, offering him a hand. He grabbed on and the man pulled him out of the water. "Thanks."
"Yep." Justin pushed back the hood of his jacket and glared at him. "He'll be back by three, he says. He won't do anything stupid, he says."
"Sorry. I—"
"Got distracted?" Justin scowled. Judging by the tension in his jaw, he was pissed. "Yep. I figured as much."
Reed hadn't noticed they were the only ones around. Even the vans with the news crews had disappeared. "Everyone's gone. Shit, I—"
"That's because it's dangerous out here." Justin pulled him down the street to a parking lot, never letting go of Reed's hand. "Get in."
"I'm going to get the truck all muddy."
"Get your ass inside."
"Aye-aye, sir."
Justin's shoulders tensed as he started the truck.
"Listen, Justin, I'm really sorry."
Justin banged the steering wheel with a fist. "The hell, Reed," he nearly shouted. "How many times do I have to save your ass? You're going to fucking kill yourself one of these days."
Reed swallowed hard. He'd never seen Justin this angry. "Justin, I'm—"
"You're always sorry. Except you aren't at all, are you? It's all bullshit." Before Reed could respond, Justin continued, "You've got the apology down pat, but you do whatever the fuck you want. You don't give a shit that someone might actually care what happens to you." Justin shook with anger.
"Hey." Reed put a tentative hand on Justin's forearm. Justin didn't push him away, but he didn't look at him either. "I really am sorry I put you through this again. And you're right. I should think about other people. I—"
Justin grabbed Reed and held him so tight, it almost hurt. He must have realized this, because he eased off a bit, although he didn't release Reed either. "When you didn't come back… I wasn't… I didn't know… I thought maybe this time… I didn't know if I could handle it if something happened." Justin's voice broke with this last admission.
Reed swallowed back a wave of powerful regret. "You're right." He sighed against Justin's cheek. The warmth was back again, more powerful than before. Knowing Justin cared enough about him to be that angry made Reed feel really good.

About Shira!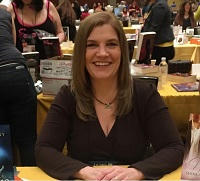 Shira Anthony was a professional opera singer in her last incarnation, performing roles in such operas as Tosca, i Pagliacci, and La Traviata, among others. She's given up TV for evenings spent with her laptop, and she never goes anywhere without a pile of unread M/M romance on her Kindle. You can hear Shira singing "Vissi d'arte" from Puccini's Tosca by clicking here: Shira's Singing
Shira loves a great happily-ever-after and never writes a story without one. She's happy to write what her muse tells her, whether it's fantasy, sci fi, paranormal, or contemporary romance. She particularly loves writing series, because she thinks of her characters as old friends and she wants to visit them even after their stories are told.
In real life, Shira sang professionally for 14 years, and she currently works as a public sector attorney advocating for children. She's happy to have made writing her second full-time job, even if it means she rarely has time to watch TV or go to the movies. Shira writes about the things she knows and loves, whether it's music and musicians, the ocean, or the places she's lived or traveled to. She spent her middle school years living in France, and tries to visit as often as she can.
Shira and her husband spend as many weekends as they can aboard their 38′ catamaran sailboat, Prelude, at the Carolina Coast. Not only has sailing inspired her to write about pirates and mermen, her sailboat is her favorite place to write. And although the only mermen she's found to date are in her own imagination, she keeps a sharp lookout for them when she's on the water.
Website | Facebook | Facebook Author Page | Twitter | Pinterest |  Goodreads | Google+