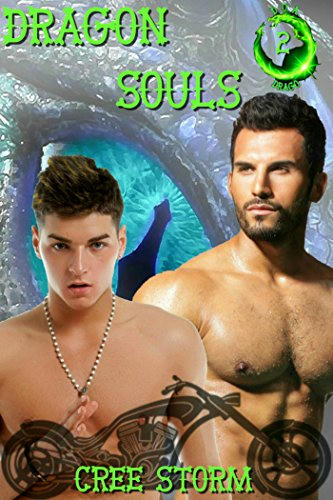 Title: Dragon Souls
Series: D.O.A. 02
Author: Cree Storm
Genre: Paranormal
Length: Novella (153 Pages)
Publisher: Cree Storm (December 5, 2017)
Heat Level: Low
Heart Rating: 💖💖💖💖💖 5 Hearts
Blurb: A serial arsonist has just burned down Jude Riddle's family home, and is now trying to burn the people of D.O.A. out of Texas. Jude wants answers and is willing to work with anyone to get them, even if help comes in the form of century-year-old men with dragons as partners. Especially if one of those agents is Rance "Casper" Caldwell and his soul binding dragon, Smoky.
Casper has never accepted his maharishi in his renewed life. His beliefs were cut and dry. Death was final, and dragons were demons. However, since Casper had already died once and now walked the earth and was joined with a dragon by a higher power, did this mean he was an evil demon now, or was everything taught to him as a child a lie.
Discovering Jude to be his and Rance's mate brought a light into what had been a dark, lonely existence to Smoky. He wanted nothing more than to claim what fate had gifted him, but to do so, meant he also had to strengthen his bind with Casper. Could he do this after all the hurt the man had caused him for centuries? Well, he better decide quick, because time is running out for him and Casper and an arsonist is nipping at their mates heels.
ISBN: B077Y7WYN6
Product Link: Amazon US | Amazon UK
Reviewer: Lisa
Review: Each book in the D.O.A. collection features a different romantic couple. To enjoy the overall story arc and crossover characters, I would recommend reading the series in sequential order.
To me there is nothing better than a good romance between two sexy men. If those me just so happen to throw sparks off and have some humor going on, then the better. The fact that the paranormal aspect is so fresh and unique that makes it even rock. In this series, our sexy men died over five hundred years ago. Their dragons, well for Smoky, he died many years before that. They are bonded but not sexually. They don't become the dragon, but can take care of some of the powers they have. The dragons can imprint on them, sort of like a tattoo on the skin. Quite different then you normally hear.
Jude has a very sweet and unusual family. He is his mothers birth son, but the others are pretty much chosen sons. Clare is the mother of all of them, which is pretty cool. When their house burns down, it is said to be by arson. The insurance company is giving them hell. On top of that it would seem Casper is his mate, as is his dragon. The problem is Casper and Smoky are not talking to each other. Smoky is dying from it. Jude is going to bang some heads together with these two, but damn if he is not turned on.
Rance "Casper", thinks like over five hundred man thinks like. He thinks once you're dead, your soul leaves your body. He is different from his friends, he died the day before they did, so his soul had left his body. One never knows how it works, but he is determined to believe that he is in fact a demon. He wants to die, because he fears what he is. Yeah, he needs his head smacked.
Smoky is one hell of a dragon, but he loves his bonded. He also hates his ass right now. He has tried to talk to him and explain, but the man just won't listen. So Sparky knows it means his death, if you don't want him there he is not going to be there. It takes their small human to shake their worlds up.
I always said that a man is stubborn as hell, but these two take the cake. You top that with a mouthy human and their worlds are about to explode. Not to mention they still have to find out who is behind the trouble.
I love the worlds that this author has created for these guys, I just wished they came out faster. It is entertaining and gives you just about everything you could ask for in a story. I was caught from the moment I started reading and couldn't focus on anything else.
I had a blast reading it and can't wait for the next book to come out.