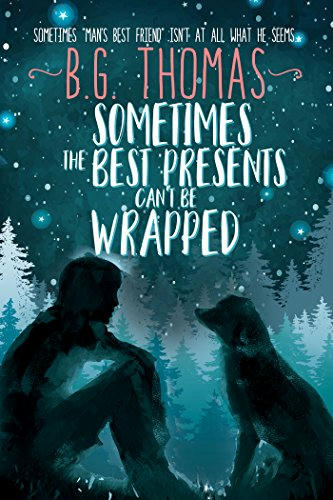 Title: Sometimes The Best Presents Can't Be Wrapped
Author: B.G. Thomas
Genre: Urban Fantasy
Length: Novella (131 pages)
Publisher: Dreamspinner Press (25th December 2017)
Heat Level: Low
Heart Rating: 💖💖💖💖💖 5 Hearts
Blurb: Ned Balding used to be a decent man—until the stress of seemingly countless responsibilities changes him, and he becomes cold and driven—the kind of man who considers firing an employee days before Christmas. The kind of man who kicks a dog…. But Ned's transgressions haven't gone unseen. A Salvation Army Santa witnesses his misdeeds and decides Ned needs to be taught a lesson.
When Ned wakes up the next morning, he's stunned to discover he's been transformed into a dog.
In the past year, Jake Carrara has lost his mother, a lover… even his dog. His boss came close to firing him just before the holidays. He isn't sure he's ready for another pet when he's asked to foster a dog, but Jake's good heart won't let him refuse. Little does he know, this isn't just any dog.
Through a twist of fate, two people with little reason to be friends might teach each other to rediscover the good—and the love—in life.
ISBN: 978-1-64080-266-7
Product Link: Dreamspinner | Amazon US | Amazon UK
Reviewer: Prime
Review: Sometimes the Best Presents Can't Be Wrapped is a quirky holiday romance tale that is very much in the realm of urban fantasy by BG Thomas. I haven't read too much of BG Thomas, but I have their books in the past to be quite hit and miss, in terms of me being able to get into the story and connecting to the characters. Needless to say, I was a little concerned but it was the blurb that won me over.
Essentially, this novella is a story that has echoes of the Dickens story of Ebenezer Scrooge. However, when you read the story, instead of thinking of the traditional story by Dickens himself, I was able to relate it more to the modern retelling a la the movie Scrooged. You know the one, that's the movie with Bill Murray. Which then led me to decide that this is more of a mix of the two Bill Murray movies Scrooged and Groundhog Day. And now I think of it the whole transformation of horrid character to teach him a lesson is very Beauty and Beast too. There you go, numerous pop culture references, make of them what you will.
I amazed and blown away by how much I loved this story.
Ned Balding is the Scrooge-type character of the story. He used to be a good man who a lot of people loved, including his employees. But years of stress and shouldering too many burdens (which he really should have shared in the first place), has made him into a bitter man. In fact, he almost fires his employee Jake Carrara for having flimsy reasons for taking time off. (I think that some of this might be an American thing so I found the treatment by Ned quite illegal, seriously he'd be open for a court case in Australia. But then again I have the luxury sick leave, roster days off and 20 days recreational leave a year, so I feel that some of this is kind of lost on me, yet it does a fantastic job into making Ned an ogre).
To put it nicely, Ned is such a Grumpy Gus he angers the wrong spirit or entity (in the guise of a Salvation Army Santa) that he is turned into a dog to teach him a lesson of love and compassion.
Jake on the other hand is a sweetie. He has a heart of gold and will help anyone, human or animal, with his limited resources. He's recently lost his beloved dog and when he receives a phone call of a dog in desperate need of a foster home (lest the poor animal be put down) he reluctantly answers the call. In fact, the dog seems like it understands every word he says. Jake bears his soul to the creature, who is actually Ned and Ned's path to love and redemption begins. Ned learns of Jake's feelings towards him through Jake's chatter, which isn't all flattering but there is a chance for a lot more.
This is a really sweet romance. Mind you for most of the book Ned is a dog, we get to really take time getting to Jake and Ned, although it's questionable how much they know each other. Despite their limited time together as humans the guys have a fabulous connection. Overall, this was fun and enjoyable. If you like any of the literary or movie references I've already mentioned, love dogs and love a good dose of the holiday spirit then I think you'd love to read this book.