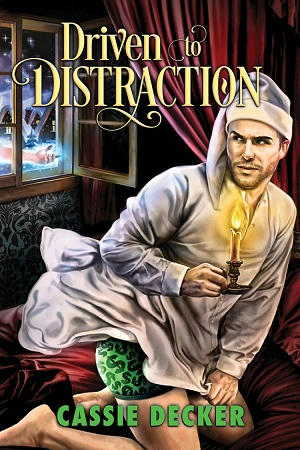 Title: Driven to Distraction
Series: 2016 Advent Calendar- Bah Humbug
Author: Cassie Decker
Genre: Contemporary, Cowboys, Holiday
Length: Short Story (23 Pages)
Publisher: Dreamspinner Press (December 18, 2016)
Heat Level: None
Heart Rating: ♥♥♥ 3 Hearts
Blurb: Cowboys Wyatt and Brady are competing in a team roping event in Missoula, Montana's annual Christmas Eve rodeo. Christmas is Wyatt's favorite time of year and nothing is going to dampen his holiday spirit, not even his surly, no-nonsense roping partner. They've only been riding together for a week, but Wyatt has already secretly fallen head-over-boot-heels for Brady, though it's painfully obvious Brady only has eyes for the rodeo's grand prize purse.
When Brady is distracted during a crucial moment in the night's first roping run and nearly disqualifies them, Wyatt is almost certain he is going to be another of Brady's many rejected partners. Will Wyatt and Brady be able to sort out their differences and work together to win the grand prize? Maybe if Wyatt can show Brady that Christmas really is a time for miracles.
ISBN: 978-1-63533-180-6
Product Link: https://www.dreamspinnerpress.com/books/driven-to-distraction-by-cassie-decker-7974-b
Reviewer: Lisa
Review:  This is a very cute story about two men who are roping partners and are attracted to each other.  However it would seem Brady has more on his mind then Christmas, but for you to find out you have to read the story.
It is a very cute little story that has one hell of a happy ending.  I got a kick out of it, but I have to say that it was not what I had expected it to be.  It did show a little bit of Christmas miracles happening.  I could see myself reading this more than once, however it would make for a better long story then it does a short one.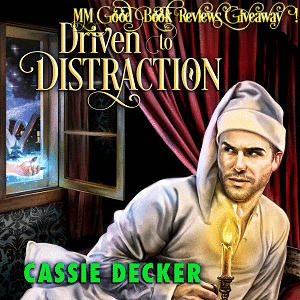 1st prize $100 DSP credits!
2nd prize $50 DSP credits!
3rd prize $25 DSP credits!
4th prize $25 DSP credits!
Cassie Decker's Question!
In which major US airport did Tucker and Cal (from Kismet) meet? 
(Just leave a comment with the answer on this post)
Catch up with the previous questions: MMGBR Bah Humbug Giveaway!
(Winners will be picked by a dart on 1st January 2017)