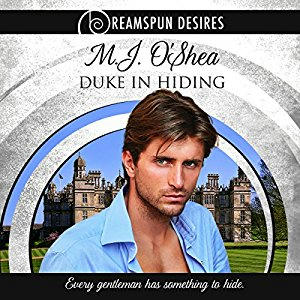 Title: Duke in Hiding
Series:  Dreamspun Desires 9
Author: MJ O'Shea
Narrator: Rusty Topsfield
Genre: Contemporary
Length: 5 hrs 8 mins
Publisher: Dreamspinner Press (16 May 2016)
Heat Level: Explicit
Heart Rating: ♥♥♥♥ 3.5 Hearts
Blurb: Every gentleman has something to hide.
Meeting Heath Blackwood, a gorgeous English farmer, is probably the most exciting thing to ever happen to small-town landscaper Theo Brody, who has lived in quiet Maplehurst, New Hampshire, all his life. The sexy and secretive Brit shakes the foundations of his orderly world as they are swept up in a springtime romance neither can resist.
But Heath's secrets run deeper than Theo ever imagined. He's actually Heathcliff Pierrepont Blackwood, Duke of Kingston, in hiding from recent death threats. Suddenly there's more separating them than the Atlantic Ocean, and Theo doubts he'll ever fit in with English nobility. Though Heath and Theo are opposites in almost every way, their love might bridge the gap – if they're willing to take the risk.
Product Link: Audible US | Audible UK
Reviewer: Prime
Review: For me MJ O'Shea has been one of those authors who I'm always hit and miss when it comes to enjoying their books. However, I am more than happy to say that Duke In Hiding is one of those stories that I absolutely loved. The definite highlight for me was hearing the wonderful Rusty Topsfield narrate a story where you really do need to suspend your disbelief more often than hoped for. Having already read Duke in Hiding I was interested to see what happened with the audio – I find that I enjoy a lot of book more in their audio. Ultimately, though, I think my enjoyment level was about the same.
Duke In Hiding is exactly what the title and blurb says.
Heath is the moody English aristocrat who goes to small town New Hampshire in order to get away from a potentially deadly situation after an attempt is made on his life. This is where he meets Theo, a landscape gardener who also doubles as a bar tender until his summer workload picks up. Needless to say, the guys start off on the wrong foot because of a certain duke's moody behavior. Yet from the start there are intense sparks of attraction between the guys. In the end I loved these guys. Theo was a good buffer for Heath's gruffness.
I think my only criticism is that the ending seemed a little rushed. There was a lot for Theo to comprehend at the end and he seemed to just let it happen and accepted everything without much of a fight. I don't really mean fight in the literal sense. I just felt that perhaps it needed to occur on a longer time frame. After all, on top of the personal issues to overcome there was the mystery of who would want Heath so completely out of the picture that his life was in danger.