Hi guys, we have Katey Hawthorne popping in today with the cover to her upcoming re-release Equilibrium, we have a fantastic 2 x £10 Amazon GC giveaway, so check out the lovely new cover and enter the giveaway! ❤ ~Pixie~
Equilibrium
by
Katey Hawthorne
Econ student Hansen Marks has been hot for Sam MacLeod since they first bonded over their secret superpowers–literally hot, since Hansen can produce fire from thin air. But soccer star Sam was always covered in girls, so Hansen kept his attraction in the closet and convinced himself that "best friends" was better than nothing.
When Sam's electrical powers freak out in public, Hansen has a sinking feeling they're spotted by unfriendly eyes. While dealing with the fallout, Sam's emotional dependency on Hansen forces their mutual attraction to the surface. Even after they give in, Hansen is afraid to admit he's in love. Sam doesn't really like guys, he's just feeling vulnerable… right?
Just as their nights are heating up, it becomes clear Sam's electrical explosion was seen, and now someone has it in for both of them. They'll have to save each other, both from the haters and from their own fears, if they want to maintain equilibrium.
Superpowered Love series!
The Superpowered Love series explores the mixed-up love lives of the "awakened", humans with awakened thermal or electrical superpowers.
Riot Boy (Book 02)
Picking pockets can lead to a lot of things—most of them bad—but Etienne's never had a lift lead to a first date. And it only takes a look to know that Brady is pure trouble. But resisting him is a futile effort, even if Etienne had bothered to try.
But despite the many and varied pleasures they find with each other, it's hard to overlook that Brady is also one hell of a mystery: he disappears in the night, won't leave a phone number, and refuses to discuss his past. He needs saving, but Etienne doesn't know from what, and Brady is in no hurry to explain.
Release date: 5th September 2018
Pre-order: Less Than Three Press
About Katey!
Katey Hawthorne is an avid reader and writer of superpowered and paranormal romance, even though the only degree she holds is in the history of art. (Or, possibly, because the only degree she holds is in the history of art.) Originally from the Appalachian foothills of West Virginia, she currently lives in Ohio with her family, two cats, and one very large puppy. In her spare time she enjoys travel, comic books, B-movies, loud music, video games, Epiphones, and Bushmills. Her favorite causes include animal rescue and bisexual representation in media. She is an unashamed fangirl and collects nerdy tattoos like she's trying to prove it.
Website | Facebook | Twitter | QueeRomance Ink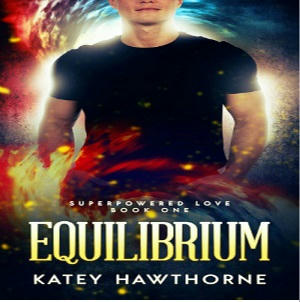 Giveaway!
Win! 2x $10 Amazon Gift Cards!