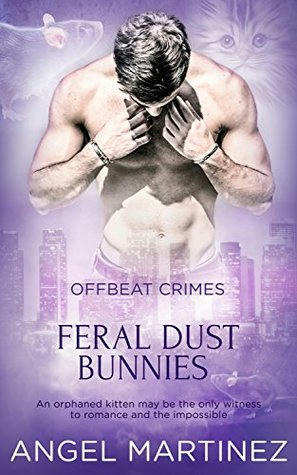 Title: Feral Dust Bunnies
Series: Offbeat Crimes 04
Author: Angel Martinez
Genre: Fantasy, Paranormal
Length: Novella (115 pages)
Publisher: Pride Publishing (June 20, 2017)
Heat Level: Moderate
Heart Rating: ♥♥♥♥ 4 Hearts
Blurb: An orphaned kitten may be the only witness to romance and the impossible.
Officer Alex Wolf responds to a lot of 'paranormal' calls that aren't. Exotic pet birds aren't monsters and unusual dog breeds aren't aliens. It's a good thing he likes the Animal Control officers, but he both yearns for and dreads those calls where he runs into ACO Jason Shen. Jason's scent is so delicious that Wolf has a difficult time humaning around him.
Animal Control calls take a disturbing turn, though, when Wolf and his lizard-man partner, Krisk, discover the impossibly mummified bodies of rats and an unfortunate mother cat. The rescue of the cat's sole surviving kitten not only gives Wolf more time with Jason, which is both perplexing and wonderful, but also leads to dangerous discoveries. Something inconceivable stalks the city and its officers of the law. Wolf has to figure out what it is before it can attack and drain the life from the people and the kitten he loves.
ISBN: 978-1-78651-593-3
Product Link: https://www.pride-publishing.com/book/feral-dust-bunnies
Reviewer: Shorty 
Review: This story is about Alex, a wolf who has more human traits than wolf. I loved his relationships with his adopted mother and his partner in the unit, Krisk. Alex struck me as a good guy who deserves the best.
However the so called romantic interest Jason I did not like. His attitude at times left a lot to be desired. I did not like his back and forth attitude with Alex nor did I appreciate the way he acted at Krash and Kory's wedding. 
I did see the attraction Alex felt for Jason and I was hoping he would move on from him. This was my least favorite book in the series so far. It was an o.k. read.