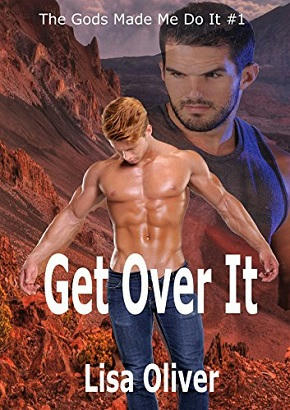 Title: Get Over It
Series: The Gods made Me Do It #1
Author: Lisa Oliver
Genre: Paranormal, Fantasy 
Length: Novella (166 Pages)
Publisher:  Lisa Oliver (February 15, 2017)
Heat Level: Low
Heart Rating: ♥♥♥♥♥ 5 Hearts
Blurb:  Madison Worthington has worked hard to get to where he is. Thrown out of his pack at a young age, he finds his home in the San Antonio pack, eventually talking himself into a job as Damien's PA. He doesn't get the respect he'd hoped for, but he holds his head high as he works behind the scenes keeping Damien's club and pack running smoothly. At night he dreams of a mate who will hold him in strong arms and love him just the way he is. Unfortunately, the Fates appear to have other plans.
Sebastian D'Eath, son of Thanatos the Angel of Death, has always known that the Fates would throw a mate in his path. He just didn't realize he had to dive into flood waters to stop the man from drowning. But no matter how cute his mate might look as a drowned rat, Sebastian has his arguments ready. He doesn't want a mate; won't take a mate and no one can make him. However, he soon finds out the Fates have other plans for him, too.
Angry words lead to Madison being captured by a wolf with a sick mind. Salvation comes from an unlikely quarter, but Madison returns to the pack with a change of heart. He has some scores to settle and Sebastian is first in the firing line. Hellhounds, dinners and a red convertible – will Sebastian ever get the man he claimed he didn't want? 
ISBN: B06WRNV5XF
Product Link: https://www.amazon.com/Get-Over-Gods-Made-Book-ebook/dp/B06WRNV5XF
Reviewer: Lisa
Review:   This story is a spin off series from the Cloverleah Pack.  It is said that it could be read as a standalone, but I would suggest reading Cloverleah Pack series first.  You will get introduced to many of the characters that you will come across in this new series.
Madison had not had a very good childhood and it was until he was taken in by Damien's pack that he was finding a bit of peace.  That didn't mean shit went right for the man though, he was at first a sub for the man but now he was Damien's PA.  Everything from small to huge fell on Madison's shoulders.  Basically he ran the whole club, but because he was a sub no one took him seriously.  Some even called him frigid and stuck up, that is until, and well you're just going to have to read the book.  Let me tell you more about his mate.
Sebastian is the son of Thanatos.  Now Thanatos is basically the angel of death and this sexy man has his own story added onto this amazing book.  But back to our pain in the ass Sebastian.  That man was going to throw his mate away, because his dumbass was in love with another, and get this that man has been dead for a very, very long time.  But fate knows what she is talking about and well Sebastian is going to have to kiss ass to make up for his screw-ups.  Want to know more, read this book.
I have read many stories by this author, and let's just say this one was a hit just like the rest.  It has a serious tone to it, but the humor is found throughout.  I wanted to kick someone's ass, but Madison did it for me.  I had quite a bit of fun reading this and would definitely recommend it.