Hi guys! We have C.F. White stopping by today with the tour for her new release Hard Time, we have a great excerpt, a fantastic giveaway and my review, so check out the post and enter the giveaway! <3 ~Pixie~ 
Hard Time
by
C.F. White
Love isn't always responsible.
After Micky O'Neill is remanded in custody for breaching his court order, his already tempestuous relationship with Dan Peters is tested to the limits.
Having to battle their way through a court case that could end with Micky in jail, social workers breaking up the family home, and the return of Micky's deadbeat father, it seems everything is set to destroy their relationship before it even had the chance to start.
With such high stakes involved, not just for Micky but for once-burned, twice-shy Dan, they both have to learn that falling in love isn't always responsible.
Excerpt!
"Fuck off!"
The large gray metal door clanged against the impact of the fight breaking behind it. Some stoner being sent to the next cell along for drunk and disorderly wasn't having any of it. The cops always won in the end—why struggle? That was Micky's philosophy, anyway. He'd be saving his energy for the interview room. That was where he could make his case. That was where he could convince them that they had made the error, not him.
"Get fucked, pigs!"
Micky heard the hacking of glob that was then spat at either the floor or, more likely, in the face of one of the coppers who was trying to detain the speaker of the colorful language. Micky lay on the hard wooden bench, staring up at the bare ceiling, and tapped his fingers on his chest. The cell smelt of urine, rotting paint and bleach. Gradually the intoxicated grunts and frustrated banging drifting through his four walls faded to distant echoes.
Micky closed his eyes and recited passages from Brave New World in his head, occasionally allowing the words to fall from his mouth. He might as well do something constructive with all his alone time. The confines of the plain box he was in were specifically designed to make its occupants bored enough to do nothing but contemplate their actions, so when the coppers finally came to take a statement, the tedium had already made the detainee halfway ready to confess. Micky came up with a rather good answer to that third exam question and it didn't start with fuck you for a change.
A loud bang from the next cell along jolted him out of his brief reverie and he opened his eyes to remember where he was. He swung his legs off the bench and immediately jumped onto the floor, where he landed on his hands and did some press-ups. After a while, his breathing labored with the invigorating stretch and burn in his shoulders and beads of sweat dripped onto the concrete floor. He didn't give up. Extra bulk would do him no harm where he was headed.
One hundred reps later, the clunking of the locks and the heavy door scraping open to echo around the now deathly quiet cell block made Micky peer up at the incoming uniformed police officer. Micky added a few more reps, nonetheless.
"Micky O'Neill, the sarge will see you now."
Micky hefted up from the floor, wiped the dust from his jeans and narrowed his eyes. "Where's my brother?"
The officer shrugged and gripped Micky's arm to steer him out of the cell.
"I'm not privy to that sort of information," he replied, eyes ahead while marching Micky through the gloomy gray corridors. "And if I was," he added, puffing out his chest, "I wouldn't be authorized to divulge it to you."
Micky rolled his eyes and added a few choice curse words under his breath. It was actually a rather mild reaction compared to the one he would normally have offered in this situation. The man ought to thank his lucky stars that Micky O'Neill had tamed his temper in the last couple of years.
Reaching an open door leading into a plain interview room, the officer released his fingers from digging into Micky's clenched biceps and shoved him inside. A plain-clothed middle-aged man decorated by a lanyard hanging from his neck stood from his plastic seat at the table. He waved a hand at the adjacent chair with no accompanying words.
"Where's my brother?" Micky asked again.
"Sit, Mr. O'Neill," the pin-striped-suit-wearing man ordered, wiping a hand down his navy silk tie. "I'm Sergeant Leary."
Micky scraped back the chair opposite and sat.
"Where's my brother?" Micky licked his lips. "That's my third time asking."
The sneer of a chuckle that came from the sergeant made Micky clench his fists out of view under the table.
"Where you last left him," Leary stated with a smile. "Micky." The sergeant sighed and shuffled his chair under the table more firmly. "Your brother is safer now than when he was in your or your father's care. Now, would you like a lawyer present?"
Micky shook his head.
"Thought not." Leary waved a flippant hand.
Micky tapped his fingers against his thighs and glanced away. He took in his surroundings while Leary riffled through the papers scattering his desk.
"Right," Leary continued and looked up across the table. "You breached your court order by assaulting a Mr. Carmichael in plain view of…" He flipped over a page and scanned the papers. "Well, well, well," he tutted and raised his eyebrows. "Your brother's school, no less."
Micky glared back, unflinchingly.
"So you've been fighting again?" the sergeant declared.
"I didn't hit him," Micky stated. "And where is my brother?"
Leary rocked in his chair, balancing it on two legs rather than four, and folded his arms. It made the red pen poking out of his shirt's top pocket push up farther and Micky thought it might fall out at any moment. He chose to focus on the pen rather than the piercing dark eyes of Heathwood Constabulary's finest.
"I have reason to believe that you did, in fact, punch Mr. Carmichael."
"No, I didn't," Micky replied and tucked his hands under their opposite armpits, mimicking the police sergeant. It was a sure-fire way to make the man with his rather annoying trimmed goatee beard uncomfortable.
"We have witnesses," Sergeant Leary challenged. He scraped his teeth over his bottom lip with a tsk and waved a flippant hand. "You were seen, in other words."
"Thank you for the clarification on what a witness is," Micky replied. "And, either they are lying or you are." Micky cocked his head. "Which one is it, Sergeant?"
Leary slapped his chair back onto four legs and picked up the pen lying on the desk. Scanning through his notes, he flicked the pen's tip on the papers. The tapping as it hit the surface was the only sound in the room other than Micky's increased breathing.
"Do you mind?" Micky grimaced and flicked out a finger to point at the pen. "That's annoying."
Sergeant Leary met with Micky's insolent smirk and amplified his tapping. Micky clucked his tongue.
"I want to exercise my right to one phone call," he stated.
"You've been watching one too many cop shows, Mr O'Neill," Leary contested, lifting his eyebrows. "We can inform someone of your temporary detainment." Leary cocked his head. "If we see fit. Surely you know the drill by now?"
Micky glared across the table without a flicker of anything other than pure lethargy. Leary threw his pen onto the surface, shuffled back in his seat and scrubbed a hand over his face.
"Who would you call, anyway?" he asked, plucking at the hairs on his goatee.
"You don't have the right to know that," Micky sneered.
Sergeant Leary smiled, amusedly. He lifted his hips from the chair, pulled out his mobile phone from his back pocket and slid it over the desk.
"Where's my phone?" Micky asked, eyes narrowed.
"You want a phone call, O'Neill," Leary replied and pointed at his mobile. "That's a working phone. Just type in the number and press the green button."
Micky glanced away. Trying not to let anything show in his expression, he ransacked his brain for any numbers. After a moment, he shoved the phone back across the table. The sergeant chuckled, picked up his mobile and tucked it away in his pocket.
"Where's my brother?"
"Mr O'Neill," Leary breathed out, full of exasperation. He spread his legs and stroked the silk material of his tie. "Where was your brother when you assaulted Mr. Carmichael earlier today?"
Micky chewed his bottom lip.
"Uh-huh." The sergeant nodded. He picked up his pen again and resumed tapping its nib on the table top.
Micky shuffled on his chair and mentally counted the aggravating beats.
"And where was your brother when you assaulted Mr. Carmichael the time previous?" Leary asked, eyes fixed on the hefty paperwork. "Or when you assaulted the three other names in this file?"
Micky bounced his knee under the table in time with the drumming pen and ticks from the wall clock.
"Or when you forced entry into a house that wasn't your own, stole a set of keys and drove a vehicle that did not belong to you, nor did you have permission from the owner, nor a legal license to drive it across town? Where was your brother then?"
Micky finally met with the sergeant's wide, all-consuming eyes and cocked his head.
"Was he with your mother?" Leary asked, voice elevated.
"Fuck you," Micky retorted, his chest rising.
The sergeant chuckled again. He shook his head and slid the pen into his top shirt pocket to snuggle alongside the red one.
"With your father?"
Micky snorted and looked away.
"Perhaps, Mr. O'Neill," Leary said and leaned forward to rest on his elbows. "You should be more concerned about your own whereabouts, rather than those of your brother."
Micky opened his mouth to retaliate, but a loud knock stopped him in his tracks. The interview room door opened immediately after and Sergeant Leary instantly stood. Micky watched in amusement as Leary went into full-on stiff-stance mode to greet the incoming older gentleman. The other man wasn't in uniform and looked as if he'd recently been woken from his grave. Micky narrowed his eyes and attempted to listen to the exchange of whispers but could only make out that the living-dead's tone was a tad more urgent than that of the sergeant's. Leary nodded with his best yessir and twisted on his heel to stalk back to the desk.
Micky swore he saw a brief smile curve on the elderly man's lips before he vacated the room, leaving the door wide open. Leary gathered up the papers on the desk and took his time folding them neatly into a manila card file.
"Well, Mr. O'Neill," Leary finally said, standing straight. "It seems you are free to go."
"What?"
"Expect a court appearance. But we no longer need to detain you." Sergeant Leary marched over to the open door, checked his watch and gave a serene, lopsided smile. "Good evening, Mr. O'Neill. Good luck getting home at this hour."
Micky stood. "Where's my brother?"

Responsible Adult series!
Misdemeanor (Book #1)
Pride Publishing | Amazon US | Amazon UK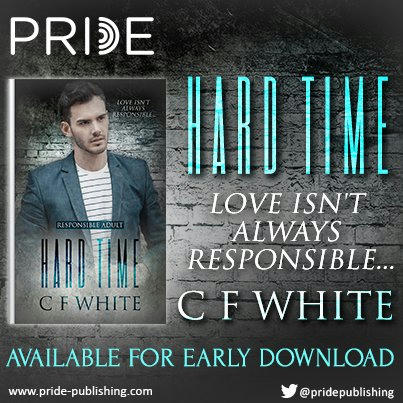 About C.F.!
Brought up in a relatively small town in Hertfordshire, C F White managed to do what most other residents try to do and fail—leave.
Studying at a West London university, she realised there was a whole city out there waiting to be discovered, so, much like Dick Whittington before her, she never made it back home and still endlessly searches for the streets paved with gold, slowly coming to the realisation they're mostly paved with chewing gum. And the odd bit of graffiti. And those little circles of yellow spray paint where the council point out the pot holes to someone who is supposedly meant to fix them instead of staring at them vacantly whilst holding a polystyrene cup of watered-down coffee.
She eventually moved West to East along that vast District Line and settled for pie and mash, cockles and winkles and a bit of Knees Up Mother Brown to live in the East End of London; securing a job and creating a life, a home and a family.
Having worked in Higher Education for most of her career, a life-altering experience brought pen back to paper after she'd written stories as a child but never had the confidence to show them to the world. Having embarked on this writing malarkey, C F White cannot stop. So strap in, it's gonna be a bumpy ride…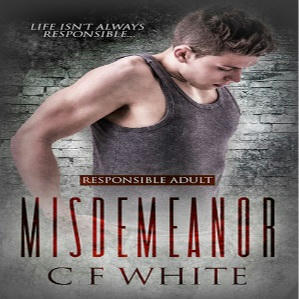 Giveaway!
Win an Ebook of Misdemeanor!
Review
Title: Hard Time
Series: Responsible Adult 02
Author: C.F. White
Genre: Contemporary
Length: Novel (215)
ISBN: 9781786515988
Publisher: Pride Publishing (5th September 2017)
Heat Level: Low – Moderate
Heart Rating: ♥♥♥♥ 4 Hearts
Reviewer: Pixie
Blurb: Love isn't always responsible.
After Micky O'Neill is remanded in custody for breaching his court order, his already tempestuous relationship with Dan Peters is tested to the limits.
Having to battle their way through a court case that could end with Micky in jail, social workers breaking up the family home, and the return of Micky's deadbeat father, it seems everything is set to destroy their relationship before it even had the chance to start.
With such high stakes involved, not just for Micky but for once-burned, twice-shy Dan, they both have to learn that falling in love isn't always responsible.
Purchase Link: Pride (Available Now) | Amazon US | Amazon UK (Available September 5)
Review: This story is part of a series and must be read in order.
After the startling end to Misdemeanor we have an explosive beginning in Hard Time, Micky's been arrested and is facing a police sergeant who has it out for him. Micky has a lot to lose if the Courts throw the book at him; it's dodgy now with Flynn being placed in emergency foster care but it's lucky for Micky that he has Dan in his corner.
In this new addition in the Responsible Adults series we see some huge dangers that Micky faces, he has decisions to make and Micky learns he can't always rely on his fists to sort his problems out. Micky's dangers aren't physical they are mainly mental, because Micky could lose everything he's working towards if he doesn't break the cycle of his reactions.
Dan is an amazing support for both Micky and Flynn, he's there for Flynn while Micky is locked up and he's also there for Micky as Micky struggles to keep control of his life. Dan is just amazing and his family are just wonderful, Dan is so lucky to have such a supportive family.
Micky's and Dan's relationship grows in leaps and bounds, while they might have only been together a short amount of time their feelings for each other are solid. They face a lot in the short time line of this book, you have Micky's impending court case, social services sniffing around Flynn, Micky's dad pushing his luck and Dan's decision regarding his job.
I really enjoyed this story; C.F. White doesn't just give us the rosy view of Flynn's disability C.F. gives it all in technicolor so we end up taking Micky deeper into our hearts as we see just what he has dealt with by himself for years. We also get to see Jason (Micky's best friend) again and we can also see the huge change in him as well, there's a lot of growing for several characters in this story and it's a pleasure to see.
I recommend this story to those who love great characters who develop and grow, two men supporting each other through thick and thin, loving and supportive parents and friends, an adorable little boy who will steal your heart, and a great ending that hints at more to come.

Check out the other blogs on the tour!