Hi guys! We have G.R. Lyons popping in today with the tour for the Matchmakers series, we have a couple of teasers and a brilliant giveaway, so check out the post and enter the giveaway! <3 ~Pixie~
Second Chances
(Matchmakers 01)
Nineteen-year-old porn star Remy Dawes loves his job at Matchmakers, a gay nightclub, but the fantasy he portrays every night doesn't leave room for what he really wants: companionship, love, someone to come home to, someone just for him. Who would ever take seriously a kid who practically sells his body for others' pleasure?
Thirty-five-year-old Chance Whitaker has sworn off dating younger men after having been cheated on one too many times, until the owner of Matchmakers convinces him to take a chance on Remy Dawes, a gorgeous kid who surprises Chance at every turn.
As things fall apart through meddling, death, and betrayal, will there be a second chance for two people to find love?
Second Drafts
Matchmakers 02
Novelist Shain Ahren is committed to only one thing: himself. Living alone and having an endless string of one-night stands, Shain's carefully crafted routine ensures no one will ever control him again. But one trick he met at Matchmakers, years ago, he can't get out of his head.
Painter Elliden Crawford yearns to be controlled. Born with an extreme chemical imbalance, Elliden struggles to keep the fits at bay so he won't be a danger to others. Only once in his life did Elliden ever truly feel safe, just one night when he met a stranger at Matchmakers.
When Matchmakers brings them together again, Elliden finally gets what he needs, while Shain's world is thrown into complete disarray. Will Shain ever relinquish control, or will they be fated to remain a discarded first draft?
Second Place
Matchmakers 03
Danny Berringer lives up to the name of his nightclub. Ever since he cheated on Bryan, the love of his life, he's been making up for it by helping others find love. He even matched up Bryan with Eric Grant, except Bryan's perfect marriage seems to have fallen apart, and Danny is dying to know why. He doesn't get couples wrong. Ever.
Bryan Landry had his heart broken by Danny, then had it put back together by Eric, but he can't have Eric anymore, and it's all his fault. He spends his nights at Matchmakers having random tricks and trying to avoid Danny, but the meddlesome matchmaker won't leave him be.
Thrown together through guilt, death, and temptation, Bryan denies his feelings while Danny clings to dreams of Bryan's forgiveness. Will Danny always lose, or can he win second place in Bryan's heart?
Matchmakers Trilogy
Get the entire Matchmakers Trilogy for one low price!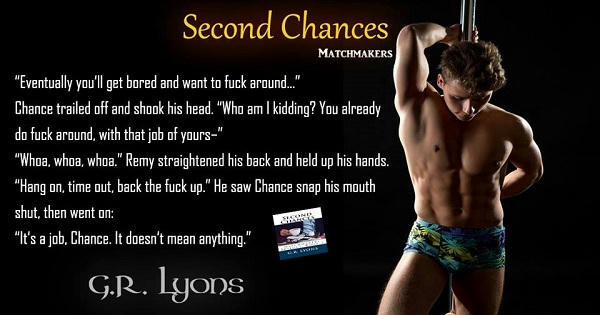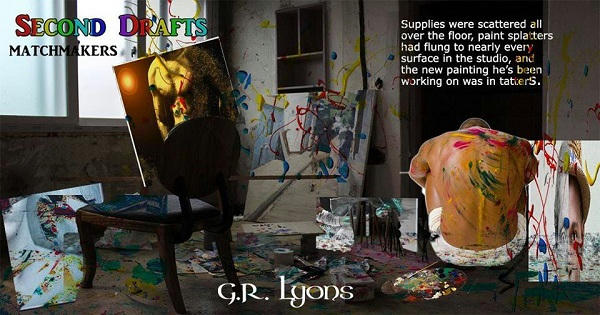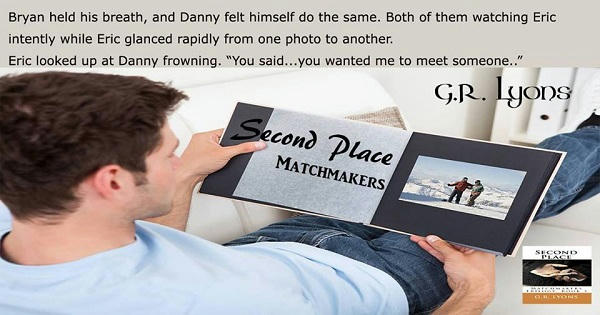 About G.R.!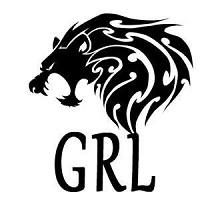 While daylighting as office manager for the family auto repair business, G.R. Lyons can often be found working on one of multiple manuscripts or desperately trying to keep up with the TBR pile.
Anarcho-capitalist, quietly 'out' trans guy, former belly dancer, coffee guzzler, highly-sensitive introvert, CrossFit enthusiast, and lover of m/m romantic fiction.
Website | Facebook | Twitter | Goodreads | Pinterest | Amazon | Email: grlyons@grlyonsauthor.com
Giveaway!
Win a Backlist
Ebook from G.R. Lyons!

Check out the other blogs on the tour!