Hi guys! We have David C. Dawson stopping by today with his new release Heroes In Love, we have a great exclusive excerpt and a brilliant $10 Amazon GC giveaway so check out the post and enter the giveaway! ❤️ ~Pixie~
Heroes In Love
David C. Dawson
Can forbidden love stand the test of time?
Will its strength inspire lasting love in today's generation?
There are not only heroes, but unlikely heroes, who are determined to see love win.
Billy's life changes in a single day when he meets Daniel, who becomes the love of his life.
Billy's aging client Chuck has a dark and sad secret to reveal. As Billy and Daniel fight to help Chuck reunite with the love of his past, their own fledgling relationship is threatened. 

Exclusive Excerpt!
Between the rhythmic slapping of water against the wooden sides of the punt, and the warmth of the sun on his body, Billy drifted in and out of a dreamlike state of contentment. Daniel lay beside him, nestled into his arm. Plump, red cushions supported their heads, and their legs intertwined in a comforting embrace. An empty bottle of wine rolled lazily back and forth beside them, as Simon propelled the punt along the river.
When they first set off from the jetty, Billy watched with admiration as Simon skillfully maneuvered the ungainly craft, using a single, sixteen-foot long pole. Maggie's nickname of Sexy Simon was well chosen. Simon was bare-chested and barefoot. He stood on the back of the punt, his shorts clung tightly to his well-developed thighs. Water droplets from Tom's earlier damp embrace glistened on Simon's broad chest.
The punt was probably over twenty feet long, but only three feet wide. It was flat-bottomed, and rocked alarmingly from side to side when Billy first stepped into it. It felt more stable once he and Daniel lay down together in the middle of the boat. Simon stood at the back end, thrust the long pole firmly into the riverbed, and pushed them away from the jetty. He used the pole to both propel them forward, and to steer the fragile craft.
"I'll take you on the classic tourist route." Simon's arm muscles flexed as he pushed hard against the pole to turn the boat away from several other punts heading toward them. "We'll go under the Mathematical Bridge, and then past our picnic spot on The Backs. Then we'll head for the Bridge of Sighs, and I can sing to you."
"I thought the Bridge of Sighs was in Venice," Daniel said.
"Yes, it is," Simon replied. "This one was built about three hundred years later.  It's called the Bridge of Sighs because of the students who cross it, sighing on their way to their exams."
"Take us wherever you want," Billy said. He lay against Daniel with his eyes closed. His hand idly toyed with the belt of Daniel's shorts. "It all sounds good to me. But lay off the singing."
Simon rocked the punt violently from side to side, and Billy opened his eyes wide with alarm.
"All right, all right," he said, and tightened his grip on Daniel's belt. "I was only kidding. You know I love to hear you sing."
Simon smiled serenely, and steadied the punt once more.
"So what really happened the last time you came punting?" Daniel asked.
Billy turned his head, and whispered into Daniel's ear. "Let's say I didn't look as cool as Simon. On the plus side, I didn't fall in, but I came close. And I was glad I didn't have the responsibility of a passenger."
"I thought you were a bit reluctant, back there," Daniel noted. "Why did you suggest it, if you didn't really want to go punting?"
Billy kissed the side of Daniel's cheek. "I forgot. Anyway. It's all worked out for the best. Here we are, punting on the River Cam with our own sexy chauffeur."
Daniel chuckled. "Never mind sexy Simon. Did you see Tom when you pulled him out of the water? Those shorts of his."
"Did I see?" Billy rasped, his whisper getting louder. "I couldn't help but see. I was kneeling down in front of him when he stood up. I can say for a certainty he's not circumcised."
Daniel snorted with laughter.
"He's certainly a big boy," Billy continued, and began to giggle. "He and Simon are made for each other."
"What are you two laughing at?"
Billy looked up. He hoped Simon had not heard any part of their conversation.
"I was telling Daniel about my last time attempt at punting."
Simon snorted. "I thought it was your first attempt at punting?" he replied. "You had so many near misses that day. What was the problem? Couldn't you balance properly? You? The natural ballerina?"
Daniel lifted his head, and turned to Billy. "Ballerina? You never told me ballet was one of your talents."
That's because it's not," Billy said. He wished Simon would keep his mouth shut.
The punt rocked from side to side again. "Ahem," said Simon. "Clearly, Billy hasn't told you about his triumphs in the ballet class at RADA. I really don't know why he's not on stage at Sadler's Wells more often." He held the punt pole horizontally, and performed a clumsy turn on the back of the boat. The punt rocked alarmingly, but amazingly, Simon kept his balance.
"RADA?" Daniel asked with a note of admiration in his voice. "I forgot you went to RADA. Is that where you two met?"
"That's right," Simon replied. "We were both on scholarships. Me from the Commonwealth and Billy from the mother country. We even roomed together. Do you remember that shitty place in Brixton? I've never been so fuckin' cold."
 "What the hell's going on over there?" Daniel sat up and pointed to a small group of people on the riverbank. They seemed to be involved in a heated argument, and their voices were getting louder. Billy looked in the direction Daniel was pointing. 
"Oh, no," he said. "It's Chuck."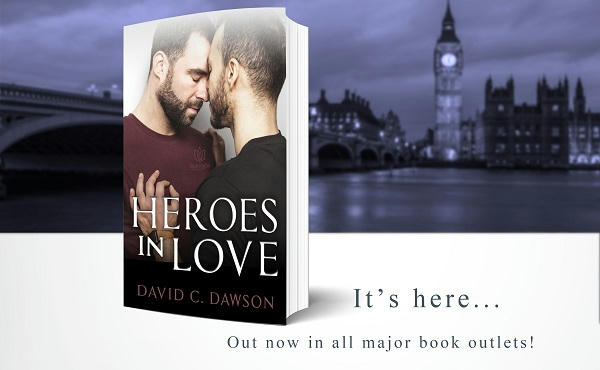 About David!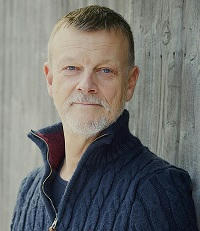 David C Dawson writes contemporary thrillers featuring gay men in love. He's an award winning author, journalist and documentary maker.
His debut novel The Necessary Deaths won Bronze for Best Mystery & Suspense in the FAPA awards. The second in the series is The Deadly Lies. His third book For the Love of Luke came out in October 2018.
David lives in London, with his boyfriend and two cats. In his spare time, he tours Europe and sings with the London Gay Men's Chorus.
Website | Blog | Facebook | FB Page | Twitter | Instagram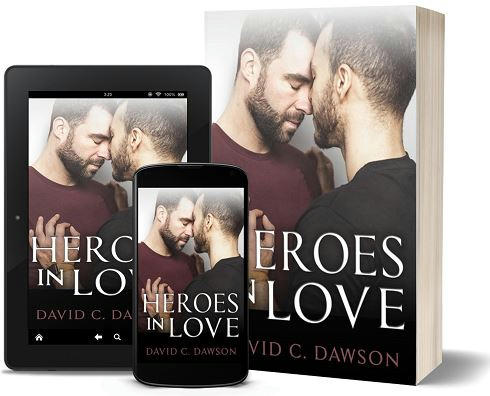 Giveaway!
Win a $10 Amazon GC!