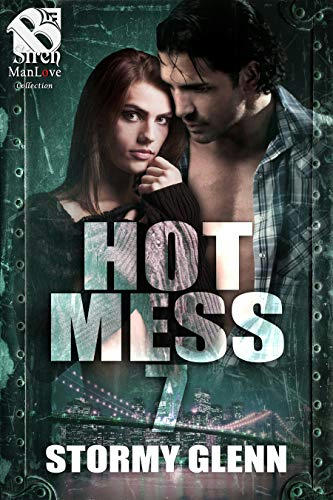 Title: Hot Mess 7
Series: Hot Mess 07
Author: Stormy Glenn
Genre: Contemporary
Length: Novella (163 Pages)
Publisher: Siren-Bookstrand, Inc. (December 6, 2018)
Heat level: Low
Heart Rating: 💖💖💖💖💖 5 Hearts
Blurb: Salvador
I'd become quite experienced at keeping my hot little mess out of trouble over the years, but when danger comes from an unknown source, keeping Lany safe might take more than a miracle. It'll take my entire SWAT team and every friend we have. Someone is out to get my love, and not even he knows who it is this time.
Lany
I wanted to roll my eyes. Sal freaked every time I stubbed a toe, let alone got shot at. You'd think the sexy SWAT commander would've grown used to it over the years. It wasn't like I planned this stuff. It just sort of happened. I just wished it happened a little less. This was getting embarrassing.
ISBN: 978-1-64243-5856
Product Link: Siren-BookStrand | Amazon US | Amazon UK
Reviewer: Lisa
Review: Each book in the Hot Mess collection features our very own two sexy men of all time, Lany and Sal. To enjoy the overall story arc and crossover characters, I would recommend reading the series in sequential order. It is the best way to see what trouble can find Lany or what trouble Lany can find.
Now they are the fathers of six children and damn if they were not good at it. Of course you have two guys that are best friends with a federal agent, blood bonded to two mafia leaders, best friends with a friend who just so happens to be one of those mafia leaders nephew and so on. Sal is the head of the number one SWAT team. If there is trouble to be found Lany can and usually does find it. Just don't let him near a car, ask the elephant. Now the whole family is going on vacation. The trouble is there is always trouble.
My day always gets better when I get a story about Lany and Sal. It just seems to brighten my mood even better. As always this book can and did catch my attention as well as kept it through the entire book. I can guarantee that this is one of those stories that will be read many times over. So much so that I am ready to read it again right now. It is action pact, danger filled, excitement overload, funny as hell and lets not forget the hot sexy times in this story and so much more.
The author just has this gift at giving you a story that will keep you entertained and make you laugh pretty much throughout. I just hope that Lany and Sal's stories just keep coming, I never want them to stop. They give me everything I could possibly want and so much more. It has quite a bit of depth and heat to it that just makes it even better. I do hope that our two sexy swat team members get their stories as well.
I can guarantee that you will get a kick out of this story. I would definitely recommend it.