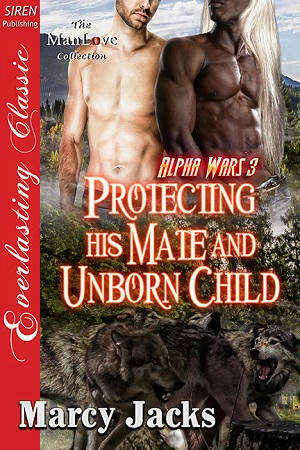 Title: Protecting His Mate and Unborn Child
Series: Alpha Wars 03
Author: Marcy Jacks
Genre: Contemporary, Fantasy, Paranormal
Length: Short (75pgs)
Publisher: Siren-Bookstrand (1st December 2017)
Heat Level: Explicit
Heart Rating: 💖💖💖 3 Hearts
Blurb: Ronan Greywolf has been keeping secrets from his mate. The first that he and Trey are mates at all, and the second is on the night they were first together, he got Trey pregnant with his child.
Trey is a human, and he's been through enough trauma. After barely escaping a vampire blood farm with his sanity, Ronan didn't want to spring this on him, and now he can feel the love of his life slipping away.
Trey always liked Ronan. Finding out he's going to have the man's child, forcing Ronan to be with him, was the last thing Trey wanted. Ronan insists on being around, but Trey knows it's not really for him, and his heart breaks with each passing day. Could there be more to this than Trey believes? Is it possible Ronan really does love him?
Just as he and his mate are learning to trust each other, an evil from Trey's past resurfaces, complicating everything.
ISBN: 978-1-64010-799-1
Product Link: Siren-BookStrand | Amazon US | Amazon UK
Reviewer: Shorty
Review: Ronan and Trey try to overcome their misunderstandings in each other while at the same time Trey come to grips with being told he is pregnant. An attack sends the house on lockdown and Fergus pushes Parker a little too far.
While I enjoyed the story there was not much in the way of action in this book. But there was plenty of drama to be had by all. Looking forward to seeing what else happens with the pack in further books.
Good read.