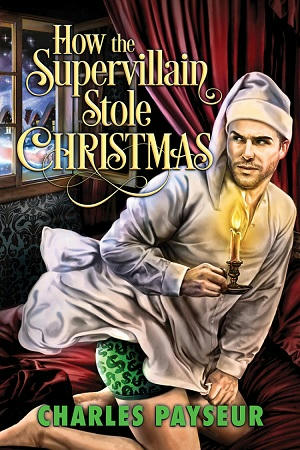 Title: How the Supervillain Stole Christmas
Series: 2016 Advent Calendar- Bah Humbug
Author: Charles Payseur
Genre: Holiday, Science Fiction, Humor
Length: Short Story (30 Pages)
Publisher: Dreamspinner Press (December 24, 2016)
Heat Level: None
Heart Rating: ♥♥♥♥ 4 Hearts
Blurb: Rex Devious (Dr. Devious to meddlesome do-gooders everywhere) can go toe-to-toe with superheroes without blinking an eye. So picking out a Christmas present for his new boyfriend should be no problem. After all, he and Sanjay seem perfect for each other. But with a terrible track record for finding gifts that won't scare his potential partners away, Rex is paralyzed with insecurity. Until, of course, he decides to change tactics. Instead of having to pick out that perfect present, why not just destroy Christmas altogether? If his nemeses (or his conscience) can't stop him first, he might just become the Supervillain who stole Christmas.
ISBN: 978-1-63533-186-8
Product Link: https://www.dreamspinnerpress.com/books/how-the-supervillain-stole-christmas-by-charles-payseur-7980-b
Reviewer: Lisa
Review: Rex is a strange character that is one thing I do know.  He has a sexy boyfriend who he wants to impress, but as a supervillain he is about to bark down a road he has not gone down.  If you want the details then you have got to read the story, trust me you will get a good laugh.
At first I wasn't really sure about this story, but then I took the theme that the authors of this very strange calendar advent and went with it.  It was a quirky story that was an absolute blast to read.  I spent most of the time laughing my ass off.  For such a short story there is definitely a lot more to bite into. 
I got a big kick out of reading it and put it on my all-time Christmas reading list for future holidays. 


Charles Payseur
"How the Supervillain Stole Christmas" is a tale of superheroes and villains, which has been something of a passion of mine for a long time. I just can't help being charmed by the tropes of superheroing, and I love how over-the-top it can be, with giant death lasers and earthquake machines and alien menaces. My main disappointment has always been the lack of representation and, when present, how truly awful a lot of main stream superhero works have been about LGBTQ+ portrayals and storylines. So I decided to start writing my own (hopefully) cute stories that feature characters I could identify with and plots that are just as ridiculous as the best stories to come out of the 60s and 70s. In "How the Supervillain Stole Christmas" Rex Devious is a villain with no luck with relationships. Specifically, he sucks at picking out Christmas gifts. There is no quicker way to scare away a romantic partner than getting them something… inappropriate for Christmas. Like a gun that makes plants sentient. Or a Canadian province. Which is a shame, because Rex just got into a relationship he's desperate not to screw up and Christmas is just around the corner. Which means, of course, that it's time to stop Christmas from coming, somehow…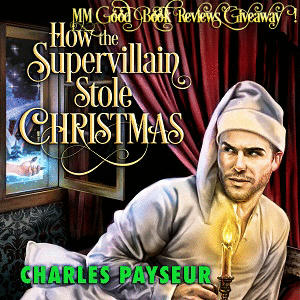 1st prize $100 DSP credits!
2nd prize $50 DSP credits!
3rd prize $25 DSP credits!
4th prize $25 DSP credits!
Charles's Questions!
My question is: Gorillord is a giant, talking gorilla who is also a supervillain (naturally), and he's mentioned in my latest release, "How the Supervillain Stole Christmas." In the story we learn that when planning a child's birthday party, inviting a supervillain as a special guest is rarely a good idea, as Gorillord decides to unionize the household pets into demanding more pets and better food.. But which other of my published stories has featured this ecologically-minded menace? 
(Just leave a comment with the answers on this post)
Catch up with the previous questions: MMGBR Bah Humbug Giveaway!
(Winners will be picked by a dart on 1st January 2017)