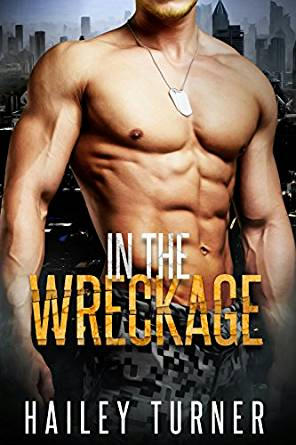 Title: In the Wreckage
Series: Metahuman Files #1
Author: Hailey Turner
Genre: Science-Fiction, Military
Length: Novel (341 pages)
Publisher: Hailey Turner (19th February 2017)
Heat Level: Explicit
Heart Rating: ♥♥♥♥ 4 Hearts
Blurb: A Marine with honor.
After surviving a horrific chemical attack that turned him into a metahuman, Captain Jamie Callahan got a second lease on life. For three years he's been working for the Metahuman Defense Force and leading Alpha Team—all against the wishes of his family. The job requires his full dedication, so it's no surprise Jamie doesn't have time for a relationship. An enticing one-night stand with a gorgeous stranger is all it takes to show Jamie exactly what he's been missing. When a mission to take down a terrorist cell brings that same stranger back into his world, Jamie's life gets complicated.
A soldier with secrets.
Staff Sergeant Kyle Brannigan was only looking to relieve some stress after a long mission. He didn't know the hot guy he picked up at a bar was the leader of the MDF's top field team. When Kyle and his partner get seconded to Alpha Team to help fight a terrorist threat, he has to balance his desire for Jamie against his duty to keep his secrets safe. That gets harder and harder to do amidst regulations both are tempted to break.
Two men trying to survive.
Giving into passion could cost both their careers. Abiding by the rules will only result in heartache. An attack on MDF headquarters brings with it a choice Jamie and Kyle can't escape—duty, or love?
In the Wreckage is a 100k word steamy m/m sci-fi military romance with a HFN ending. There is military violence within the story that may not be suitable for everyone, as well as explicit intimate scenes not suitable for readers under 18.
ISBN: B06VY2PV5M
Product Link: https://www.amazon.com/gp/product/B06VY2PV5M
Reviewer: Aerin
Review: The year is 2284 and Earth is a completely changed planet while many things stayed the same. Many parts of Earth are uninhabitable because of extremely high temperatures, water and coffee are luxuries, and humans and metahumans are fighting together against a common enemy: terrorists. Splice is a new chemical bomb developed by terrorists and used to wipe out large numbers of humans, only nobody could've anticipated some humans having a natural immunity to the drug, which caused parts of their DNA to be activated, resulting in superpowers. We now have telekinetics, super-healers, pyrotechnics, anti-gravity masters, super-strength, telepaths and teleporters and OH MY!
Prepare to be overwhelmed by the sheer amount of information thrown at you in the first few chapters, as well as the high number of characters, each with their own special role and super power. At the center of this new universe we have Kyle and Jaime, both of them strong men and unique characters. A one night stand that was supposed to serve as a stress reliever turns into an off-the-charts hot, intense, filthy and raw fuck session. Kyle and Jaime are made for each other and complement each other's needs perfectly; if you're expecting a sweet romance you're going to be disappointed. Kyle and Jaime's relationship is a power exchange in disguise. Kyle craves pain and loves to be used sexually, and Jaime doesn't hold back at all! The sex is raw and filthy and animalistic, so don't expect anything else.
I liked many things about this book, especially the plot and the story line because it was nothing short of fascinating. I loved that the women were treated no differently than the men and were just as important; you won't find any damsels in distress in this story. I loved the sense of friendship and camaraderie between the characters, especially the family dynamics Kyle and Jaime each had with their own families. I liked the idea that metahumans were both good guys and bad guys, because super powers don't equal integrity.
However there were a few plot holes and trains of thought that were abandoned or left unsolved along the way. At the end of the book, I'm not sure where the MDF stands in the fight against terrorists and what the situation with the vaccines against the effects of Splice is. My biggest problem however was with how incredibly LONG the fuckfest between Kyle and Jaime lasted. I felt all fucked out at the end of each and every scene; I get that being mutahumans gives Kyle and Jaime stamina, but the sex lasted 5-8 pages long EACH AND EVERY TIME!!!! I wanted to whimper in misery 'please stop!'
Considering this is a new author to me and this is the beginning of a new series, I have to say I'm pretty impressed. I am curious how the rest of this series will play out.