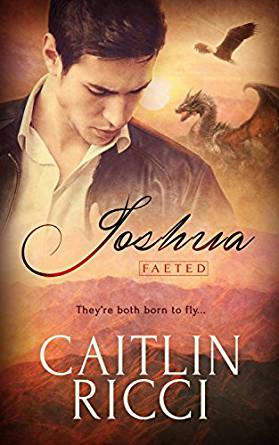 Title: Joshua, (2nd Edition)
Series: Faeted #1
Author: Caitlin Ricci
Genre: Paranormal
Length: Short Story (37 Pages)
Publisher: Pride Publishing (January 24, 2017)
Heat Level: Moderate
Heart Rating: ♥♥♥ 3 Hearts
Blurb: Joshua, a dragon shifter, hates having to go to the Faeted Matchmaking Agency, but he's running out of time to find a mate, and he's failed everywhere else. He only has a few more months before he enters the next stage of his life, and he's getting desperate.
Dragon tradition states that he must have a partner to help him transition into independence from his clan. A long-time friend would be sufficient, but Joshua doesn't have any of those either. Faeted is his last hope.
Rex expected Faeted to set him up with someone fun and sexy, but he was never expecting a dragon. As an eagle shifter, a dragon is a good match for him since they're both born to fly. Joshua is far more cautious than Rex expects a dragon to be, but Rex knows he can get Joshua to loosen up with a bit of push.   
ISBN: 978-1-78651-513-1
Product Link: https://www.pride-publishing.com/book/joshua
Reviewer: Lisa
Review: Joshua is a dragon shifter who can't find his mate on his own.  So his parents send him to a matchmaking agency and guess what, he finds the one he is supposed to be with.  Rex wanted a mate and decided to let the agency find his, and he gets a sexy dragon shifter in the end.
First off this book is way too short to give you anything more than just a taste.  There is no suspense, no true drama and just a bit of action.  It was dull and a bit dry, definitely not my taste of story.  It felt like the author just rushed it through and didn't really give us an exciting story.  I was disappointed and hope that the next story has a bit more bite to it.