Hi guys! Clare London's popping in today to show off the anthology for her London Lads series! Yes you can now get all five stories in one paperback volume so why don't you check out London Lads now! <3 ~Pixie~
London Lads Anthology
by
Clare London
A young man uses social media to contact the men he knew as teenaged friends and discovers a soul mate for his own romantic journey. The most ill-matched couple you could ever imagine are thrown together when they exchange flat-sitting—and turn each other's lives upside down. A reserved young man struggles with a secret affair until he dares to take the adventurous step of making his heart's wish public. One mischievous night on a shopping mall security camera brings an astonishing blind date for a bored student. A frustrating delay in an airport lounge—with only two precocious children for company—drives a young man to confess he's in love with his best friend.
Five standalone stories, five romantic couples seeking a happy ever after. This collection of stories includes humor, reflection, erotic desire, and sweet devotion. It celebrates the diversity and delight of lovers against the backdrop of London's vibrant and lively city—young "London lads" whose love, determination, and sense of adventure are strong enough to find the way to a partner's heart.
Chase the Ace, How the Other Half Lives, A Good Neighbour, Peepshow, Between a Rock and a Hard Place
Full blurbs below
Individual blurbs

Chase the Ace
Newly single in his late twenties and bored with his quiet life in a London suburb, Daniel Cross soon discovers the lure of social media. Excited at the chance of tracking down his old mates from a schooldays sports club, he launches a personal quest to find out what kind of man each boy has become.
Dan's first mistake is chatting online to a complete stranger—friending the wrong Carson brother on Facebook. But Nick Carson isn't offended and offers to accompany Dan on the trip to find the others. It's the first step to friendship and something more for both of them.
For Dan, the reunions with the "Gang of Four" range from startling and heartening to disturbing. Nick's company is a constant support, though neither of them are prepared for the exposure of personal secrets they'd thought long hidden. Dan begins to suspect he's really looking for a direction in his own life—and the excitement and purpose he craves may be closer to home than a quest with its roots in a boyhood dream.

How the Other Half Lives
Compulsive neat freak meets chaotic slob: can their living space survive the conflict?
Martin Harrison keeps himself to himself and his Central London flat as neat as a new pin. Maybe he should loosen up and enjoy more of a social life, but in his mind, that's tantamount to opening the floodgates to emotional chaos. He agrees, however, to join the flat-sitting scheme in his building and look after another tenant's flat in exchange for a similar watch over his when he's travelling for his work.
A floor away in the same building, Russ McNeely is happy with his life as a freelance cook and a self-confessed domestic slob. He also joins the flat-sitting scheme, both to be neighbourly and to help keep his flat in order, as Russ also travels for his work.
For a while, the very dissimilar men never meet. Martin is horrified at the mess at Russ's flat, while Russ finds Martin's minimalist style creepy. But in a spirit of generosity, each of them starts to help the other out by rearranging things in their own inimitable way.
Until the day a hiccup in the schedule brings them face-to-face at last.

A Good Neighbour
A secret affair can't go on forever.
Dylan Philips admits it himself: he's a relentlessly single man in a small suburban town, both proud of and resigned to being a good teacher and a devoted nephew to his mischievous great-aunts.
When the aunts take a hand in matchmaking him with Josie Whitman, the girl who lives along the street, Dylan doesn't tell them what kind of soul mate he's really looking for—and the fact that he's already found the man in question. It's not Josie who's travelling from London every month to her town property, but her journalist brother Neal. And Dylan meets up with Neal whenever he can.
But decisions must be made for their future. Dylan is risk-averse to everything from overseas travel to coming out, whereas Neal embraces adventure—and now he wants to take Dylan with him.
Horrified that his chance at love will move even further out of his reach, Dylan realises it's time for him to own up to what kind of man he really is. He needs to find courage and compromise. And who knows whether the great-aunts will be a help or a hindrance with that?

Peepshow
Ever wanted to spy secretly on other people's lives?
Ken doesn't have a choice: his student summer job is manning the CCTV screens for the new central London shopping mall. But instead of spotting criminals or vandals, he becomes fascinated by a cute waiter from the local bistro who sneaks out to the backyard for his break—and plays sexy to the camera.
Is he an old friend, or just an anonymous exhibitionist? Should Ken be excited by this naughty peepshow, or will people think he's a voyeuristic pervert? Poor Ken's confused and thrilled in turn. It's like living in one of the movies he's studying at university. He knows the man can't see him, yet Ken feels a connection of some kind. It all encourages Ken to continue with his guilt-ridden Waiter Watch.
Ken bears the suspense as long as he can, until a chance meeting and an abortive blind date provide the explanation to the secret assignations. But will this guide Ken to a real-life chance of romance?
Between a Rock and a Hard Place
Garry's at the end of his tether. He's waiting at Glasgow Airport to meet his friend Will, on their way to a holiday in a Scottish Highlands hotel. Now there's a ten-hour delay to incoming flights, the seat in the lounge is more like an instrument of torture, and he's beyond tired of airport food.
He's also dreading having to apologise for the pass he recently made at Will, his colleague at a London bank, under the influence of too many beers and a long-held crush. Now Will's been offered a new job offer on a continent thousands of miles away, Garry realises it may be the end of their close friendship—let alone anything more.
To add to Garry's stress, he's treated to the company of Emily and Max, two young people who think he needs educating in the ways of the world. Struggling with their well-meaning help and the startling mess from spilled ketchup and noxious-smelling sweets, he's encouraged to re-examine how he feels about Will and to decide what kind of journey he'd really like them to take together.

London Lads series!
Chase The Ace (Book #1) 
Amazon US | Amazon UK | Dreamspinner
How The Other Half Lives (Book #2) 
Amazon US | Amazon UK | Dreamspinner
A Good Neighbour (Book #3)  
Amazon US | Amazon UK  Dreamspinner 
Peepshow (Book #4)  
Amazon US | Amazon UK | Dreamspinner
Between A Rock and A Hard Place (Book #5) 
Dreamspinner Press | Amazon US | Amazon UK

About Clare!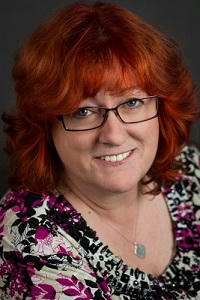 Clare London took her pen name from the city where she lives, loves, and writes. A lone, brave female in a frenetic, testosterone-fuelled family home, she juggles her writing with her other day job as an accountant.
She's written in many genres and across many settings, with award-winning novels and short stories published both online and in print. She says she likes variety in her writing while friends say she's just fickle, but as long as both theories spawn good fiction, she's happy. Most of her work features male/male romance and drama with a healthy serving of physical passion, as she enjoys both reading and writing about strong, sympathetic, and sexy characters.
Clare currently has several novels sulking at that tricky chapter three stage and plenty of other projects in mind… she just has to find out where she left them in that frenetic, testosterone-fuelled family home.
Clare loves to hear from readers, and you can contact her here:
Website|  Blog | Facebook | Twitter | Goodreads | Amazon | Google + E-mail: clarelondon11@yahoo.co.uk