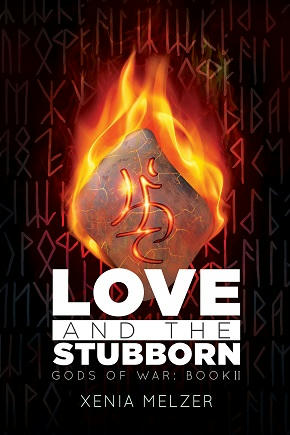 Title: Love and the Stubborn
Series:  Gods of War # 2
Author: Xenia Melzer
Genre: Fantasy
Length: Novel (334 pages)
Publisher: DSP Publications (December 13, 2016)
Heat Level: Moderate
Heart Rating: ♥♥♥♥ 3.75 Hearts
Blurb: All is fair in love and war. By now, Renaldo has found out the hard way how utterly stupid this statement is once you've met your match. And Casto won't give an inch in their ongoing war for love.
After a tumultuous start to their relationship, Renaldo and Casto seem to have finally reached calmer waters. But just when Renaldo starts getting comfortable and thinks he can relax, things get out of hand again. His old enemy, the Good Mother, is dangerously close to defeating the divine brothers by reaching out to what is most dear to him. Casto still clinging to his stubborn pride is all the plotters need to drive him and Renaldo apart. Burdened by the secrets of his past, Casto fights with everything he's got not only to save his life, but also to secure his future happiness. Facing the destruction of everything they have built together, Renaldo and Casto must choose between pride and love.
ISBN-13: 978-1-63477-190-0
Product Link: https://www.dsppublications.com/books/love-and-the-stubborn-by-xenia-melzer-336-b
Reviewer: Shorty 
Review: I have to say from the beginning of this book I hated Renaldo. I cannot honestly understand someone who claims to love another then turns around, because Casto was late, and forces him to accompany him to a festival where he allows him to be touched by another, paraded nude around others and then has sex with him through the night as a part of a display of ownership knowing that Casto did not want to.
Renaldo was way too full of himself. The way he treated Casto was atrocious. I would have left. I loved Casto's spirit and defiance. Unfortunately it seemed as if Renaldo wanted instant submission yet for him to be defiant. That is contradictory to say the least. I think Renaldo should not have been in a relationship as he knew not what he actually wanted.
There were a lot of POV's by different characters throughout this story. It gave an added depth to the story. So much happens that it's impossible to write about everything. Some want both Renaldo and Casto gone for good. Some want just Casto gone and still others want to see them succeed. 
As with all stories there are villains in this one there are more than one that will stop at nothing to destroy Renaldo and Casto. The though was well written with a master/slave theme, suspenseful, drama humiliation aspects at times. It was an o.k. read. I did not enjoy it as much as I did the first book.