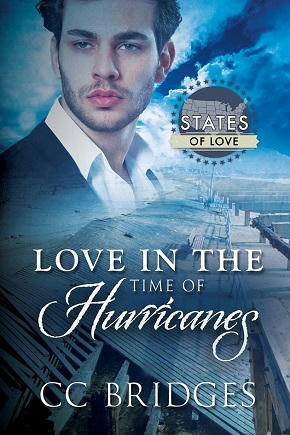 Title: Love in the Time of Hurricanes
Series: States of Love 17: New Jersey
Author: CC Bridges
Genre: Contemporary
Length: Novella (87 pages)
Publisher: Dreamspinner Press (8 Mar 2017)
Heat Level: Low
Heart Rating: ♥♥♥♥ 3.5 Hearts
Blurb: The night Nick Henderson storms into Martelli's Pizzeria, he's just looking for something to eat. Along with dinner, he finds Lou Martelli—pizza cook extraordinaire and Jersey Shore native. Nick is renting a Shore house for the winter while taking classes at the local community college as he devises a way to escape the accounting major his father chose for him.
When Lou offers to show Nick around, heat flares between them as they realize they have more in common than domineering families. But it's not all fun and games on the boardwalk. Hurricane Sandy blows ashore, changing the place Nick was starting to think of as home. His peace is shattered, and it will take everything he has to keep his relationship with Lou from being torn apart by the storm brewing around them.
ISBN: 978-1-63533-333-6
Product Link: https://www.dreamspinnerpress.com/books/love-in-the-time-of-hurricanes-by-cc-bridges-8262-b
Reviewer: Prime
Review: Love in the Time of Hurricanes is part of Dreamspinner Press' States of Love series. It's fairly obvious from the title that this one (and predictable if you haven't read the blurb yet) that we are looking at New Jersey around the time of Hurricane Sandy (though I suppose it could have been New Orleans during Katrina, whatever).
This is a charming tale of two young men and in some ways I think of this as something of a coming to age story. The story is largely narrated by main character Nick Henderson. He moved to New Jersey to get away from his family and the degree that he didn't enjoy at Rutger's University. He is getting weary from living up to his parent's expectations – specifically his father's. So he goes to Jersey, rents a friend's place and enrolls in to classes that he would enjoy at the nearby Shore Community College. Clearly he comes from some money, so at first it comes across as Nick's attempt at rebellion – but Nick is so damn sweet and adorable and lovable that you cannot help but cheer him on and sigh over his crush for the local pizza guy.
Lou Martelli works at the family pizzeria on the Jersey Shore. He's a sweet guy from a traditional Italian family. The stereotype of all that entails makes life or Lou difficult. Then Hurricane Sandy arrives and things just got even more complicated for the pair. Ultimately, though, these guys share one common problem – they are both too scared to face up to their high handed fathers.