Hi guys! We have Ruby Moone stopping by today with  the tour for her new release Loving Daniel, we have a great excerpt and a brilliant $15 Amazon GC giveaway so check out the post and enter the giveaway! ❤️ ~Pixie~ p.s. keep an eye out for Shorty's review coming soon!
Loving Daniel
by
Ruby Moone
Twelve years ago, Daniel McCafferty walked away from the man he loved without a backward glance. He threw himself into his father's business as heir apparent of their vicious criminal empire in Manchester. Forced to deny who he was, who he loved, he buried himself in work and drink. 
Christian's life is steady. He has a good business, good friends, but he's never had a lasting relationship. Second cousin to Daniel, they fell hard for each other one hot summer long ago. When Christian needed him the most, Daniel walked away. It broke something inside him. Over the last year, Christian asked Daniel for help with a lowlife named Bryce. Daniel gave it. Unstintingly. 
When Daniel's father dies unexpectedly, Christian stands by him. Offers him comfort. But when Bryce rears his ugly head again, and Christian is in grave danger, Daniel whisks him away to Europe. Away from normality, Daniel and Christian are thrown together in the heat of the Mediterranean sun. Daniel's walls tumble, and for the first time he thinks that just maybe, it can work. All he has to do is keep secret the real reason he left Christian.

Excerpt!
Rain. Never-ending, summer rain. Daniel McCafferty stood by his father's grave as it pattered on the mourners' black umbrellas. Black coats, black shoes, black rain clouds. The summer deluge was persistent, but Daniel stood beside the grave with no protection from the weather. The rain beat down on his head, the shoulders of his black coat; it spattered his black shoes and ran down the back of his neck. He listened to the words of the priest but paid them no heed. The day was fitting. Black. Relentless. Was it possible to be grief stricken and ecstatic at the same time? Was it possible to love someone and hate them at the same time? He looked at the coffin in the grave and knew that it was.
At the priest's signal, he threw the white rose in his hand onto the box that contained the remains of his father. It landed with a wet thud and lay there amid the overpowering smell of freshly turned wet earth and cut grass. He tried to breathe, but it was difficult. Air didn't seem to belong in his lungs anymore. They remained contracted and tight, like his heart, and had been from the moment the news had been delivered. Kenneth Sean McCafferty was no more. He knew he wouldn't believe it until he'd seen the evidence. Seen him put beneath the ground.
And here they were.
The mourners turned and made for the shelter of their cars. They were going to the wake now, patting his arm as they went. Some went as far as to shake his hand, some attempted to kiss his cheek, but he refused to bend, so none could achieve it. No-one could reach up to his six-foot five frame. Particularly not the women in his family. Most were discouraged by the blue and green tattoo that wreathed around his neck to disappear into a severely trimmed beard, and the black and silver gauge in his ear.
He maintained his lone vigil long after he saw the last mourner leave. Watching the hole in the ground. Half expecting Kenneth to open the box, climb out, laugh, and then backhand him for being a gullible fool. Or worse, lock him in the coffin. Punishment for being stupid
The rain continued unabated, but the shiver that ran through him was nothing to do with the chill in the air.
He became aware that he wasn't alone. A familiar prickle swept over his skin and his breath caught. He didn't need to look to know who stood there. His cousin, or rather, his second cousin stood only a couple of inches shorter than him. The light to his dark. The one man in the world he wanted; the one man in the world he couldn't have.
Christian.
"Are you going to the wake?" Christian's words were quietly spoken. He didn't look at Daniel as he came to stand beside him. Shoulder to shoulder
Daniel kept his eyes on the box. "Not yet."
"Come back with me, then."
Eyes still on the box. "If I come back with you, it will be for one thing, and one thing only." He couldn't think of anything else to send him away
Silence. Only the rain pattering on both naked heads, plastering hair to skulls and clumping eyelashes together, soaking both pairs of powerful shoulders. It was also the only thing he could think of that might take away the pain. Oblivion. Only Christian had given him oblivion. In the twelve years since that last day he'd held him. Loved him. Nothing had come close
"My car is over there. You know where I live?"
Stunned, Daniel turned. Turned and faced him. Christian's gaze was unwavering. Strong. His blond angel. Chin lifted in challenge.
"I know where you live."
"Follow me." It wasn't a request. Christian walked.
Daniel followed.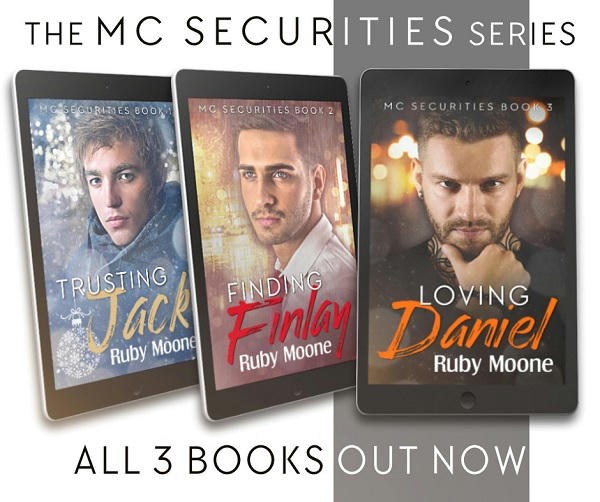 MC Insecurities series!
Trusting Jack (book 01) (99c/99p at time of posting)
.•.•.**❣️ Amazon US | Amazon UK ❣️**.•.•.
Finding Finley (book 02)
.•.•.**❣️ Amazon US | Amazon UK ❣️**.•.•.

About Ruby!

My name is Ruby Moone and I love books. All kinds of books. My weakness is for romance, and that can be any kind, but I am particularly fond of historical and paranormal. I decided to write gay romance after reading some fantastic books and falling in love with the genre, so am really thrilled to have my work published here. The day job takes up a lot of my time, but every other spare moment finds me writing or reading. I live in the north west of England with my husband who thinks that I live in two worlds. The real world and in the world in my head…he probably has a point!
Facebook | Twitter | Instagram
Giveaway!
Win a $15 Amazon Gift Card!