Hiya guys, we have Amy Lane stopping by today with the tour for her upcoming release Manny Get Your Man, we have a fantastic guest post and a great excerpt, so check out the post and enjoy! <3 ~Pixie~
Manny Get Your Guy
(Dreamspun Desires 37 / The Mannies 02)
by
Amy lane
The Mannies
Starting over and falling in love.
Tino Robbins's sister, Nica, and her husband, Jacob, are expecting their fifth child. Fortunately, Nica's best friend, Taylor Cochran, is back in town, released from PT and in need of a job.
After years in the service and recovering from grave injury, Taylor has grown a lot from the callow troublemaker he'd been in high school. Now he's hoping for a fresh start with Nica and her family.
Jacob's cousin Brandon lives above the garage and thinks "Taylor the manny" is a bad idea. Taylor might be great at protecting civilians from a zombie apocalypse, but is he any good with kids?
Turns out Taylor's a natural. As he tries to fit in, using common sense and dry wit, Brandon realizes that Taylor doesn't just love their family—he's desperate to be part of it. And just like that, Brandon wants Taylor to be part of his future.
A Crowd! by Amy Lane
I'll be honest.
I have relatives whose names I have clean forgotten.
My kids aren't any better.
Think about it—when my oldest two were born, there were ELEVEN women they could feasibly call "grandma".  They're down to three now, but at one point, an elderly neighbor knocked on our door shortly after we moved in, and said to my daughter, "I bet you don't remember who I am, do you?"

And Chicken replied, "Grandma?" Because seriously—people were constantly introducing older women to her and saying and "THIS is your grandma such and such," and based on empirical evidence, it was a good guess.
And then cousins grow and second cousins grow and people who are LIKE cousins but aren't really grow, and they have kids and suddenly you need to know those kids.
"So, uh, Katie's three stepsons are Bo, Bryson, and Bamford? Bo, Bryce and Bama? Bo, Bryce, and Rex? Seriously? No, no, no judgment here."
And of course nobody remembers my kids' names, because they're all sort of odd, except for Big T's, because hey, hello, he's 6'5" with a full red beard and a laugh like a Viking, and, yeah, he stands out. Just a tad.
So yeah. Going to my parents' house for a family barbecue is an exercise in mnemonics and trying passionately to care about people my parents love, because hey, they're my parents, and most of the time they're sort of awesome.
But it is a big, confusing mess.
So when I wrote about a family having their fifth child, I knew it was going to be a big confusing mess at first. Those kids would have cousins and everybody's parents would have to be introduced and it would be a while before things were sorted out.
But I figured, "Hey—that's real life. Once we narrow down to the two MC's it'll totally be simple."
Because that's true too. No matter how many people a family becomes, eventually, in the beginning—even if there are children involved—it needs to come down to two people. (Not including menage, but this isn't, and even that usually starts with two and adds on.)
So two people. Who, in the middle of chaos and kids losing shoes and kids throwing food and cousins and other people's kids having crushes and oh my God, stay off of her you have four kids already!, still manage to find a bubble of time and to occupy it, becoming the only two people on earth.
And that, right there, in that bubble, is the beginning of a new family.
That was the dynamic I wanted to capture in Manny Get Your Guy.
I had already introduced Tino's family, the Robbinses, and we met Channing's family, the Lowells, and even Jacob Grayson, Tino's best friend and the guy who ends up knocking up Tino's sister—repeatedly—in The Virgin Manny.
So now, ten years later, I wanted us to see how that family had sprawled into a big untidy mess, and into that mess we have two periphery players—Brandon, a distant cousin, and Taylor, an old family friend.
And in the middle of this family chaos, they meet, they clash and miraculously?
The forge their own bubble.
Their surprising and new family of two.
I think that's worth writing about—in all it's confusing messy glory.
I hope you all like reading it too 🙂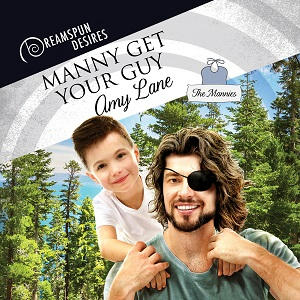 Excerpt!
And Baby Makes a Zillion
BRANDON ADMIRED his cousin Jacob more than Jacob would ever know.
For starters, Jacob had taken his love of cars and, with his wife's business degree and drive, turned it into a thriving business. Three businesses, in fact.
And that was just the beginning. Jacob was a good husband and father, who coached his kids' soccer team and did more than his share of the housework while his wife helped run the businesses, and who worked with her as an equal through tax audits, dance recitals, and soccer tournaments. Jacob knew how to be part of a winning team.
And he played with his family—he was a big goofball at heart who could coax a smile out of his wife or children after the worst, most stressful days. Jacob's pure soul made him, head and shoulders, Brandon's favorite relative.
Especially since Jacob had taken Brandon in for his last two years of college so he could go to Sac State without commuting all the way down from Truckee. That helped make Jacob and Nica Brandon's most especial favorite relatives.
If not for one teeny tiny problem.
"For God's sake, Jakey, get off of her!"
Jacob scrubbed his face with his hands. "I know!"
"I mean, dude! This is your fifth kid!"
Jacob lowered his head to the table and laced his fingers behind his neck. His dark blond hair stuck out in tufts, and his shadowed eyes were hidden against the wooden veneer. "I know!" he wailed.
"The oldest is only nine!"
"I had a vasectomy!" Jacob told him. "I was clear. There were no swimmers, I swear!"
"Oh, that's a lie!" Nica muttered, stepping over two Barbies and a Lego fort on her way from the bathroom where she'd been throwing up. She looked like hell, but she was a pretty woman, so even looking like hell, she still outclassed Brandon's goofy cousin. Nica was amazing—beautiful, smart, fun, devoted to her spouse. But Brandon had been Jacob's favorite cousin and garage apartment freeloader since the fourth baby, and he knew the first two months of pregnancy made her—and rightly so—a bitter shrew with a thorn in her paw and a bug up her ass. "If he says his swimmers were dead, he's lying. There are no dead swimmers. He could be a frickin' zombie and one of his swimmers would wake up one day, crawl up my cooter, and knock me up!"
"I know!" Jacob groaned. "Monica Teresa Carol Gaudioso Robbins-Grayson, I'm so damned sorry!" He turned a genuinely contrite face to his wife, and she stuck out a full lower lip.
"Aw, Jakey—dammit…."
One side of his mouth pulled up in a lopsided smile. "I'll be here—you know it. You and me know the drill by now, right?"
But Nica looked like she was going to cry.
"Jakey," Brandon said, trying to keep that from happening, "man, look. Two things—first of all, you need a new room on the house."
"Can you do that?" Nica asked, a frantic note of hope in her voice. The house could barely fit four kids and three adults, which it had held since Brandon took the over-the-garage apartment. But things were still tight, with two kids per room after they'd taken the crib out of Jacob and Nica's room. One more kid—and all the accompanying stuff that kids brought with them—would send the roof of the house flying off, and the collective force of Legos, Barbies, baby dolls, Hot Wheels, and Disney/Pixar DVDs would spew across the county.
Another house would have been awesome, but Brandon knew how much they loved this particular house in Rocklin and how hard they'd worked to turn their star-thistle-y backyard into a kid-friendly zone, right down to the fenced-in pool patio.
Brandon had worked construction all the way through college, and he had some contacts. He was pretty sure they could draw up some plans for a kid suite where the back porch was now, and then, with some shuffling and some organizing, yeah. The whole family could fit.
"Yeah," Brandon said. "Of course. Nica, anything for you guys. But Jakey—she can't do this alone anymore when you're at the shop. You know that, right?"
Jakey nodded and sent his wife a hopeful look. "Baby, how do you feel about a nanny?"
Nica's lower lip wobbled. "But won't the kids love her more?"
Jacob and Brandon chuckled softly, and Jacob pulled his still-slender wife into his lap. "Oh, baby—the kids couldn't possibly love anybody more than you, okay?"
Nica nodded and rested her head on her husband's shoulder and cried for no reason at all.
Brandon took that as his cue and stood up to clear the breakfast table and then start rounding up children for school.
He had his own job to go to, but he helped any way he could.

About Amy!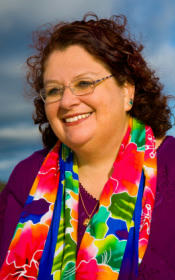 Amy Lane exists happily with her noisy family in a crumbling suburban crapmansion, and equally happily with the surprisingly demanding voices who live in her head.
She loves cats, movies, yarn, pretty colors, pretty men, shiny things, and Twu Wuv, and despises house cleaning, low fat granola bars, and vainglorious prickweenies.
She can be found at her computer, dodging housework, or simultaneously reading, watching television, and knitting, because she likes to freak people out by proving it can be done.
Connect with Amy:
 Website | Blog | Twitter | Facebook Group | Goodreads

Check out the other blogs on the tour!
June 24 – MM Good Book Reviews
June 
27 – My Fiction Nook
June 
28 – Open Skye Book Reviews
July 1 – Boy Meets Boy
July 3 – Scattered Thoughts and Rogue Words
July 5 – Love Bytes
July 6 – Long and Short Reviews