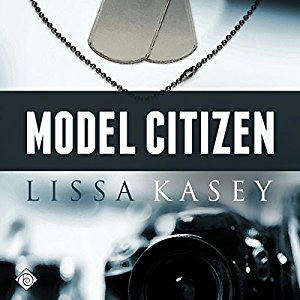 Title: Model Citizen
Series:  Haven Investigations 01
Author: Lissa Kasey
Narrator: Mark Pohlable
Genre: Contemporary, Crime
Length: 7 hrs, 53 mins
Publisher: Dreamspinner Press LLC (26th July 2016)
Heat Level: Moderate
Heart Rating: ♥♥♥♥ 4 Hearts
Blurb: Oliver "Ollie" Petroskovic's life as an international supermodel was heading in the right direction. He worked part-time for his brother at his detective agency – Petroskovic Haven Investigations – and had just bought his dream house. But all that changed when he found his brother dead, a victim of PTSD-induced suicide.
Almost a year later, Ollie is trying to keep his brother's business afloat, but can't get his PI license. Then his brother's best friend, Kade Alme, shows up, fresh from the battlefield after a close brush with death. Kade is looking for a new life, in more ways than one, and with PI license in hand, he's exactly what Ollie needs to keep PHI running.
When one of Ollie's childhood friends gets in trouble, Ollie feels he has to help. Kade insists on investigating, if only to keep Ollie safe. Neither realizes the danger they're in as someone tries to tear them apart before they can find solid ground together.
Product Link: Audible US |  Audible UK
Reviewer: Prime
Review: Model Behaviour by Lissa Kasey is a very engaging book to say the least, both emotionally and mentally. I have to say it also starts with one of the most saddest openings that I've heard/read in a long time – it's not just a sad back story, it's the knowing what will happen because you read the blurb but don't want it to happen. This was my first Lissa Kasey book, so I was really quite pleased with discovering a new author.
Speaking of firsts, it was also the first time that I heard of anything from Mark Pohlable and I have to say that was equally as pleasing as finding a well written story. He really lent the main character, Ollie, a wonderful voice as he poured out his hopes and dreams, only to have everything shattered and his life completely changed. He is one of those artists that has a variety of voices stashed away and knows the perfect tone to use at the right time.
Ollie is a model (and made heaps of money the career) who has been raised by his older brother after the untimely death of their parents. The brothers share a beautiful bond but unfortunately love is not enough to combat the PTSD Ollie's brother suffered after first making a life for himself in the army. Seriously, if you haven't cried by the end of this first chapter then I don't know what will!
A year after Ollie's world collapses he is struggling to keep his and his brother's dream afloat in the form of the PI business his brother ran and the home that Ollie had brought for the two of them to fix up. Ollie isn't a PI yet, he's got the hours but he needs another registered PI to sign off the hours of experience. But Ollie isn't completely alone in the world. And another ring in has been added in the form of his brother's old army buddy, Kade Alme. Ollie knew Kade when he was younger but it's been a while since they have seen each other, mostly because Kade had been injured while on a tour around the time his friend had died and after that, well the time just wasn't right.
Kade and Ollie do make a wonderful couple. However, I did find Ollie's reticence to a relationship a little tedious at times when Kade was just there being a lovable and caring and all around wonderful guy. I will warn you, this story does end with a proper cliffhanger and if you can't wait for the sequel, well you can always read the book.