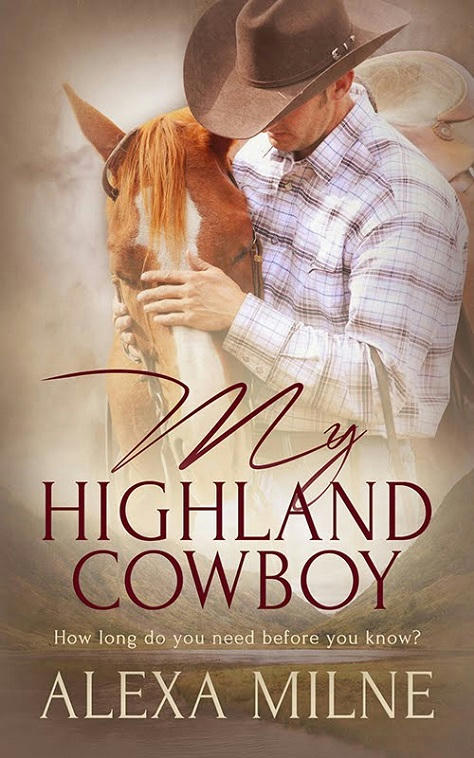 Title: My Highland Cowboy
Author: Alexa Milne
Genre: Contemporary, Cowboys
Length: Novel (196pgs)
ISBN: 978-1-78651-567-4
Publisher: Pride Publishing (6th June 2017)
Heat Level: Moderate
Heart Rating: ♥♥♥♥ 4 Hearts
Reviewer: Pixie
Blurb: Duncan McLeish owns a ranch. Unlike most ranches, this one is in the Scottish Highlands. Having inherited a failing farm from his grandfather, he turns it into a successful business. He has friends and he loves his home, but he's lonely, and not even infrequent trips to Glasgow and Edinburgh slake that thirst to find someone. Then Drew Sinclair walks into his life.
Drew Sinclair is tantalizingly close to getting his clothing brand noticed in the industry. He and his business partner, Joy, create individual dresses, while, on the side, Drew produces a line of men's lingerie. He visits Scotland to design a bridal gown for his sister, Jenna, who is marrying Duncan's best friend at Christmas.
Duncan and Drew have nothing except their Highland upbringing in common, but they say opposites attract, and the attraction is immediate. Is this simply a summer fling, or can two men who live such opposite lives miles away from each other find a way to love?
Reader Advisory: This book contains references to homophobia and references to death of a character's parents.
Purchase Link: https://www.pride-publishing.com/book/my-highland-cowboy
Review: When Drew meets Duncan he finds the one man who challenges his dreams of making it in the fashion design business, he falls hard for the Scottish cowboy but his life is in London and it's tearing Drew apart to leave the sexy man behind. Duncan never dreamed that he'd meet a man like Drew, Drew is everything Duncan has secretly wanted but Duncan's life is with his ranch in the Scottish Highlands and while he longs for Drew there's no way a relationship could work… is there?
This is a great story that I found intriguing, the idea of a Scottish cowboy was just fascinating and having a fashion designer as his love interest was delicious.
Both Duncan and Drew are great characters; although it took me a short while to warm up to Drew (he was a little brazen at first). Both Duncan and Drew proved to be a match made in heaven, even though they do have a bit of angst as they try to work out what they both wanted and how to get it.
The story is perfectly written with it being a sweet romance with just an added dash of angst, the relationship is fast paced but it felt natural. Duncan and Drew just fit perfectly together making it seem natural for them to fall for each other so quickly.
I enjoyed this story and thought that it was a great read; it's perfect for a lazy afternoon in the sun where we get a huge dose of romance shot through with hot sex.