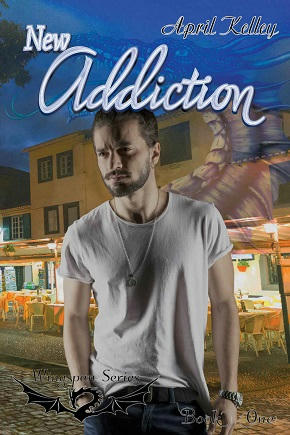 Title: New Addiction
Series: Wingspan #1
Author: April Kelley
Genre: Paranormal
Length: Novella (122 Pages)
Publisher: Hard Rose Publishing (February 1, 2017)
Heat Level: Low
Heart Rating: ♥♥♥♥♥ 5 Hearts
Blurb: The first time Caerwyn meets his mate, it ends with rejection, growling, and bear shifters…oh, my!
After his parents die in a tragic car accident, dragon shifter Caerwyn Lewis doesn't know how to grieve properly, not that he really has time. He has siblings that are relying on him to pay off the debt their parents incurred on the farm. Also, he has a brother who isn't taking their parents' death well. The last thing he needs is a distraction, but that's what he gets when his Alpha calls him in to help another neighboring shifter town. The distraction comes in the form of a handsome but grumpy bear shifter named Rory. 
ISBN: B01N5QOER2
Product Link: https://www.amazon.com/New-Addiction-Wingspan-Book-1-ebook/dp/B01N5QOER2
Reviewer: Lisa
Review: Each book in the Wingspan collection features a different romantic couple. To enjoy the overall story arc and crossover characters, I would recommend reading the series in sequential order.  This series is connected to A Saint Lakes series so I would suggest reading those first.
Every once in a while you find an author that can give you a world that would be perfect to live in. I came across April awhile back when she had written the first book.  I knew from that moment that she was going to be one of my favorite authors of all time, if not the top one. There is something about the way that she writes that not only draw you in but keeps you there.  They are not only the perfect length for me, but they are so full of detail that it feels like you are right there with them. They not only entertain you but captivate you throughout the whole story. For me once I start reading I can't move until I find out how they end. Her characters are also very fascinating and unique to me.
The characters are beautifully written with big hearts, however if you cross them, they have no problem putting you down. To me there is nothing better than a good old paranormal love story.  There is just something about them, that even though they are not possible one would think different.   
Caerwyn is having a difficult time with things.  His parents died five months ago leaving him a ranch that was in debt, a brother who was in trouble and a mate that didn't want him.  What was a dragon to do, well he had to let go for one.  When he was asked to go to Saint Lakes to help them out, he had not expected to see his mate, nor for his mate to run.  
Rory is a bear shifter who loves to be alone.  After his first shift, he had left his mother to make his own way.  Now he has seen his mate, and his damn ass was going to have to make a decision.  
I can honestly tell you that this is going to be one of those types of series that you can't put down and have to read more than once. It is the perfect story for me and gave me all that I needed. I love the way all the feelings they felt was involved in this story. I had a blast reading it and I can't wait to read the next story.