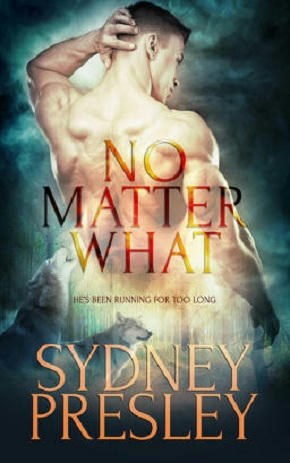 Title: No Matter What
Author: Sydney Presley
Genre: Shape-Shifter, Paranormal
Length: Novella (89pgs)
Publisher: Pride Publishing (28th March 2017)
Heat Level: Low
Heart Rating: ♥♥ 2 Hearts
Blurb: They must protect each other. No matter what.
Quinn has resigned himself to living a life alone. His cabin, on the outskirts of a village, is the perfect place for him to paint. No distractions, lots of peace and quiet—until he goes out for a run as a wolf and sees another wolf scarpering for its life.
Goddard is that wolf. He's been running for God knows how long, and he's tired of looking over his shoulder, waiting to be found by the one man Goddard doesn't want finding him. Injured, he discovers a cabin and goes inside.
Quinn's and Goddard's lives are changed forever when they realize they are bonded mates. The thing is, there's still the problem of the man from Goddard's past to get over, and when an incident in the village means Goddard's whereabouts is public knowledge, things might take a nasty turn.
Gone are the days when the two men had to stick by human law. Being mated means wolf law comes first—and if it means killing to keep each other safe, then that's what they're prepared to do. They must protect each other. No matter what.
ISBN: 9781786515483
Product Link: https://www.pride-publishing.com/book/no-matter-what
Reviewer: Veronica
Review: I love reading Shifter, Paranormal books, and while this is a first for me reading from this author, I'm not sure I'll be reading anymore from him. I know that all shifter stories are not the same. This story started off reading good when Quinn goes out to run, when he couldn't sleep and he saw a wolf being shot at, by his neighbor. He follows the wolf's tracks and it lead back to his cottage, where he finds a naked man in his home.
With the other shifter books I've read. The mates are always overjoyed and happy to find their mates, the other half of their souls. Not so in this story. Goddard realizes that although he and Quinn are mates, he doesn't want a relationship with Quinn because he's on the run from someone that wants to kill him. Yes he wants to have sex with Quinn, but he doesn't want to bond with him.
I barely got through the rest of this story as it just dragged on, and I completely lost interest in it. When the person that is hunting Goddard, and wants to kill him finds him, the reason for chasing him from state to state just didn't make any sense to me.  I was completely confused at the reason. But hopefully Quinn and Goddard work out the issues and end up together. I can't in all honesty recommend this story to anyone.