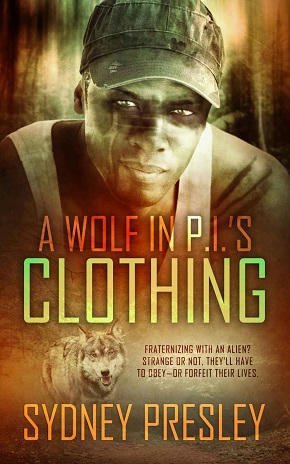 Title: A Wolf in PI's Clothing
Author: Sydney Presley
Genre: Paranormal, Futuristic, Sci-Fi
Publisher: Pride Publishing (July 25, 2017)
Length: Novella (85 Pages)
Heat Level: Low
Heart Rating: ♥♥♥ 2 ½ Hearts 
Blurb: Being a P.I. isn't all it's cracked up to be. Sometimes it's downright scary—and alien.
Ledger is a P.I. with a difference—he's a wolf shifter and uses his animal to help him on cases. His next case, though, isn't something he expected. His best friend, Jared, the man he's secretly loved since they were younger, has a bit of a problem. Someone is stalking him, and when she turns up at Ledger's place and stares at them through the window, Ledger realizes things aren't quite as simple as he'd first thought. She's bonkers, with wild red hair and staring green eyes, and she needs dealing with—fast.
Jared is a drag queen, famous on the stage after he tried his hand at acting and won. He's a star, loved by all, so to have a stalker isn't something he can handle alone. Ledger promises to follow Jared so he can catch the stalker in the act, but things take a weird turn. After the stalker leaves a message that Ledger and Jared must meet her at a local café, the plot thickens to pea-soup viscosity. Someone called The Gecko is after Jared, and The Gecko is used to people doing exactly as he says…
But The Gecko isn't human, and although Ledger has been obsessed with UFOs and alien life forms since he was a kid, he never thought he'd be meeting otherworldly creatures in real life. The men have no choice—they have to meet The Gecko. And isn't that the strangest of things to be doing, fraternizing with an alien? Strange or not, Ledger and Jared have to obey—or forfeit their lives.
But Ledger doesn't plan on anyone dying, especially not them…
ISBN: 978-1-78651-578-0
Product Link: Pride Publishing | Amazon UK |  Amazon US
Reviewer: Lisa
Review:  Every once in a while you come across a story that will just leave you brain dead.  You have no clue what you just read nor do you want to know.  
Ledger is a private eye who is also a wolf shifter.  He has the hots for one sexy man, Jared.  Jared is a famous drag queen who has a very freaky woman stalking his ass.  The thing is that freaky woman is an alien and works for another freaky alien.  Things between the two men do start to heat up though.
Now this story did have potential but it failed quite nicely.  You start to get this story and it just seems to go sideways.  In my opinion it just seemed like a lot of filler to make words.  It would have been a cute story had there actually been a true story to read.  I can't say that I would love to read another story by this author, because if they follow this same line, then the answer would be nope. 
I hate to admit it but this book was not my idea of fun.  Too bad because it could have been amazing.