Hi guys! We have M.K. South stopping by today with the tour for Of Our Own Device, we have a brilliant guest post, a great excerpt and a fantastic giveaway so check out the post and enter the giveaway! ❤️ ~Pixie~
Of Our Own Device
M.K. South
What do you do when you realize that the American Dream you've been working for so hard is not enough if it will be yours and yours alone? And that what you're told to do will destroy the only true friend you've ever had?
Summer of 1985. Jack Smith is a rookie CIA case officer posted at the American Embassy in Moscow. Despite his gregarious nature, Jack is a lonely man: not only is he a reluctant spy, he is also gay. When he meets Eton Volkonsky, a talented nuclear physics student, Jack's bosses instruct him to develop the Russian as a future agent. Their friendship deepens, and Jack is torn between his suspicion that Eton and friends are with the KGB and his attraction to the man. But he continues telling himself and his bosses that he is just doing his job, developing his agent. Only when he leaves Russia does Jack admit that he has been fooling himself all the while. He takes on assignments in various countries, with a hope that eventually they will get him back to Moscow.
As introspection and growing doubts about what he does for living torment Jack, the world is buffeted by a whirlwind of dramatic events – diplomatic and spy wars, the rise of AIDS, the Chernobyl catastrophe, the war in Afghanistan and the disintegration of the communist bloc.
They meet again and Jack is given a second chance. Will he make the right decision this time round?
To trim and what to trim, that is a question.
by M.K. South
During my research I set out to interleave innumerable facts into this fiction. The intention is to piggy-back off of thousands of familiar TV news reports and newspaper articles to blur the boundary between fact and fiction, adding a layer of realism that the reader will superimpose subconsciously when reading the novel. For example, the merest mention of Chernobyl brings a mental image of a red and white striped chimney, emerging from the charred and grotesquely twisted remnants of Reactor 4 — an image burned into our memories from the relentless footage we've been continuously exposed since those days. Likewise, the fall of the Berlin Wall is etched in those of us who witnessed it on the news stations thirty years ago in November 1989.
Aside from these monumental and centrally pertinent facts, the story features many less well known facts, all are genuine and layered in as they happened, be it a semi-underground Soviet rock fest in Leningrad, a gay-themed movie premier in East Berlin, the weather on the day or the phase of the moon, if mentioned, all researched and recorded faithfully.
Apart from anything else, it helped embed me in my tale — I had to live it with my characters. A lot of the secondary characters are real, some under their real names, some with names changed subtly, but on occasion opaquely where I felt it necessary. I have been quite heartened that some readers have commented and successfully identified some of these characters — you are obviously a learned lot!
Some real-life people featured in the book as secondary characters:
Inevitably, my fascinations with the facts and insertion of various historical events brought the original text of the novel to a rather impressive 380,000 words. Being exposed to considerable amount of Russian literature in my time, this didn't seem overly burdensome to me. But it turned out the current fiction convention dictates differently: I was told that the size of a spy thriller/historical fiction should not exceed 150,000 words, 180,000 max, especially if you're a first-time published author.
Yeah, right…
A culling of some of the opus ensued.
There is one inclusion that hung by a thread whilst its fate was decided: the bacha bazi practices of Afghanistan. These "dancing" boys were owned by warlords, big and small, and other "elders"; they danced for and served their owners and handlers in various ways, including those considered criminal by our standards. In the end, I decided to keep the main character's chance encounter with one of such boys. Its pertinence to the story is that their knife edge existence mirrors that of the protagonist, and the reader is left to decide if Jack draws any conclusions between them dancing for their masters as he does for his own.
About dancing boys https://www.bbc.com/news/world-south-asia-11217772
Excerpt!
The second act of Evgenii Onegin was nearing the end. Without turning his head, Jack skewed his eyes at his company for tonight, a visiting jazz diva from Chicago. She looked mesmerized, probably as much by the handsome Russian tenor who played Lensky as by the aria he was singing.
Nine minutes.
From his seat at the end of the second row in the amphitheater, Jack could see half of the stalls, but most importantly, the courier in row fifteen, the last seat on the right. He was doing good: unremarkable in his dark-framed glasses and camel-colored blazer, motionless, eyes glued to the stage. Like everybody else in the audience, much of whom were foreigners. The rest were from all over the Soviet Union and for them, attending a performance at the Bolshoi was as sacrosanct as a visit to the White House was for an American on a trip to Washington. Especially when the show was Tchaikovsky's Evgenii Onegin. And never mind that it was performed by a guest ensemble from Leningrad—Bolshoi Theater was the place one had to visit while in Moscow.
Jack cut a glance to the other side of the amphitheater. William and his wife were in the first row, both looking engrossed in the opera. But Jack knew he didn't need to worry. He was covered.
Seven and a half minutes.
The courier rose from his chair and tiptoed to the nearest side exit.
Five.
The stalls, the amphitheater and dress circles in front were still, no one else seemed to be following the courier out. William leaned in and whispered something in his wife's ear. She nodded. All clear on Jack's side of the audience too.
Two.
On the stage, Onegin arrived at the duel scene and would soon start his haunting duet with Lensky.
Jack leaned in to whisper in his date's ear. "Connie, I need to go out… to the gents." He grinned sheepishly at her arched eyebrows. "Sorry. I'll be back… Or will wait for you by the door."
She glared at him, shrugged and turned back to the stage. The Lensky-Onegin duet wasn't something keen musicians like her wished to miss.
Just as Jack had thought. He threw a last glance at William, stood up quietly, bending forward to mask his height, and slipped through the side exit.
The narrow, curving corridor with antique brass-and-crystal lamps on the wall was empty. And so was the hall, exquisitely decorated with bas-reliefs, frescoes on the vaulted ceiling and brightly lit by three majestic chandeliers.
However, when Jack stepped onto the marble U-shaped double staircase, he caught a glimpse of a man walking down the last flight of stairs—tall, lean and blond; dark slacks and pullover.
Shit. He could swear no one else had left the audience after the courier.
William had given him an "all clear" signal too. So either this person had sat in one of the few seats outside of Jack's and William's lines of vision—the one percent chance they had resolved to take—or he hadn't been in the auditorium at all.
Which meant he might not be a spectator.
Which meant he might be one of the KGB surveillance squad.
Dammit! What now?
Think, Smith. Think!
He couldn't turn back to the auditorium, shouldn't: doubtless there were many eyes here, watching him, watching all foreigners who might behave suspiciously. Usually, he wouldn't hesitate to behave oddly, as if acting on the spur of the mom nt. It was part of his elaborate alternative cover. But not today, not on a collection operation. Even if it was a dry run. Today he must stick to the plan, to the minute, as though this were a real op.
OK, so… If he'd just go into the toilet and take a leak, there was no way the tails could link him with the courier, right? Worse came to worst, he wouldn't be able to collect the dead drop. But then they would know for sure whether the KGB had singled him out, or that his deep cover had held so far. It was a win-win, one way or the other. Jack hoped he would be able to collect though.
He swiftly descended the carpeted stairs, heading to the men's rooms on the ground floor—just someone desperate to relieve himself. As he reached the bottom of the staircase, the courier emerged from the corridor leading to the toilets and started ascending on the other side. His eyes skimmed over Jack, a polite but blank expression on his face. He didn't know Jack; for him the deaddrop op was for real.
When Jack opened the door to the men's room, the tall blond man was standing at one of the urinals. He was young, no more than twenty-one, twenty-two, judging the profile of his face. A bit young for a KGB operative. And his neatly combed hair was too long. Nah, not KGB… Too eye-catching with that body—lean, muscled and lithe at the same time. Especially in that close-fitting navy blue pullover and the dark gray slacks, snug around the narrow hips.
As if he had heard Jack's thoughts, the youth whipped his head around and glared at him. Then just as abruptly, he turned away and zipped up.
Jack walked quickly into the furthest stall, locked the door and started noisily undoing his belt. He heard the steps, then the water running into the washstand. Then the men's room door opened, then closed softly and silence fell. He waited for five minutes, walked out of the stall and lingered by the washstand for another two. Still nothing. He slipped into the stall where the deaddrop was and locked the door. Another three uneventful minutes passed before Jack stepped onto the toilet bowl and collected the item left by the courier—a matchbox in a clear plastic bag glued to the inside of the cistern high on the wall. He flushed the plastic bag in the toilet, slipped the matchbox into the inside pocket of his jacket and exhaled sharply. Done.
And he was still in the clear.
It had been four months since Jack was transferred to Moscow to replace one of the junior staffers in the office of the Cultural Affairs Officer at the Embassy. The position was a clean slot that had never been used by the CIA before, and the Soviet/East European—or SE—Division had worked hard to secure it for someone like him, a rookie without a track record and with an alternative cover.
Unlike other case officers who could easily blend into any environment, any crowd, Jack's whole appearance went against the fundamental rule of anonymity imperative for field officers: six feet tall and brawny, with a shock of chestnut hair, striking, bright blue eyes and a broad, goofy grin that lit up his whole face, he was a man people noticed immediately. Only his name was ordinary. In fact, it sounded like too obvious an alias: Jack Smith. His classmates and even a few instructors at the Farm, the training facility at Camp Peary, Virginia, used to joke about it. Some of them hadn't even tried to hide their skepticism about his suitability for the job.
However, high and continual visibility was the main idea behind the new tactic to be tested: those placed under this alternative deep cover were supposed to attract attention to themselves from the get go and maintain it with their behavior at all times. The objective was to be categorized by the enemy's counter intelligence services as someone not to be taken seriously and therefore not worth wasting resources on. This was how Joe Coburn, SE Division's chief of clandestine operations, planned to beat the suffocating, around the clock surveillance the KGB put on his case officers with known or suspected covers. This was how he had decided to plant two of his staffers behind the Iron Curtain, and one of the two rookies selected to test the new approach had happened to be Jack.
Thus, a year into his overt job as an assistant cultural affairs officer at the US Mission in Frankfurt, Jack was summoned to HQ and instructed to pack his bags to be shipped to Moscow.
On March 1st, 1985, Jack landed at Sheremetyevo Airport.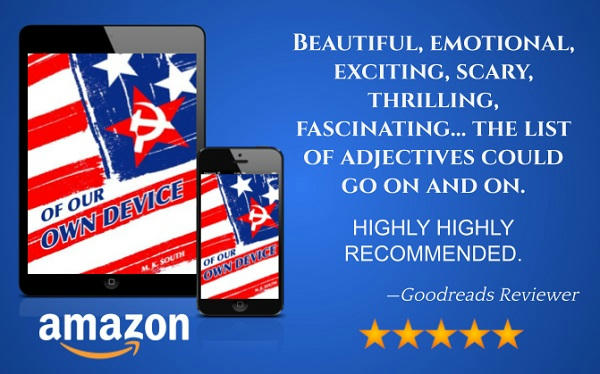 About M.K.!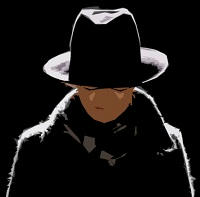 M.K. South has worked in international finance and development for over 25 years, living in or traveling to many countries including the ones featured in this debut novel. Currently, M.K. works in Ukraine and continues globetrotting, for work and to experience the world.
"I was born a vagabond," says M.K., "in a snow-clad little place thousands miles way from the sun-drenched city on the Black Sea my mother called home. I then lived, studied and worked in other countries, poor, aspiring and rich. I've experienced poverty and war, as well as peace and prosperity, and I've learned that you don't fully appreciate the latter, unless you've known the former. Today, I'm still living in a foreign country, working in several others in the region, and traveling yet to others because… I just can't get wanderlust out of my DNA."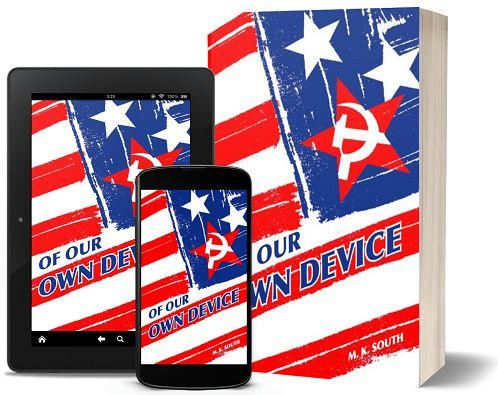 Giveaway!
Five lucky winners will each receive an ebook copy of Of Our Own Device!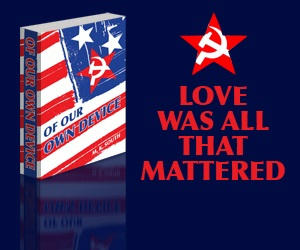 Check out the other blogs on the tour!