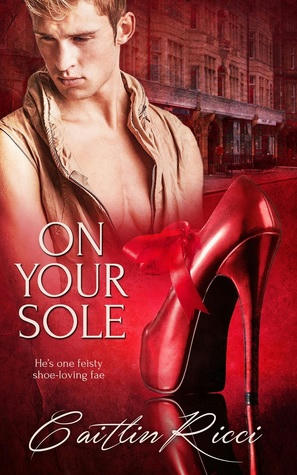 Title: On Your Sole
Author: Caitlin Ricci
Genre: Paranormal 
Length: Short Story (34 Pages)
Publisher: Pride Publishing (August 2, 2016)
Heat Level: Low
Heart Rating: ♥♥♥♥ 4 Hearts
Blurb: One feisty shoe-loving fae might be just what this shoe store owner needs to get back on track…if he doesn't kill the fae first.
Randal Tobit has recently taken over his father's shoe store, On Your Sole, and is trying to make his father proud after his recent divorce from a woman his dad liked. The job is easy, but only because of the man his father hired and will not give Randal permission to fire under any circumstances.
Casey is helpful and happy, bordering on obnoxiously so. He's a morning person and he loves shoes, which makes him perfect for the store, but not so much for Randal, who prefers to be barefoot when he can't wear flip flops.
When the store is vandalized and Casey offers his help, Randal makes a bargain with him—one that he probably would have reconsidered if he'd had any idea what Casey actually was…
ISBN: 978-1-78651-451-6
Product Link: https://www.pride-publishing.com/book/on-your-sole
Reviewer: Lisa
Review:  Randal is now the proud owner of On Your Sole shoe store, when his father handed it over to him.  He had this feisty and goofy worker that helped him along.  Casey was something else, but Randal had a rule.  No dating employees, but then the store is vandalized.  All Casey wants is one date, and well you will see.
I have been reading a few books by this author and haven't really cared for them at all.  So when I was handed this book, I was expecting something else.  This one actually was pretty damn good.  Casey is fae and his father is fae king, so there is a bit of surprise inside this book for you that will have you laughing your ass off, or wanting to smack someone.  It is a fun book and I would definitely recommend it.