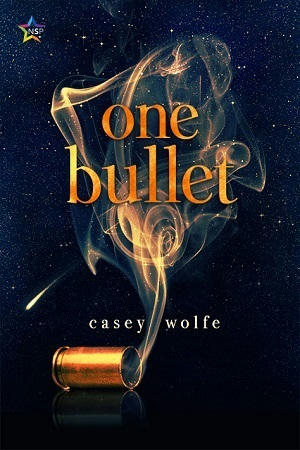 Title: One Bullet
Author: Casey Wolfe
Genre: Contemporary
Length: Novella (152 Pages)
Publisher: NineStar Pres (March 27, 2017)
Heat Level: Low
Heart Rating: 💖💖💖💖💖 5 Hearts
Blurb: When Ethan Brant was shot, he found himself dealing with severe PTSD and unable to do his job as a police officer any longer. With the aid of Detective Shawn Greyson, the man who saved his life, Ethan not only finds himself again but discovers love as well.
Shawn's life growing up was less than ideal, however, he overcame that to become who he is today. That doesn't mean he isn't missing something in his life. What Shawn hadn't realized, upon first meeting, was that Ethan could give him all that and more.
One bullet changed both their lives.
ISBN: 978-1-9455-281-4
Product Link: NineStar | Amazon US | Amazon UK
Reviewer: Lisa
Review: Ethan had been a police officer until he was shot by a cop. It had been an accident but it sent him into a spiral. He could no longer do his job nor could he handle being around them any longer. That is except for the one that saved him.
Shawn had been there when Ethan had been shot and it sent him back to another shooting, one where he lost his partner. But he save Ethan. He saved him in more ways then one. But I guess you could say that Ethan saved him right back.
This was not what I had expected, it was so much more. It brings a tear to ones eye at the pain that they felt. Their love brings them together and makes them stronger. This story caught my attention from the start and I found myself intrigued more and more. It is fully developed and quite an interesting tale. I loved the characters and their chemistry was off the chart. I really like the secondary characters in this story, and hope that they get their own stories.
I enjoyed reading this and look forward to more stories by this author. I would definitely recommend this book.