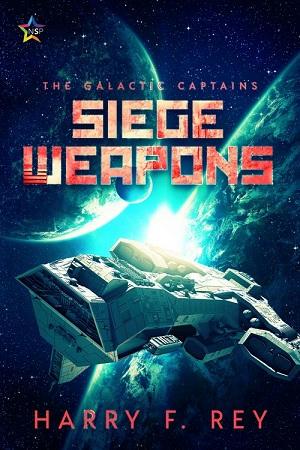 Title: Siege Weapons
Series: The Galactic Captains 01
Author: Harry F. Rey
Genre: Sci-Fi, Fantasy
Length: Novella (143pgs)
Publisher: Nine Star Press (September 24, 2018)
Heat Level: Explicit
Heart Rating: 💖💖💖 3 Hearts
Blurb: Captain Ales is a lonely smuggler at the galaxy's Outer Verge, and the last of his people. He's been trying to move on from a life of drugs and meaningless sex, but finding love in this forgotten corner of the galaxy is difficult.
When he's sent on a mysterious smuggling mission to a world under siege, he's enticed by promises of the domination he craves. But soon Ales finds himself entwined in a galactic power struggle that could cost him everything.
ISBN: 978-1-949340-77-8
Product Link: NineStar | Amazon US | Amazon UK
Reviewer: Shorty
Review: Ales is a smuggler, the only one of his home world left after invading forces destroyed the entire planet. He is sent to a planet on the brink of war with a cargo to deliver. Though I understood what was going on up to this point his interactions with Turo confused me. His sudden about face to agree to do whatever Turo wanted was baffling. Yes I understood him wanting to save Jansan but at what cost?
Turo confused me as I was honestly not sure exactly what he was fighting for. Maybe it's just me though. There is a lot of sex but the scene with Turo and Ales being tied up left me disturbed.
Freedom always comes at a price as someones idea of freedom may not be someone elses. I liked the conflict and the battles. The descriptions were amazing.
Good read.