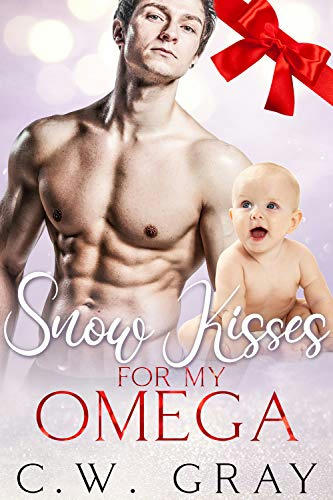 Title: Snowy Kisses For My Omega
Series: Hobson Hills Omegas 02
Author: C.W. Gray
Genre: Holiday
Length: Novel (189 Pages)
Publisher: C.W. Gray (December 5, 2018)
Heat level: Low
Heart Rating: 💖💖💖💖 4 Hearts (Combined)
Blurb: Greyson Bishop is a hot mess. He's pregnant, and his alpha dumped him. His boss is stealing his work and claiming it as his own. His roommate is abusive, and his landlord just gave him a week to move out. Most importantly, he's in love with a man that's way out of his league. He needs to get his shit together so he can be a good father and maybe, just maybe, catch the alpha of his dreams.
Harper Wilson has his shit together, but desperately wants the omega he's fallen in love with. Grey knows Harper is a demisexual and accepts him, lock, stock, and barrel. All he needs to do is figure out how to get his omega out of Florida and into Harper's home in Maine.
The two men are meant for each other, but vile exes and lying bosses do their best to ruin the happily-ever-after Grey and Harper deserve.
ISBN: B07L5BDCCS
Product Link: Amazon US | Amazon UK
Reviewer: Lisa & Shorty
Lisa's Review: 💖💖💖💖💖 4 1/2 Hearts
Greyson is a pregnant omega who had lost his alpha. His alpha had decided he didn't want Grey any longer nor did he want the baby. He works a job he loves but is about to get evicted from his home, because an asshat doesn't like pregnant omegas with no alpha's in sight. To top it off someone is stealing his work and his roommate was an abusive jackal. He wants to trust his best friend with his baby news, but hell he hasn't even told his abuela. Too bad he forgot that he left his computer part on, Harper found out.
Harper has wanted Greyson with all of his heart. When he found out what was going on with Greyson and the fact that he was pregnant, well lets just say the family is going to help. First he had to figure out how to Greyson to move to Maine.
Then there is a jealous omega who is nuttier than all hell out to get Harper back. Plus someone out to kill Greyson.
Action packed, excitement overload, sexy times, and pets out of your ears is what you get in this story and so much more. My attention had been caught from the start and kept all the way to the end. Now I was actually quite surprised, because there are very few stories like this that I truly like. I am not a fan of alpha and omega stories with mpreg, where there is no actual shifting. It usually comes off bizarre to say the least. However I found that I liked this quite a bit.
It does have it little problems but they are not truly noticable. I would have liked the first part of the story defining a bit more on who they are and how they met. A little bit more back ground was needed but not so much. I still found myself enjoying the guys quite a bit. It flowed quite evenly and the pace was pretty good . I would love to get my hands on the next book.
Shorty's Review: 💖💖💖💖 3 1/2 Hearts
Harper and Grey seem to be pulled apart around every turn they attempt to make with each other. Grey had it the worst though. But eventually the achieve their happy ever after.
I liked the story. It was sweet and cute between Harper and Grey when they were together. I was cheering for them throughout the story.
Good read.