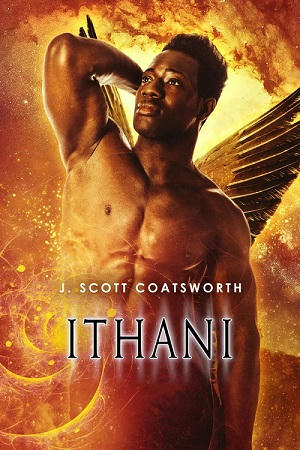 Title: Ithani
Series: The Oberon Cycle 03
Author: J. Scott Coatsworth
Genre: Science Fiction
Length: Novel (290pgs)
Publisher: Dreamspinner Press (February 19, 2019)
Heat Level: Moderate
Heart Rating: 💖💖💖💖💖 5 Hearts
Blurb: Time is running out.
After saving the world twice, Xander, Jameson and friends plunge headlong into a new crisis. The ithani—the aliens who broke the world—have reawakened from their hundred millennia-long slumber. When Xander and Jameson disappear in a flash, an already fractured world is thrown into chaos.
The ithani plans, laid a hundred thousand years before, are finally coming to pass, and they threaten all life on Erro. Venin and Alix go on a desperate search for their missing and find more than they bargained for. And Quince, Robin and Jessa discover a secret as old as the skythane themselves.
Will alien technology, unexpected help from the distant past, destiny and some good old-fashioned firepower be enough to defeat an enemy with the ability to split a world? The final battle of the epic science fiction adventure that began in Skythane will decide the fate of lander and skythane alike. And in the north, the ithani rise….
ISBN-13: 978-1-64405-111-5
Product Link: Dreamspinner | Amazon US | Amazon UK
Reviewer: Shorty
Review: In this exciting conclusion Jameson and Xander head to a place where someone helps them in their quest to stop the events from unfolding and destroying the world. At the same time their friends go on their own journeys to help stop the takeover for good. Each discover secrets that help unravel the mystery of the first humans, Nimfeach, Ithani and Skythane.
I was in awe of well this story was told and brought to life with each page. The details were amazing and made me feel as though I was there witnessing everything that was and will come to pass. The leader of the Ithani was a ruthless leader with plans in the making that only helped himself and enslaved others.
I loved the information of how everything was started so long ago. The Nimfeach were truly done wrong by Jirron and the Ithani. My heart went out to them and everything they had gone through.
The ending was a fascinating and dangerous mission to put a stop to Jirron and his plans once and for all.
Amazing read and highly recommended.