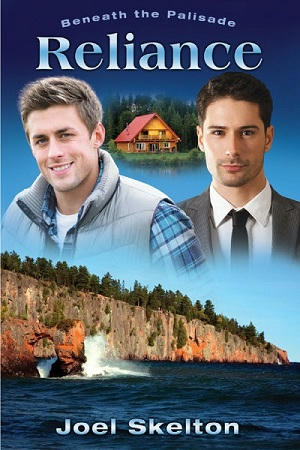 Title: Reliance
Series: Beneath the Palisade 01
Author: Joel Skelton
Genre: Contemporary
Length: Novel (300 pages)
Publisher: Dreamspinner Press (23 Mar 2012)
Heat Level: Moderate
Heart Rating: 💖💖💖💖 4 Hearts
Blurb: Rising star attorney Harper Callahan hires Ian Burke to landscape his backyard, but it's his heart that gets the real makeover. Cautious at first, Ian is soon won over by Harper's good looks and charm, and before they know it they're on the fast track to romance. 
Then a brush with death makes Harper and Ian reassess their plans for the future… and offers them an opportunity for adventure. What starts out as a casual fantasy of owning and operating a B&B on Lake Superior soon explodes into reality as Harper and Ian realize that when they rely on each other, they can accomplish great things.
ISBN: 978-1-61372-404-0
Product Link: Dreamspinner | Amazon US | Amazon UK
Reviewer: Prime
Review: This is the first book I've read by Joel Skelton and if this is any indication of his writing style, I cannot wait to get to the next two books in this series. In fact, I'm rather glad that I picked it up now with 3 books already available and not when this book was first released. I'm selfish like that. 😉
The first thing that I'm going to say is not an actual criticism but more as an observation. So if you read the blurb it's in two paragraphs, which I finally realised splits the book in its two halves. I was a couple chapters in and I was thinking "where is this brush with death?", "what do the… where is this Palisade?" and "Will Ian and Harper just get together and do what they're meant to?"
This book is a bit of a slow burn and is the perfect set up for the next two books in the series. The opening in fun and dragged me right in immediately as we meet Ian as he is filming his first TV ad for his landscaping company. Immediately you know that he is a great guy and that he is surrounded by some fun, if not interestingly quirky, people. Then we meet Harper. He's a successful lawyer, but he's involved in defending a criminal case which has had more than its fair share of local and national media attention. Late one night, Harper see's Ian's ad and figures he might as well get his garden fixed. Oh, he had actual reasons, but being that he was attracted to "the actor" on the ad probably doesn't help his sleep deprived state.
I don't want to go too much further into anything in terms of plot. As I said, this is a slow burn and for that reason it might not appeal to those that only have the attention span for fast pace. However, where there is not a lot of plot going in, the author makes up for this in spades with the brilliant character development. Shaping the world and the characters in a way that is easily relatable and where the reader will probably recognise pieces of their lives as "oh, yeah, that's what real people do". It also helps that the attraction between the guys is both subtle and hot.
One thing I will say though is that I was really confused when a character, Alex was first introduced. If anyone finds this off putting, just hang in there. I'm still sceptical about how he was introduced but by the end of the book it is clear that Alex is an important character in both Ian and Harper's lives.
This will probably appeal to a broad range of readers but as I said earlier, it is a slow burn so some may find it a tad boring since all the action tends to happen in the second half.