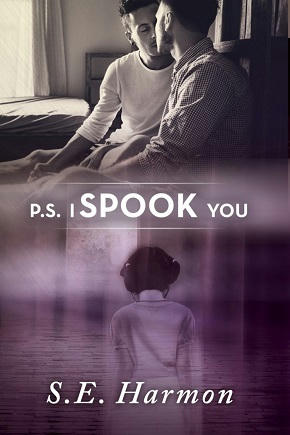 Title: P.S. I Spook You
Author: S.E. Harmon
Genre: Contemporary, Paranormal, Mystery, Suspense 
Publisher: Dreamspinner Press (June 12, 2017)
Length: Novel (256 Pages)
Heat Level: Low
Heart Rating: ♥♥♥♥♥ 5 Hearts
Blurb: SSA Rain Christiansen used to be the agency's golden boy. It just takes one moment of weakness, one slight, tiny, itty-bitty paranormal sighting, and all of a sudden he's the agency's embarrassment. His boss gives him one last chance to redeem himself—go down to Brickell Bay, play nice with the local police, and leave the ghost sightings behind. Rain is determined to do exactly that, even if it kills him.
Cold-case detective Daniel McKenna's latest investigation is going nowhere fast. Five years earlier, high school student Amy Greene went missing after leaving her part-time job and was never seen again. Daniel is glad to finally have the FBI help that his department requested, even if it does come in the form of his ex.
It doesn't help that Rain is pretty sure he's falling in love with Danny all over again—if he ever stopped. Add to that the frustration of seeing ghosts at every turn while he works a case that's stalled in its tracks, and Rain is starting to wonder if second chances and happy endings are just for fairy tales. 
ISBN: 978-1-63533-691-7
Product Link: https://www.dreamspinnerpress.com/books/ps-i-spook-you-by-se-harmon-8565-b
Reviewer: Lisa 
Review: This is the first book by this author that I have read and I have to say it will not be the last.  I have always loved paranormal romance especially if it is also m/m.  When I saw the title to this, I really wanted to get my hands on it.  The cover of the book is just a bit creepy, but for this type of story let's just say it rocked.
Rain is a federal agent who has had a bit of bad luck one would say.  He see's spirits and doesn't really believe that he sees them.  So much so that he just figured he was losing it.  He had not mentioned it to anyone, until one day he told a family that their daughter was gone.  You can guess which way his job was going to go with that one, but his boss decided to give him one last chance.  To find out what happened to a young girl.  To top it off it would send him home, to the one man he had loved and left.  
Danny had been in love with Rain from the very beginning but he didn't trust him not to run.  Five years ago Amy went missing and now the FBI was sending in a specialist.  A specialist that was also his ex.  He wasn't too sure what to expect, but it sure wasn't the fact that Rain saw spirits.  Things heat up and there are a lot of twists in this story.  Especially when you add in Ethan, who just happens to be dead.  
When I started reading it, the story was a very slow paced but it soon picks up. I can say that I hope this author makes this into a series because I want more from Rain.  It caught my attention and damn if it didn't keep it all the way to the end.  There are ghosts, hot sex, dangerous situations and suspense in this story, plus so much more.  It gave me everything I could possibly want in a story and I can guarantee that you will get a kick out of it also. 
This is one story that I would recommend to all.