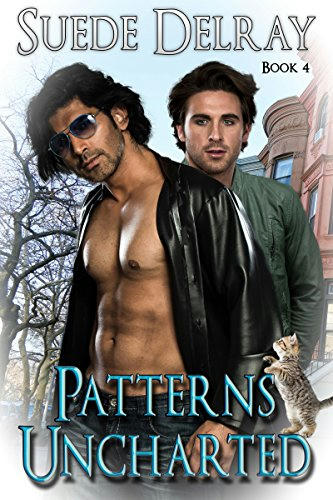 Title: Patterns Uncharted
Series: Patterns 04
Author: Suede Delray
Genre: Contemporary, Mystery
Length: Novel (180pgs)
Publisher: eXtasy Books (June 9, 2017)
Heat Level: Low
Heart Rating: 💖💖💖💖💖 5 Hearts
Blurb: Dominick and Rob face challenges. Can their marriage survive them?
At this point in their lives Dominick and Rob are sure of only one thing, they love each other and nothing will ever change that. But there are challenges and compromises to be made. Will the sacrifices they make to please each other end up making them miserable?
ISBN: 978-1-4874-1042-1
Product Link: eXtasy Books | Amazon US | Amazon UK
Reviewer: Lisa
Review: Wow, Rob has taken a liking to a young man named Logan. Logan had had a life pretty much like Rob when he was younger, and Rob can see a bit of him in him. He wants to give Logan a home, but it is going to take a bit to talk Dominick in to it. That is until Dom saves a four year old boy. Family might just grow by two.
They just have to keep Logan safe when his old pimp tries to get him. A pimp that owes money to Dom's sadistic father, a father who is sitting in prison for murder. How a man raised by a mob boss such as his father, it is a wonder how Dom turned out so fine.
I love how this story is just told. You get excitement and danger mixed in with a cop trying to keep his family safe, plus so much more in this book. It not only caught my attention from the start but I was sitting on the edge of my seat throughout it. I can tell you that this book is one of those that will be read more than once.
I absolutely loved these guys and their big hearts. I wasn't to sure about Dom's reaction to Logan but he did prove himself in the end. I had a blast reading it and can't wait to see what more stories this author has out. I would definitely recommend it and can guarantee that it is one of those stories that will be read more than once.