Hi guys! We have J.M. Snyder stopping by today with her new release Position 69, we have a great excerpt and a brilliant giveaway so check out the post and enter the giveaway! ❤️ ~Pixie~
Position 69
(Vic & Matt: The Positions of Love 13)
by
J.M. Snyder
It's been a few years since Matt diLorenzo gave his lover Vic Braunson a copy of The Kama Sutra for Gay Men, which doubled as a handy reference guide to the superpowers Vic got every time they made love. The book is well-worn and scribbled in, and the guys haven't seen it in years. But there's one position they never got around to really trying out …
Vic tries not to bring a bad day at work home with him, but Matty can be persistent. Once he uncovers what's bothering Vic, Matt does his best to make his lover forget about everything but him.
But Vic is still moody the next morning, and when he returns to work, one thing after another gets him hot under the collar. His foul mood simmers all day.
Then he hits the gym after work, and his anger bursts into flames when someone makes the move on his guy. Will Matt be able to put out the fire before anyone gets hurt?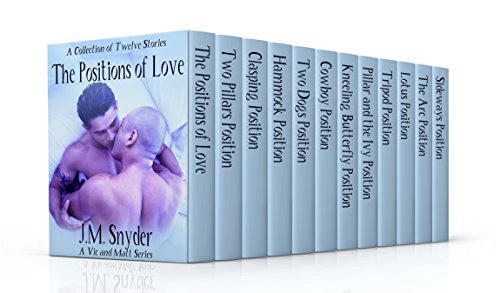 Excerpt!
Vic led the way into their apartment, unhooking Sadie's leash as Matt looked the door behind them. The dog ran to the kitchen, where she knew she would get a cup of kibble before bedtime. But before Vic could follow, Matt caught his arm and wheeled him around. Vic found himself pressed against his lover, their bodies a delicious crush that sent an electric shock of lust bolting through him. Matt eased his arms around Vic's neck and Vic placed a hand on either side of him, leaning into him, pinning him to the door for another slow, simmering kiss.
::I'm sorry,:: Matt said without breaking away from Vic.
Following his lead, Vic responded telepathically. ::It's fine. Sadie's fine.::
Now Matt pulled back — not much, there wasn't room, but enough to signal to Vic that the kiss was over. He licked his lower lip, and Vic chased after his tongue with a quick little peck. But Matt rolled his lips back over his teeth, preventing another.
"I don't mean just about that," Matt sighed, his words mere breath between them. "I'm sorry you had such a rough day –"
"It's over with," Vic assured him, running his fingers through Matty's thick mop of dark hair. Gently he caught hold of it and tugged playfully. When Matt leaned back, Vic kissed the underside of his chin. As Vic breathed in Matt's scent, his dick twitched in the confines of his work pants.
Still, he felt Matt inside his head, poking here and there, trying to get Vic to open up. ::No secrets between us,:: he said. ::What happened?::
::It wasn't any one thing,:: Vic admitted. ::Just had a bad day, that's all. Can't we just forget it?::
But Matt was adamant. ::Let me see.::
With a resigned sigh, Vic visualized spinning the wheel on the safe he sealed earlier. The moment the door swung wide, Matt stepped in and began rifling through Vic's memories, stopping here or there to watch something play out. Vic felt like a voyeur, not really reliving the day or even looking back on it, but seeing it through Matty's eyes. Even as his earlier anger grew from one scene to the next, he was removed from it now, no longer feeling it sharp and bright but instead viewing it with bemused detachment. Sleeping in late, the traffic, the change in his schedule — ::Aww, poor baby,:: Matt cooed. ::Having to go to work in the morning like the rest of us.:: — the people he'd had to deal with throughout the evening while driving his route.
Then Matt glanced at the last memory of Vic's hectic workday and laughed out loud. His arms tightened around Vic's neck and he leaned in to touch the tip of his nose to his lover's. "You're seriously the only person I've ever met who doesn't like Kyle," he teased.
Vic groused, "The only one willing to admit it."
"What is it you have against him?" Matt wanted to know. "He isn't all that bad."
With a peeved look, Vic complained, "He called you his ex."
"So he's delusional," Matty joked. "Doesn't mean he isn't fun."
Vic countered, "He's a pain in the ass."
This earned him a quick kiss. "True," Matt agreed. "And you don't exactly have the patience of Job to put up with anybody but me."
"Sometimes you try my patience, too."
Matt laughed. "Like when?"
Vic didn't answer. Instead he touched his forehead to Matt's and stared into his lover's deep green eyes. Every inch of his body hungered for this man in his arms. As he breathed out, he pushed the feeling from his consciousness into Matty's, telling his lover without words exactly what he wanted. What he needed.
He felt Matt's heartbeat flutter in anticipation, felt Matt's knees go weak with desire. Matt crushed his mouth to Vic's with a hunger of his own. He tugged at Vic's workshirt, snapping off a button in his haste. ::God, yes.::
From somewhere behind Vic came a soft wuff. Sadie.
Vic pulled back slightly. "Someone's hungry," he murmured against Matt's lips.
"Someone can wait," Matt whispered back.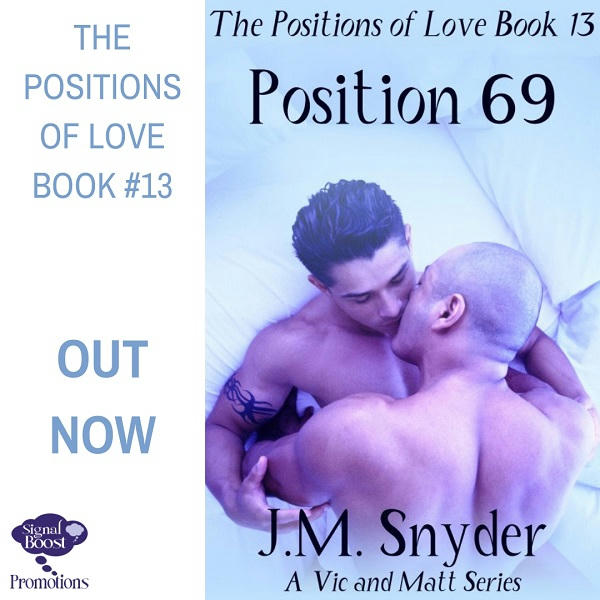 About J.M.!
J.M. Snyder is a multi-published author of gay erotic romance who started writing fanfic (specifically, boyband slash). She has worked with several different e-publishers, including Amber Allure Press and Torquere Press, and has short stories published in anthologies by Alyson Books, Cleis Press, eXcessica, and Lethe Press. In 2010, she started JMS Books LLC to promote and publish her own work as well as that of other authors she enjoys.
For more information, please visit jmsnyder.net.
E-mail: admin@jms-books.com. Blog: jmsnyder.com. Friend me on Facebook or follow me on Twitter.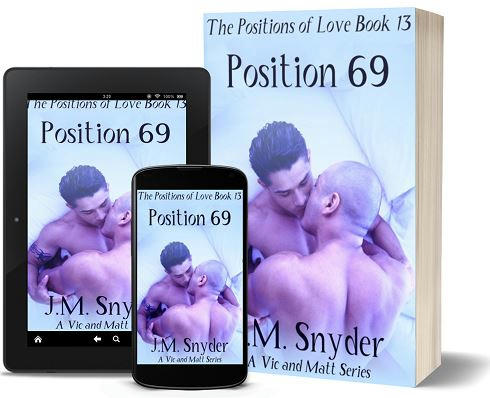 Giveaway!
Win a Backlist Ebook From J.M. Snyder!