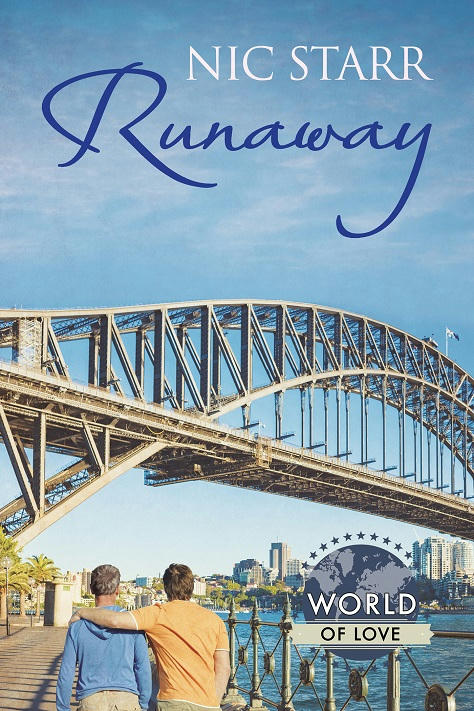 Title: Runaway
Series: World of Love 07: New South Wales Australia
Author: Nic Starr
Genre: Contemporary
Length: Novella (86pgs)
Publisher: Dreamspinner Press (12th April 2017)
Heat Level: Low
Heart Rating: ♥♥♥♥ 3.5 Hearts
Blurb: Dr. Nathan Powell is ready to settle down near his family, and hopefully find the man of his dreams. He returns to the small coastal town where he grew up, but while life is simpler than it was in the city, there are also complications—like patients' reactions to an openly gay doctor. And like running into Nate's first love, Damien, an out-and-proud local business owner who is unwilling to be any man's dirty secret. The reunion reignites old desire even while it stirs up Nate's guilt over the way things ended with Damien.
When Nate's nephew runs away, Damien accompanies Nate on his mission to find the young man. The drive to Sydney, and the search of the city, gives Nate time to reconnect with Damien—and to wonder if he made the right decision years ago—when he determined a future for them was impossible. Is a fresh start realistic for two men in their forties? But before he can ponder the second chance they've been given, Nate must locate his nephew.
ISBN: 978-1-63533-410-4
Product Link: https://www.dreamspinnerpress.com/books/runaway-by-nic-starr-8358-b
Reviewer: Veronica
Review: This is a first time for me reading from this author, and I love how this book was well written and very enjoyable. I love that the characters knew one another already. Nathan knew from a young age that he was gay, and one afternoon while babysitting his little sister, he was caught kissing his boyfriend Damien at the Park. After that encounter, he decides that he'll go away to Uni.
Years later, he moves back home to take over the position as a Doctor in the clinic where his Dad use to work. When he was living in the city, he was out and proud, but back in the small town, no one knows his orientation and he wants it kept like that, because he doesn't want any trouble where the patients are concern.
Secure in his job, and reconnecting with friends, and with Damien, Nathan thought that he can just be friends with Damien again, but for him the old feelings are resurfacing, and he thinks that he might've made a mistake in running away years ago. When his nephew runs away to the city, Nate and Damien goes to Sydney to search for him. While there, they talk and end up reexamining their relationship. I'm sorry that this story didn't have at least one or two more chapters to it. But it is a great story and I would recommend to anyone looking for a short read.