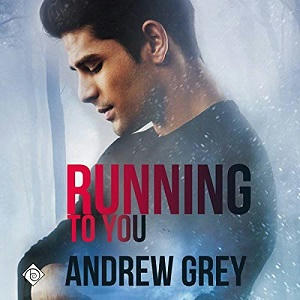 Title: Running to You
Author: Andrew Grey
Narrator: Jack Richmond
Genre: Contemporary
Length: 7 hrs, 8 mins
Publisher: Dreamspinner Press (17th July 2018)
Heat Level: Moderate
Heart Rating: 💖💖💖💖 4 Hearts
Blurb: Home, love, and possibilities he never imagined are waiting for Billy Joe to claim them. But first he needs to escape the horrors of his past.
A twisted act of cruelty and prejudice drives Billy Joe from his Mississippi home, and he makes it as far as Pennsylvania – where his car breaks down just as the year's first snowstorm blows in. Fortunately, Carlos is there to lend a hand.
Carlos is no stranger to hardship. His family rejected him for being gay, but with determination, he put himself through school and became a librarian. Carlos sees the same willpower in Billy, and he wants to help Billy and his son succeed in a new life that is very different from the one they left behind.
With his support, they start to adjust, and before long, both men want more than encouragement from each other. They want the chance for a future together, but their families have other ideas…and Billy's will stop at nothing to get what they want.
Product Link: Audible US | Audible UK | Amazon US | Amazon UK
Reviewer: Prime
Review: Running to You is a standalone novel by Andrew Grey. Fans of Andrew Grey will be familiar with his trademark formula and may also love his ability to create and development character with deep emotional connections, who are also totally relatable. Suffice to say, if you're a fan of Grey, you will enjoy this book.
The story is about Billy Joe and Carlos. The story starts with Billy Joe having to sneak off, running away from his white supremacist family, with his much beloved 2-year-old son, Tyler. Tyler is absolutely adorable, by the way. The situation Billy Joe is running away from is pure tragedy. It is no surprise that he feels he must go to the lengths that he does to steal away with his son before his parents could do much more of their monstrous acts with their fellow white supremacist buddies. Billy Joe drives as far as he can before his car breaks down, leaving him stranded in Pennsylvania. He just hopes its far enough away from the horror he left behind in Mississippi.
Billy Joe and Tyler are saved by a good Samaritan, Carlos. Carlos knows what its like to have to run away from an unaccepting family. However, his family situation is nowhere near as frightening Billy Joe's it's still a tragedy in itself. Carlos helps Billy Joe and Tyler settle, although it is quickly apparent that the guys have an intense chemistry.
This is a real sweet, slow burn type of story. The guys don't rush into their relationship as this learn how Tyler also fits into their lives, as well as dealing with their baggage. The families of both guys also make an appearance to cause some drama, but through it all, it becomes increasingly clear that these guys belong together.
The narration for this audio was wonderful. Jack Richmond is a totally new narrator for me and I was pleasantly surprised. I really enjoyed the smooth, southern tones he gave to Billy Joe, he also nailed Billy's emotion, which for me was the most important part of this story. He also does a remarkable job with Carlos and conveying his emotions, but Billy Joe's voice is by far the highlight of the audio narration.