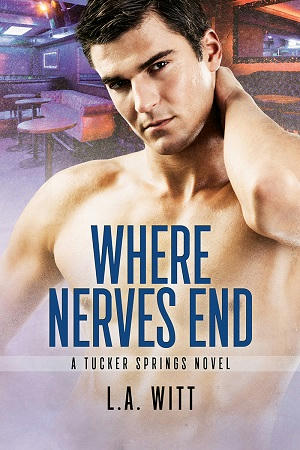 Title:  Where Nerves End
Series: Tucker Springs 01
Author: L. A. Witt
Genre: Contemporary
Length: Novel (200pgs)
ISBN: 978-1-64080-899-7
Publisher: Dreamspinner Press (2nd November 2018)
Heat Level: Moderate
Heart Rating: 💖💖💖💖💖 4 ½ Hearts
Blurb: Welcome to Tucker Springs, Colorado, where you'll enjoy beautiful mountain views and the opportunity to study at one of two prestigious universities—if you can afford to live there.
Jason Davis is in pain. Still smarting from a bad breakup, he struggles to pay both halves of an overwhelming mortgage and balance the books at his floundering business. As if the emotional and financial pain weren't enough, the agony of a years-old shoulder injury keeps him up at night. When he faces a choice between medication and insomnia, he takes a friend's advice and gives acupuncture a try.
Acupuncturist Michael Whitman is a single dad striving to make ends meet, and his landlord just hiked the rent. When new patient Jason, a referral from a mutual friend, suggests a roommate arrangement could benefit them both, Michael seizes the opportunity.
Getting a roommate might be the best idea Jason's ever had—if it weren't for his attraction to Michael, who seems to be allergic to wearing shirts in the house. Still, a little unresolved sexual tension is a small price to pay for pain and financial relief. He'll keep his hands and feelings to himself since Michael is straight… isn't he?
Product Link: Dreamspinner | Amazon US | Amazon UK 
Reviewer: Thommie
Review: Oh, Jason has it real bad. His life seems to have taken the downfall on all departments. His love life sucks, his lover abandoned him for a sugar daddy and left him with the mortgage which he can hardly pay on his own. His professional life sucks even more; his partner died and left him with a great deal of loans and a night-club that hardly makes any profits. But, you know what they say," if you got your health you got everything". Problem is that Jason has health issues to top it all. A shoulder injury resulting in chronic pain that leaves him up all night, making his life quality reach bottom. This is where Michael makes his appearance.
Michael is an acupuncturist. After being drilled for several years from his friend, Seth, Jason makes it up his mind to go and see this miracle worker acupuncturist for his pain. It helped a lot the fact that he can barely move his arm or do his work anymore. But the moment he lays eyes on Michael, he doesn't know what hits him. Michael is magnificent and to put it in Jason's words "He'd taken that old cliché "tall, dark, and handsome" and made it his little bitch."
I don't think I've read a book where the protagonists have such an incredible chemistry as Michael and Jason. Although this book is written entirely from Jason's point of view, the author manages to convey that feeling, at least to me. I was literally bouncing on my chair while reading this book.
Anyway, this story is more a "coming out" story. Jason is gay, but Michael is straight, or at least that's what he's been convincing himself and his entire environment for way too many years. The plot has him moving in with Jason as a roommate, leaving Jason in a frustrating state. who said it was easy living with an eye-candy? But, that much tension, that much lust can hardly be contained, and when they finally get together, it's like rocks colliding. What a hot, HOT scene. Their feelings are so damn intense that make their following break-up even more so. They don't fight, no; Jason understands that Michael can't from one day to another change everything in his life, especially when his son is around. How do you explain that to a little boy, but understanding doesn't make it the least bit easier. Emotions build up and lead to frustration and stress, which leads to awkwardness and pain, which leads to…
Yeah, I loved this book. This was the kind of romance I like and it had me hooked so tightly I once again forgot to sleep. Yes, this book was one of those that you only close when the end has hit the page and you suddenly look around and see the sun rising. It had it all.
Great characters, check.  Both of them were fantastic, so real, with real issues, with real reactions. God, I loved those characters.
Supporting team, check. Seth, their mutual friend couldn't be better, adding to their life greatly and the ex-wife, hah, I so loved how she reacted. Michael's kid, Dylan, greatly portrayed. All in all people-wise it was very well done.
The plot was brilliant portraying everyday life in such a realistic way I thought "damn, who's she been spying on". The emotions conveyed was what had me in tight grip though. From the day-to-day life, to the sexual scenes emotions had me by my neck holding me in place to feel and live them all along with the characters. A very, very well written book, one I'd strongly recommend anyone to give it a go.