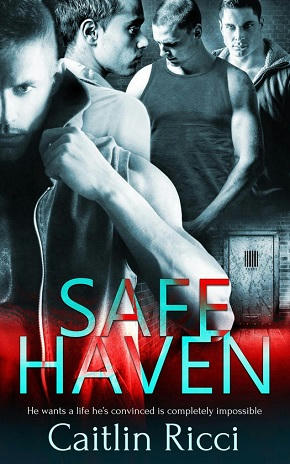 Title: Safe Haven
Author: Caitlin Ricci
Genre: Contemporary
Length: Novella (151 Pages)
Publisher: Pride Publishing (November 8, 2016)
Heat Level: Low
Heart Rating: ♥♥♥♥ 4 Hearts
Blurb: Being alone was what Blake had always needed before his new team of bodyguards arrived. Now things might be very different.
At seven years old, Blake's life was destroyed when he and his parents were abducted and he watched them being murdered. Now, twenty years later, he refuses to leave the house and he lives in a constant state of fear. He has a bodyguard around the clock, a housekeeper who has never seen his face and an uncle who checks on him often but isn't all that close to him. Blake likes his isolation where only his cat really knows him.
His bodyguard of eight years is ready to retire, leaving his life in turmoil again. Blake isn't good with people in general, and new people are the worst. But he needs someone in his house all the time to make him feel safe. His uncle hires a team of bodyguards to replace his old one—Malcolm, CJ and Rex. They come highly recommended, and they're good at what they do.
They're also together and it's a relationship that Blake is instantly fascinated by. He's never been interested in another person before, and he hasn't had a real friend since his parents died, because he has refused to leave the house. But with the three of them trying to be there for him, he begins to want a life he has been convinced up to now would be completely impossible.   
ISBN: 978-1-78651-479-0
Product Link: https://www.pride-publishing.com/book/safe-haven
Reviewer: Lisa
Review:  I have read several stories by Caitlin Ricci, and I have to admit that I really do not care for her short stories.  So here I was trying to get my list down, and I was just groaning to myself at it.  Then I saw this story and it sounded interesting plus it was quite a bit longer than many of the other ones that I have read.  It is a very unique type of story that I have not came across in quite some time.  
Blake and his family had been abducted when he was seven years old.  They had brutally killed his parents pretty much in front of him. When he was rescued, which I never really found out how, his uncle tried to keep him safe.  He couldn't leave his family home, so his uncle hired him a body guard that would help him.  Robert was the only one, other than his uncle who actually saw him.  Even his housekeeper of fifteen years had not had that pleasure. But now it was time for Robert to retire, and guess what he was getting three new body guards.  Talk about a stressful thing for Blake.
Malcolm, CJ and Rex were a threesome and have found their fourth.  Rex is more forceful, CJ is more tender and Malcolm is the mixture of the others.  Where his uncle takes care of the money, the home, Blake needs to feel safe.  It feels so damn lonely the way he lives, talking through a monitor, but Rex starts getting him out of his shell.  However it will take all three of them to get him through his panic.
It is a slow burn romance, but very little sex in a way.  When you look at multiple partners such as this, you think major sex, but with this type of story it just worked perfectly.  I was quite pleased with how this story turned out and hope that Caitlin continues this style of writing.  It was a very touching story and I enjoyed every bit of it.