Hi peeps! We have Bradley Lloyd visiting today on the first day of the tour for his upcoming debut novel Shadow Fray, we have an awesome guest post, a great excerpt and a fantastic giveaway, so guys, check out the post and leave a comment to enter the giveaway! <3 ~Pixie~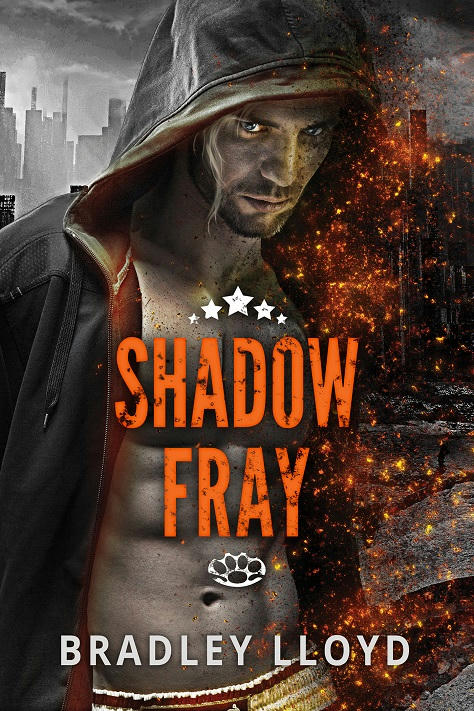 Shadow Fray
by
Bradley Lloyd
Family is worth fighting for—and family doesn't always mean blood.
No one knows what calamity poisoned the earth and decimated the human population, but living close to the toxic ground means illness and death. Justin is determined to keep his twin sister and younger brother from that fate—no matter what he has to do. To earn enough to keep his family safe in a high-rise, Justin enlists in a deadly sport called Shadow Fray. He quickly finds himself in over his head, especially when he is scheduled to face the most dangerous player.
Hale—who competes as Black Jim—knows he won't be on top forever, despite his skills. He fights for a better life for his daughter, but his time is running out as Shadow Fray becomes increasingly lethal. Something about the newest fighter intrigues him, but does he dare defy his masters to investigate? Justin and Hale will clash in the ring, while beyond it the powerful elite and the crumbling world seem determined to keep them apart. If they can find common ground, they might have a chance to fight for their futures.
Release date: 30th May 2017

Shadow Fray and Buffy the Vampire Slayer: A Heroine's Influence on My M/M Journey
by Bradley Lloyd
Buffy the Vampire Slayer changed my life. Maybe that's why subtle elements of my favorite show, almost subconsciously, snuck their way into Shadow Fray.
When I was a mostly-closeted gay guy entering college, Buffy Summers was a revelation. Sassy, spunky, and a hard-hitting force of nature, she broke stereotypes and shattered expectations. Even though I went to a very conservative school, the weekly Buffy group that formed became the social outlet for acceptance and creativity that I craved. By the time I finished college, the friends I made in my Buffy group helped me open my closet door quite a bit wider. Years after the show ended, when I had my first date with my husband, it wasn't just his good looks and sparkling personality that sealed the deal, it was our mutual love of Buffy the Vampire Slayer and the hours-long conversation over dinner that had my heart aflutter. Ours is a marriage based on Buffy.
So what does this have to do with my book? It might seem strange that a M/M romance would be inspired by Buffy—especially since Shadow Fray has no supernatural elements. However, the book does have themes Buffy fans will be familiar with: the changing nature of family and how we create our own family groups, the idea that even isolated, secretive people can't carry the weight of the world on their shoulders without help. And, of course, Shadow Fray has some sexy action and fight sequences that were a blast to write, though they are grounded in the world of mixed martial arts rather than spinning back kicks followed by a stake to the heart.
In Shadow Fray, our hero Justin must compete in an anonymous underground fighting ring to provide for his family. In this future world, the ground has become toxic and food and other resources are scarce. People with money live in high rises, and Justin is determined to keep his sister and brother safe. Much like Buffy had her Scooby Gang, Justin begins to form his own Scooby Gang despite his best efforts to go it alone. When he faces Hale, a fierce fighter known only as Black Jim, he may have found the one person who will not only be his ally, but something much more—if they don't kill each other first. Of course you'll have to read the book to find out what happens, but as you might recall, Buffy fell pretty hard for a vampire or two, even if they were supposed to be the bad guys.
Justin and Hale may be the main characters in Shadow Fray, but I made a point to fill my novel with strong female characters. In this world women, now fewer in number, hold the keys to the future, and not just from a biological standpoint. They may not face anyone in the ring, but they fight just as hard using whatever means necessary, from Justin's twin sister, Gin, to the powerful, mysterious Mayor Cram (again, a nod to season three and my favorite villain from Buffy).
I'm guessing that if I hadn't directly stated Buffy inspired this story, the average reader wouldn't know. The worlds are completely different, the romance more adult, the action grounded in reality. However, Buffy had a big impact on my life, so it's only natural that there are threads connecting myself, my novel, and my favorite vampire-killing, kick-ass heroine.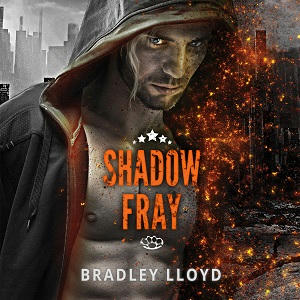 Excerpt!
Justin went into the computer files and scanned his saved list until he found BlkJmMcDonalds. He had watched this Fray well over a hundred times. It was one of his favorites. The Arena was a McDonald's.
The video file started out as Black Jim's matches always did. He would enter with his head slightly lowered, appearing almost reverent. He would go into position and raise his head and eyes slowly to the camera.
His eyes were vividly white amidst the black. Rather than masked, his face and hair were slicked with black grease paint.
Black Jim was the only one in Shadow Fray who didn't wear a mask. He was the only one who didn't have to.
The makeup covering his face and hair offered him enough of a disguise but little protection. The slick paint probably resulted in more glancing blows, but you couldn't play this game without a mask unless you were as good as he was—not without being found out.
It wasn't just about the disguise; too many injuries, too often, and they could easily be matched up with the video. Anonymity was a necessity but also part of the appeal. In a society where the watchers required watchers, to the point everyone was droned up and watching everyone else, anonymity was an alluring mystery. No matter what, once you were found out, your games were over. There were stories about losing a lot more than just your chance to play. People disappeared, permanently. No one had ever talked. No ex-Shadow Fray Brawler had ever come forward. Not one.
Black Jim's pose went on for long minutes. He was the only Brawler who had extended segments of video before his Fray even began, because people wanted to see it. He'd stand still as stone, with his arms spread at his sides, like a black specter from a nightmare. The theatrics of it all….
Sometimes, Justin would dream about Black Jim standing like that at the foot of his bed while he slept. He'd seen posters and printouts of this stance of Black Jim's. Nothing in their home had changed much since Mom died, or he might like one himself. He was a fanboy without the poster.
He didn't fast-forward the video. You would think Black Jim was in a trance or some type of meditation, but his face looked nothing like calm. In his too white eyes, he had the look of a man familiar with violence. He had the look of a man who knew he was going to win, like once you walked into that room, you were screwed, because he already saw in his head every move you could possibly make.
You walked into that room, and you were his plaything.

About Bradley!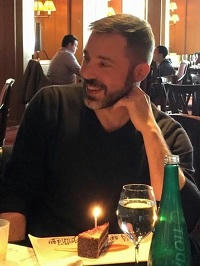 Bradley Lloyd is a Chicago-born author who studied Creative Writing at the University of Wisconsin-Milwaukee. He was raised in a conservative religious household but became aware of his sexuality at a very young age—about the same age he learned of his ancestry to Hans Christian Andersen. Inspired by this knowledge, writing became an outlet that helped him cope with inner conflicts and bullying.
Of course, he was no angel and occasionally used his storytelling powers for evil. He once convinced the neighborhood children that gnomes had been real before all being turned into lawn ornaments.
Later, these experiences lead him to work with middle-school students. Now a teacher in the inner city, he shares his love of writing with a captive audience of kids, who are thrilled with true(ish) tales of their haunted school building. 
Interestingly, his favorite UFC fighter and former world champion was a student at his school, and when Brad is not reading or writing, you might find him hosting the next UFC pay-per-view event party. His dreams of becoming an ultimate fighter are realized vicariously through his stories and video games.
Brad is happily married to a wonderful husband. Their tenth anniversary was also the day same-sex marriage became legal, and they were couple number seven at the courthouse.
You can read more of Brad's (free) tales on his website BradleyLloyd.com, check him out on Medium, follow IMBradleyLloyd on Facebook and Twitter, or e-mail him directly at IMBradleyLloyd@BradleyLloyd.com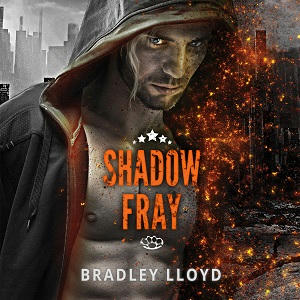 Giveaway!
Win a $20 Amazon giftcard!
(Just answer Bradley's question in the comments with a way to be contacted)
"What TV show has made the biggest impact on your life?"