Hi guys, we have Matt Doyle stopping by today with the tour for his new lesbian release Shadows of the Past, we have a great exclusive excerpt so check out the post and enjoy! ❤️ ~Pixie~
Shadows of the Past
(The Cassie Tam Files 04)
by
Matt Doyle
Shadows of the Past is the new novella collection set in The Cassie Tam Files universe! Enjoy two new stories that follow PI Cassie Tam and her girlfriend Lori Redwood as they deal with the fallout from LV48. This book is part of a series and needs to be read in sequence.
A Week in New Hopeland
When Lori Redwood agrees to help out her girlfriend, PI Cassie Tam, by going undercover at a local shipping firm, she gets more than she bargained for. Her 'boss' Mr. Graves is a misogynist and a bully, and has been targeting one girl in particular. Cassie is known to him, and he tends to be cautious around Tech Shifters. Which means that Lori may be the best person for the job.
Will Lori be able to help Cassie gather enough evidence for the police to act, or will she become the next target?
Shadows of the Past
PI Cassie Tam is not the only person who lives with regrets, and like most people, she just wants to get on with her life. But in New Hopeland, the past never remains buried. When she's hired to track a stalker that's been using some interesting tech to mask their identity on the city's security cameras, Cassie ends up face-to-face with her darkest memory.
Can Cassie find out who's responsible before her past mistakes tear her – and her friends – apart?
Warnings: Contains: bullying, stalking, a deceased family member, guns, and workplace harassment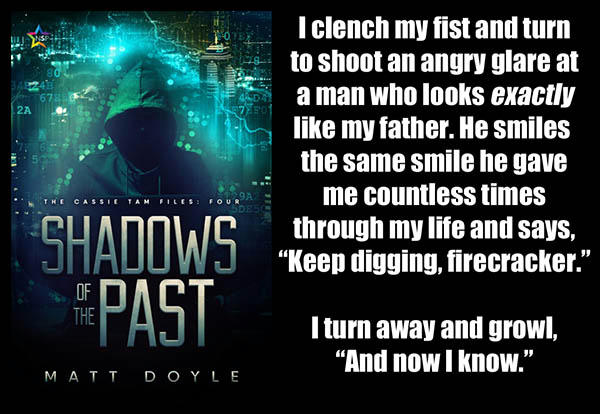 Exclusive Excerpt!
Shadows of the Past, Matt Doyle © 2019, All Rights Reserved
"I REALLY WANT TO talk to her," I say, handing Cassie a mug. "But I know I can't, or we'd risk giving the game away."
"There's always the possibility he'd become wary too if it looks like she may have a new ally, especially one he's not as likely to want to mess with. He hasn't tried anything else with you, has he?"
"No. If he wanted to, I think he would have. You couldn't see it on the video, but Faye's body language when she came out his office was…he didn't shout at her, we'd have heard that, and she didn't have any visible new marks, so he didn't hit her. But he said something."
Cassie places her hand on my arm, her eyes full of concern. "Are you sure you're okay to continue with this?"
"Definitely," I reply, my voice resolute. "Especially after today. It's not like I didn't believe what you told us, but when you're in the middle of it, even at the low end, it rams home what's happening."
We sit on the couch and I continue, "Honestly, I thought there were supposed to be laws in place to stop people acting like this."
"There are. When you've done investigative stuff, you must have seen people bending the rules, though. Especially those in power. The more control you have, the more you seek. That's what it looks like to me, anyway."
"Even so, this is so blatant, and everyone seems to know about it. It's bullying, and it's misogyny. Dad at the top or not, I really don't know how he gets away with it."
"Lewis Graves is part of a dying breed. You see them once in a while when you're a PI, usually in spousal disputes, but not as much as you would have fifty years ago. They act the way they do because, for whatever reason, they need to feel tough. They need to feel powerful. And to do that, they figure out who they think is below them and kick down. The truth is, even in the absolute cesspits of society, the holes full of cold-blooded killers and organized crime syndicates, there are so many people with much more legitimate power than them. If someone like him had to deal with someone like that, they wouldn't last a minute, even if it never went beyond verbal sparring.
"And that's the thing. Deep down, people like Lewis Graves know they're weak. They know they're nothing more than bullies, scrambling and crawling over the people they try to bury. That's how he gets away with it. He's desperate. And desperation makes you cling on tight and take every shortcut you can find."
"And do the desperate bullies always fall in the end?"
Cassie looks at me, studying my face. Her expression is enough to give me my answer. Being who she is, she decides not to try comforting me with lies. "No, they don't. Sometimes, the bad guys win. All any of us can do is try to make sure it doesn't happen often."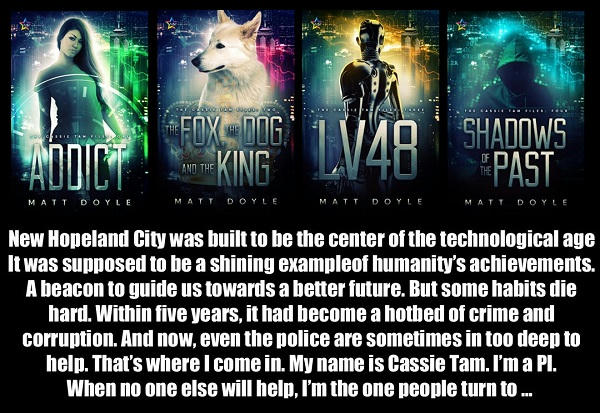 The Cassie Tam Files series!
Addict (book 01)
.•.•.**❣️ NineStar | Amazon US | Amazon UK | Smashwords | B&N | Kobo ❣️**.•.•.
The Fox, the Dog, and the King (book 02)
.•.•.**❣️ NineStar | Amazon US | Amazon UK | Smashwords | B&N | Kobo ❣️**.•.•.
LV48 (book 03)
.•.•.**❣️ NineStar | Amazon US | Amazon UK | B&N | Smashwords | Kobo ❣️**.•.•.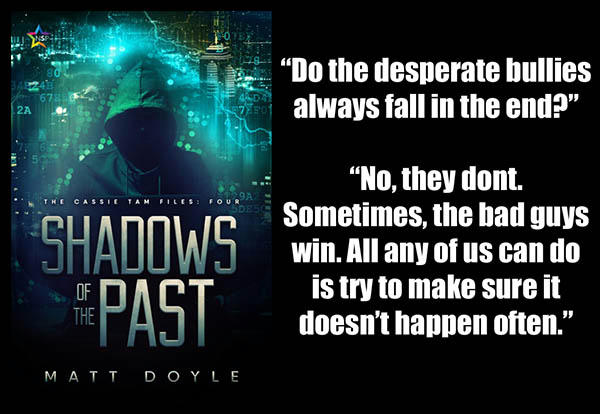 About Matt!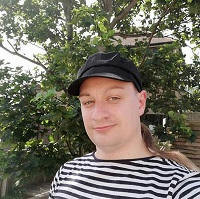 Matt Doyle lives in the South East of England and shares his home with a wide variety of people and animals, as well as a fine selection of teas. He has spent his life chasing dreams, a habit which has seen him gain success in a great number of fields. To date, this has included spending ten years as a professional wrestler, completing a range of cosplay projects, and publishing multiple works of fiction.
These days, Matt can be found working on far too many novels at once, blogging about anime, comics, and games, and plotting and planning what other things he'll be doing to take up what little free time he has.
Website | Facebook | Twitter | eMail