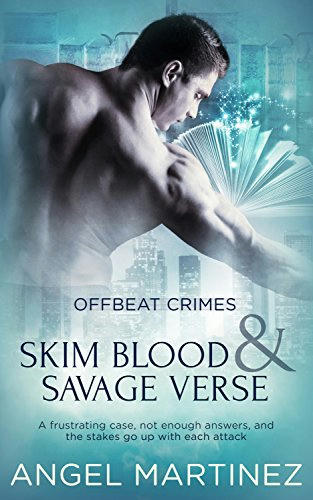 Title: Skim Blood & Savage Verse
Series:  Offbeat Crimes # 3
Author: Angel Martinez
Genre: Fantasy, Paranormal
Length: Novella (137 pages)
Publisher: Pride Publishing (April 4, 2017)
Heat Level: Moderate
Heart Rating: ♥♥♥♥ 4 Hearts
Blurb: Words damage more than just feelings as Carrington hunts feral books menacing the city.
When a ferocious book attacks Carrington at his own birthday party, he believes it's an isolated incident. But similar books soon pop up all over town, menacing innocent people with harsh bits of poetry and blank verse that deliver damaging physical blows. It's a frustrating case with too many variables and not enough answers, and the stakes go up with each attack.
With the help of his misfit squad mates at the 77th and the public library's Rare Books Department, the missing pieces decrease but not Carrington's vexations. His commanding officer rakes him over the coals at the beginning of every shift. His police partner has lost patience with what she sees as his delusional relationship choices and his inability to pick the right man in a vast field of two. City Hall demands that the books be stopped immediately. It's enough to put a nutritionally challenged vampire off his skim blood.
ISBN: 978-1-78651-552-0
Product Link: https://www.pride-publishing.com/book/skim-blood-and-savage-verse
Reviewer: Shorty 
Review: The Carr, a vampire who survives on skim blood, is challenged when it comes to a case involving books whose words actually hurt people. I have never read a book quite like this before so I found it fascinating. I could have done without his partners Amanda's love interest, another female though.
Carr is fascinated by someone through most of the book then suddenly is interested in the consultant. I didn't buy this relationship as most of it took place at the end and felt forced and rushed to me. However it was great to read.
The overall feel of the story is one of excitement as each element adds to the stories conclusion.
Great read.