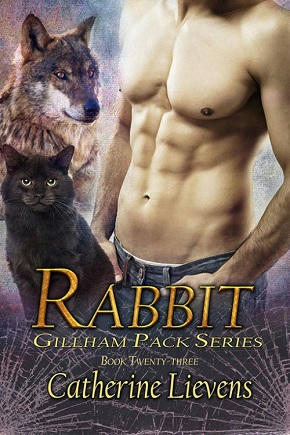 Title: Rabbit
Series: Gillham Pack #23
Author: Catherine Lievens
Genre: Paranormal
Publisher: eXtasy Books (June 9, 2017)
Length: Novella (120 Pages)
Heat Level: Low
Heart Rating: ♥♥♥♥♥ 5 Hearts
Blurb: When life throws you a curve ball, you have to deal with it as well as you can.
When Rabbit arrived in Gillham, he was only trying to get away from his ex-boyfriend. He never expected to find a pack, a family, but he feels at home in Gillham. Finding his mate makes that feeling even stronger, at least until he realizes Elton isn't only his mate, but also Samuel's.
Elton's in Gillham to visit his brother when he ends up in the middle of a spat for him. He might not know a lot about shifters and mates, but he does know that one human guy having two shifter mates isn't normal.
Samuel is ready to fight for Elton, and really, it shouldn't take much with how tiny Rabbit is. But Rabbit reveals himself to be stronger and more stubborn than Samuel had thought, and when Elton gives them an ultimatum, they have to learn to work together—or be without their mate.
They know a three-way mating is possible, but it doesn't make it easy. Rabbit, Elton, and Samuel all have their own insecurities and problems. Will they manage to work around them and be happy together, or will the stress of having to share a mate make their relationship implode?
ISBN: 978-1-4874-1043-8
Product Link: http://www.extasybooks.com/rabbit/
Reviewer:  Lisa
Review:  Each book in the Gillham Pack collection features a new romantic couple. To enjoy the overall story arc and crossover characters, I would recommend reading the series in sequential order. This series is also connected to the Whitedell Pride and Council Enforcers collection. 
There is nothing better than a good paranormal romance with two gorgeous men involved.  I think what I love most about this series and the ones they are connected with is that even though they are tough shifters or nix, they do have a soft spot for those around them.  Also the fact that it isn't just one or two kinds of shifters, you get a wild mixture which makes it more fascinating.  Then you add in nix's and it is going to get wild.
A house cat shifter with a ducks name and nicknamed Rabbit.  Rabbit lived on the streets as a normal black cat that is until Ms. White picks him up as a stray.  Then she wants to neuter his ass and oh hell no, he is not going to let it happen.  Then shifters come to his rescue and lets just face it, Rabbit is an cat with an attitude.  Guess he is just like a normal cat.  Then in comes his mate, or should I say two mates with a twist.  It seems like Rabbit and Samuel are mated to Elton, but not to each other.  Now is that a tongue twister or not.   
I love the way Catherine puts together a story that not only draws you in but keeps you entertained as well. They have a serious tone to them, but there is quite a bit of humor floating around.  I do get a kick out of the whole thing.  They are not long size novels, but just the right size for me to really enjoy. They have so much depth and details that if will feel like you are right there with them. I love that there is even the hint of danger surrounding them sometimes. Trust me that this is one series that you will enjoy quite a bit. I loved it and cannot wait for the next book to come out.