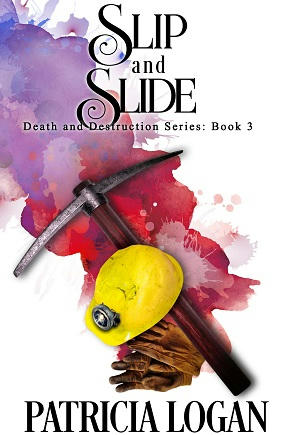 Title: Slip and Slide
Series:  Death and Destruction # 3
Author: Patricia Logan
Genre: Mystery & Detective
Length: Novel (352pgs)
Publisher: Westburg Publishing (October 19, 2016)
Heat Level: Moderate
Heart Rating: ♥♥♥♥♥ 5 Hearts
Blurb: ATF special agents, Thayne Wolfe, and his partner, Jarrett Evans, have gotten into sticky situations in the past but nothing prepares them for the daunting task of being loaned out to a coal mine in West Virginia where Jarrett's grown up. Investigating a deadly mining explosion may be the end of them yet. 
In one of the most beautiful places on earth, Jarrett is familiar with the territory, growing up working in a nearby mine for a couple years before joining the Marine Corps just after high school. When he and his partner encounter a dubious mine CEO, two ATF agents who they're tasked to investigate, and a good 'ol boy who has a pickaxe to grind, all they can hope, is to solve this case before ending up dead and buried in that mine.
From the beaches of California, to the coal-rich mountains of Appalachia, Jarrett's dubious past seems to rear its ugly head wherever they go. Join our heroes as they are forced to face danger, fear, and maybe the most frightening thing they've ever faced together… family. 
Slip and Slide contains an exciting excerpt from Locked and Loaded (Death and Destruction Book 4)
ISBN: B01MA6IYBW
Product Link: Amazon
Reviewer: Shorty 
Review: This addition to the series delves further into Thayne and Jarrett's relationship. I enjoyed learning more about both men in this story as I felt I knew them better after finishing the book. 
The added family, mystery and all around past situations were a bonus that had an overall understanding element to the story. The details surrounding the coal mine were intriguing and kept me reading to find out more.
Overall this book is well written and entertaining as all of this author's books are. I found myself enthralled with the ever going relationship and mysteries that Jarrett and Thayne find themselves in each book. I especially like the smooth transition from one mystery to the next. 
Fantastic series. Highly recommended.