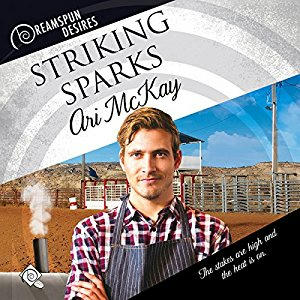 Title: Striking Sparks
Series:  The Walker Boys 01 / Dreamspun Desires 24
Author: Ari McKay
Narrator: Rusty Topsfield
Genre: Contemporary
Length: 5 hrs 10 mins
Publisher: Dreamspinner Press (27 Jan 2017)
Heat Level: Explicit
Heart Rating: ♥♥♥♥♥ 5 Hearts
Blurb: The stakes are high and the heat is on.
Beau Walker, owner of the Barbecue Shack, needs the help of Jake Parnell, his one-time rival and secret crush, in a televised barbecue competition. Beau is a proud man, but the stakes are high, and smart, sexy Jake is his only hope, even if being around Jake reawakens the attraction he's fought for years.
Jake left his hometown, determined to build a life somewhere his sexuality wouldn't hurt his family's restaurant business—and far away from hunky, obstinate Beau Walker. Then his twin, Josh, is killed, and Jake returns to support his brother's wife and children. Despite his reservations, he agrees to go head-to-head against Beau on national television. Between stress and grief, as well as pride and determination, only one thing is certain—the heat between Beau and Jake extends well beyond the kitchen.
Product Link: Audible US | Audible UK
Reviewer: Prime
Review: This is my first Ari McKay audio read, although I read this book at the end of last year so I sort of knew what I was getting myself into. However, in saying that, I have the worst memory and actually forgot most of the details except for the BBQ competition which is mentioned in the blurb. Regardless, this was as wonderful to listen to as it had been to read last year (especially since I also gave that a 5 heart rating too).
Beau Walker is owner of the Barbeque Shack. His rival is Jake Parnell, who now runs Parnell's Pantry and supporting his brother's family after the death of his twin brother, Josh. Beau had always got along with Josh, but for numerous and probably obvious reason, he and Jake never got along. The main point would be that Beau is out to their small town community while Jake is still firmly in the closet.  But now the time has come that they are going to have to work together, Beau had organized a friendly competition with Josh, which was going to be filmed for television. Now it is Jake who is going to take his brother's place despite the tension between the guys. The money would be good for the family, the advertising for their businesses would be invaluable, as well as for tourism of their hometown.
I have to admit that I'm totally addicted to watching Food Network, so getting into this book was never a problem. Add onto that the great tension that was crafted between the MCs and then there is explosive attraction between them. I think that this is a book that will easily please many listeners.
Rusty Topsfield lends his voice to this audio and his voice perfectly fits the tone and style of the book. He also happens to be (along with John Solo) one of my favorite narrators in the MM genre. He absolutely gets both Beau and Jake and the crazy sexual tension going on between these guys.