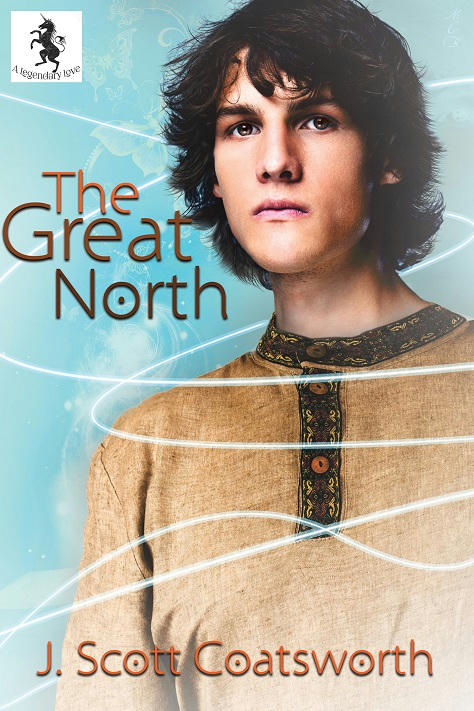 Title: The Great North
Series: A Legendary Love Imprint 01
Author: J. Scott Coatsworth
Genre: Sci Fi, Fantasy, Myths, Legends, Gods, Post-Apocalyptic
Length: Novella (147pgs)
ISBN: B07172TL6H
Publisher: Mischief Corner Books (14th June 2017)
Heat Level: Low
Heart Rating: ♥♥♥♥♥ 4 ½ Hearts
Reviewer: Pixie
Blurb: Dwyn is a young man in the small, isolated town of Manicouga, son of the Minstor, who is betrothed to marry Kessa in a few weeks' time.
Mael is shepherding the remains of his own village from the north, chased out by a terrible storm that destroyed Land's End.
Both are trying to find their way in a post-apocalyptic world. When the two meet, their love and attraction may change the course of history.
Purchase Link: http://www.mischiefcornerbooks.com/store/p121/The_Great_North.html
Review: Dwyn lives in a small isolated village, the life ahead of him is set out before him by his father, the Minstor, and it's not one he is particularly looking forward to. When strangers come to town telling of foul snows and a destroyed town he has no clue as to what choices he will have to make or how his actions could change the future.
Mael and his friends are fleeing Land's End and the terrible storms that follow them, when they finally reach a small village it's with a sense of relief but they soon feel trepidation when they learn that their religious beliefs differ so vastly. Catching the eye of the Minstor's son Mael has to be careful, they desperately need supplies, and the Minstor has an ever watchful eye on them.  
This is a wonderful story that I found to be refreshing, it is set in post-apocalyptic Canada (roughly) and the surviving humanity live in small villages with repopulation first most in the elders minds. In Dwyn's village relationships can only be between man and woman so they can have children, in Mael's village relationships between same sex couples (heartmates) are accepted as long as they also have someone to have children with (breedmate). Now I can't say if there were bisexual ménage relationships in Mael's village, the story doesn't cover that as it's focused on the few people we meet in this story and we only get to know a handful of survivors from Mael's village… so maybe there were but we just don't meet them.
J. Scott Coatsworth has worked his magic again with the way that his words turn into visions in your mind, his world building is exceptional, dragging you into a scenes that have a simple old world feel to them. I will admit you can easily forget that there was a society with advanced technology that was wiped out until circumstances remind you; it's quite a powerful bit of world building.
Dwyn & Mael's relationship is kinda insta-love, but to be honest it fits the story. They have a limited time before Mael has to leave and Dwyn is desperate for more than the life that's laid out for him, so the circumstances condense their feelings into a short timeframe making them more intense.
The storyline is brilliant, not only do with have an impending sense of doom of a forced marriage, a devastating snow storm and a mysterious spirit but we also have Dwyn's internal struggle as he battles between what he really wants and what his father demands.
I recommend this to those who love back to basic post-apocalyptic stories, a flash romance that becomes the stuff of legends and a great story that entertains to the last page.